The Journey of NorthShore's Discreet Diaper Delivery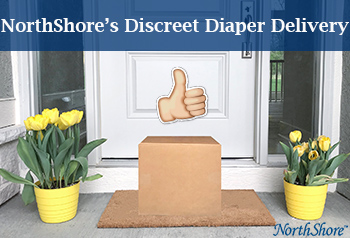 When was the last time you were satisfied with your delivery experience? Was it recent or months ago? Delivery isn't just the process of transporting packages from one location to the other, it's about the experience one gets from the time the order is placed to the moment the package arrives. At NorthShore™ we strive to provide quality absorbent incontinence products as well as provide expert support to individuals managing incontinence.
Adam Greenberg, founder of NorthShore Care Supply knew the negative feelings associated with purchasing incontinence supplies at retail stores and decided to offer discreet, quick delivery. Adam discusses the key features of NorthShore's delivery and how they came to be.
Where does the delivery experience start at NorthShore™?
"It starts with the Customer Care team. They make sure the orders are processed correctly. From our first time customers to our Auto-Ship customers, they review it all. The warehouse team also plays a big role in the shipments. Customers will see the name of the warehouse packer and the Customer Care Expert who handled their order on their printed invoice. We want our customers to know that someone has personally processed their order."
How are orders packaged?
"It's pretty safe to say most people like their privacy. Given the nature of the products we offer, it's our job to make sure we are as discreet as possible. We ship all orders in plain brown boxes."
On the website, it states that NorthShore offers same-day shipment. Was this always the case?
"Yes. We offer same-day shipment as long as orders are submitted by 7pm Central Time. When I started this company I knew that delivery needed to be quick and efficient. These are everyday products that people use. We cannot be late with our customers' orders."
FedEx is the preferred company used for delivery, why is that?
"We used FedEx since the start of the company back in 2002. FedEx offers residential delivery on Saturdays which is a great benefit to our customers."
How does NorthShore go above and beyond for deliveries?
"There have been special circumstances when packages don't make it on the FedEx truck but need to go out for a customer. Individuals in the customer service and warehouse team have personally dropped off packages at the FedEx hub to make sure packages are shipped for them. While we may not always be able to do this for all of our customers we certainly try."
Discreet delivery matters, especially with purchasing incontinence products. No one should know what you're ordering but you. Use NorthShore™ Care Supply for your next delivery and you'll be happy you did.