5 Ways NorthShore's Diaper Delivery Service is One You Can Count On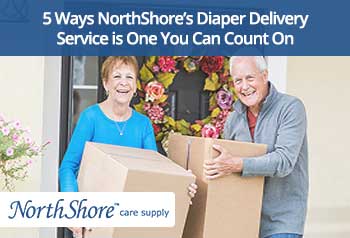 Purchasing adult incontinence products can be a stressful process, to say the least. You may not find what you're looking for at your local drugstore, you may not feel comfortable purchasing the products in-store, or you may just not know what you're looking for. Here's some good news... it doesn't have to be like this anymore. NorthShore™ understands that you want products that work, on time and delivered in a private way. While there are other online incontinence stores out there, none are like NorthShore™ Care Supply. Find out the 5 ways that NorthShore's diaper delivery service is different from the rest and how you can benefit from all of them.
Personalized monthly diaper delivery- Auto-Ship is available for all products on the site. This program is very flexible and can be skipped, canceled and modified at any time. You also get 5% savings on future scheduled orders.

Discreet delivery- We do not list any order information on the outside of the packaging, all orders are shipped in brown unmarked boxes.

Early morning/Late night support – Care experts are available from 6 am to 10 pm central time during the weekdays and 8 am to 8 pm central time on the weekends. Our experts will help manage, cancel or modify your orders if they are able to, depending on time and day the order was placed.

Extra care with your orders and delivery – NorthShore will go above and beyond for you so that you have a positive experience with us. We are happy to print out your RMA return form, send product samples, print itemized statements, and other requests to make your shopping experience a great one with us.

Unique life-changing products – Based on the feedback and needs of our customers, we have designed unique NorthShore™ brand products that offer many improvements over products available at traditional retail stores. For example, the NorthShore™ GoSupreme™ Underwear was designed to provide men with skinnier legs a more absorbent and comfortable underwear option.
Don't settle for second-rate diaper delivery or second-rate incontinence products anymore. NorthShore™ has you covered. You have the option to get your products on your schedule with our Auto-Ship program. It's ordering made simple, just for you. Call us for more information on our services at (800) 563-0161. We're always happy to help!