Best Adult Diapers - NorthShore Review 2017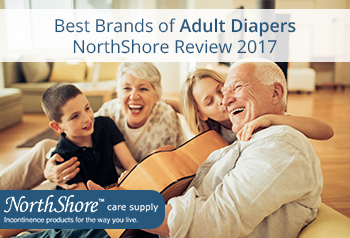 It's already almost a full month into 2018. While some people may be at the gym sweating off some unwanted pounds, there are others that are in search for that one product or group of products to help them manage their output the best way possible during the day or night. If you're managing a highly overactive bladder or managing bowel incontinence, adult diapers will be one group of incontinence supplies you want the most information on. Finding the right diaper can mean a night of full sleep without wet sheets, a happy relative or even a new way of life.
Some adult diapers are known for their strong back sheet, some for their capacity of the liquid. There are also ones known for their discreet fit. Let us break down each top rated diaper brand for you so you can find a diaper that works for you. We'll give you our top brands based on customer reviews (in no specific order) for the following categories that we think are important to consider when purchasing adult diapers.
Best Adult Diapers for Odor Control
Adult fitted briefs (tab-style briefs) come in a smooth plastic back sheet (poly exterior) option. Based on customer testimonials, the following brands are best known for their odor containing (odor reduction).
Best Adult Diapers for Highest Absorbency
Pull-On Style Underwear for Discreet Fit
Tab-Style Briefs - Adult Diapers with Tabs
Best XXL+ Adult Diapers
Tab-Style Briefs
Pull-On Style Underwear
Make sure that you understand the strengths of each brand of the adult diaper so you can save time and money on products that will most likely work for your body type and needs. Shopping for adult diapers without prior research can get costly.
Important Tips to Keep in Mind When Shopping for Adult Diapers: