NorthShore Care Supply is on a mission to end diaper need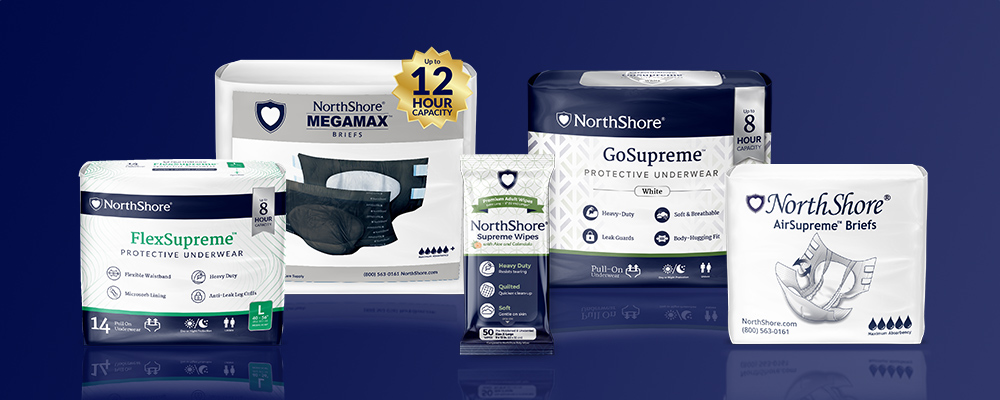 Volunteering and giving back to one's community helps others and can be very rewarding. According to Cleveland Clinic, being generous has positive health benefits such as lower blood pressure, improved self-esteem and increased happiness.
NorthShore Care Supply's mission is to improve the quality of life for those managing incontinence by offering life-changing products and helping #EndHealthStigma for Incontinence through caring service, discreet delivery, partnerships, education and awareness. Through our donation program and charitable initiatives, NorthShore collaborates with organizations and those in need by offering life-changing products, supplies and accessories to help individuals live full lives.

"When we alleviate the ongoing financial burden of diaper costs, we empower recipients to pursue a higher quality of life," says Stephanie Bowers, executive director, Jake's Diapers.
Baby Diapers
Diapers are essential during a baby's first years. According to the National Diaper Bank Network (NDBN), babies without clean diapers are exposed to more potential health risks and are less likely to be accepted into daycares, leaving parents unable to work.
This puts parents at risk for less pay for time off child caring or worse, complete job loss. Families with limited incomes or those experiencing economic hardships have difficulty purchasing diapers and other needed supplies. According to NDBN, 1 in 3 American families reports experiencing diaper need.
Adult Diapers & Incontinence Products
Adults managing incontinence living in poverty or with limited incomes may not get needed adult diapers and other incontinence supplies. This poses many health risks, including rashes, urinary tract infections and can lead to anxiety and depression.
According to PovertyUSA, nearly 10% of seniors in America are living in poverty. Baby Boomers today are facing more challenges maintaining their finances and paying bills than they ever did before. According to CNBC, Baby Boomers have less money saved up but have more health expenses than prior generations. Individuals 60 years of age and older still have mortgage payments and other debt to pay off, resulting in limited disposable income for necessary medical supplies.
Diaper Banks & Diaper Networks
Diaper Banks and Networks provide essential resources to those in need. These organizations collect absorbent incontinence products through a variety of sources including diaper partners, organizations, and individuals as well as monetary donations. Such supplies are often distributed to those in financial difficulty who are unable to buy the necessary items for themselves or family members.
The Simon Foundation for Continence further ensures these donations reach those who require them most. To find cloth/reusable diapers in your local area, call 2-1-1 for more information on available resources.
NorthShore's Commitment
NorthShore's partners with organizations such as Jake's Diapers, Baby2Baby, Texas Diaper Bank and the National Diaper Bank Network (NDBN) to help solve absorbent product needs for infants, adults, the elderly and those with special needs.
Supporting the Adult Care Essentials Program for Jake's Diapers, NorthShore is providing adult diapers and other needed products to veterans and seniors managing incontinence. According to Bowers, Jake's Diapers has distributed nearly 200,000 incontinence donations since the beginning of COVID-19.
"Solving diaper needs is essential for people to live clean, healthy and active lives as well as creates a sense of dignity for those we serve," says Bowers.
Adam Greenberg, president and founder of NorthShore, says: "NorthShore is committed to making sure people have the absorbent products they need while maintaining their dignity and bringing awareness to the ongoing problem of diaper need."
Raising Awareness & Making a Difference
If you or someone you care for has incontinence supplies they no longer need, consider donating them. There are many places that will take unopened packages of adult diapers, protective underwear, pads and liners. These include many local senior centers, community centers, diaper banks and other organizations mentioned in this article.
There are millions of families and adults who need and can use incontinence products. Consider donating today and helping individuals and families get basic products such as diapers so they can live clean, healthy, fulfilling lives.
Join NorthShore in ending diaper need for all.


Please login to access your saved items list. If you don't have an account, create one today to start your list.