Everything You Need to Know About the NorthShore Adult Wipes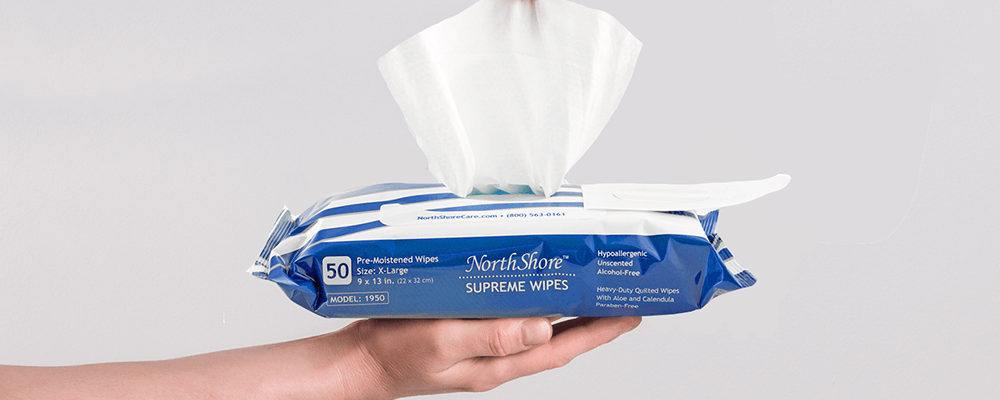 Did you know that over 22 million Americans used pre-moistened wipes 31 times or more during a week in 2016? That's at least 4 times a day that people used wipes. Cleansing wipes are an everyday product for Americans of all ages. You, like many other people, may be familiar with popular brands of baby wipes, but how much do you really know about adult wipes? Do you know they exist?
Finding a pre-moistened wipe that can don't fall apart easily, isn't dry, too fragranced, and that is safe on the skin can be difficult. The truth is that it's not easy, even with all the brands out on the market. Do you know of a brand of wipes that can be used by both children and adults? And one that actually works well?
Customers told us they had trouble finding pre-moistened wipes that were large enough, strong enough and moisturizing enough for the skin. NorthShore decided to create the quilted wipe that is larger, stronger and more moisturizing then what is available.

Reviews of the NorthShore® Supreme Quilted Wipes, From Our Customers
Strong - "Nice thick wipes! My nails don't go through these wipes like most others."

Extra Coverage - "My husband is in assisted living and wears incontinence products. The staff was very glad when I purchased these large quilted wipes. They said the store-bought ones were too small and weren't doing the job."

Moisture - "Moisture of the wipes seems to be just about right. Has aloe so no rashes.

Cost-Effective - "Far Superior! Texture, size, amount of moisture are all just right. That combination makes these wipes much better than anything else I have tried. Cost effective-don't need to use 2 – 3 at a time. These wipes are great, they blow the competition away."
Adult Wipe Features
Extra Large - 9 X 13-inch wipes can be used on the entire body.

Quilted Texture - Makes them extra-absorbent and soft on the skin, yet durable so they don't tear during use.

Promotes Healthy Skin - Include aloe and calendula for skin protection and moisture.

Special Formula - Hypoallergenic, latex-free, alcohol-free, paraben-free and unscented.
Get 50 to a pack or try our convenient travel size with 10 to a pack. Whether used at home, in assisted living, in school or on the road, NorthShore wipes are a great choice.
NorthShore® Supreme Quilted Wipes are the top-selling brand of wipes at NorthShore Care Supply. Remember it's the wipe in the dark blue packaging, give it a try and let us know what you think!
As always, if you have questions call us at (800) 563-0161, Customer Care Experts will be happy to take your call. Our request form is always available as well.