Do You Know Everything You Need to About the Best Adult Wipes?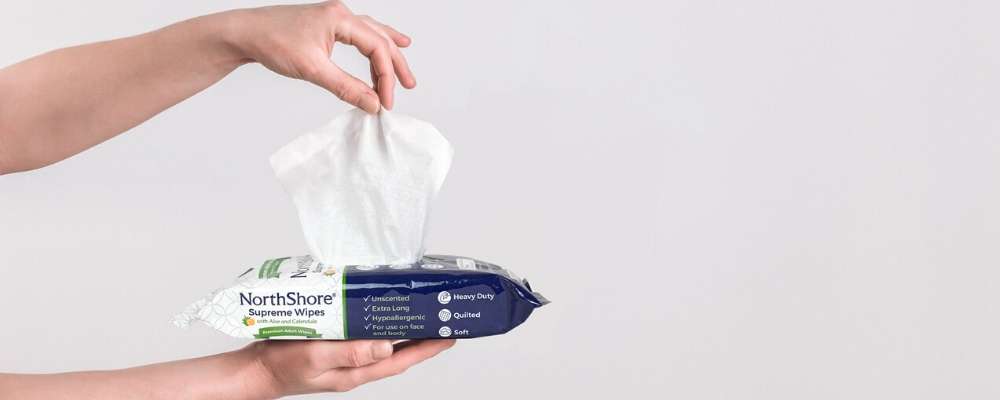 For individuals managing incontinence, at some point they eventually develop skin irritation in the areas around the hips, pelvis, rectum and genitals. Symptoms may include redness, peeling and yeast infections because of too much moisture. Adult washcloths may be harsh on skin and cause irritation. It's important to consider using a premoistened adult wipe to keep skin clean and dry, advises WebMD.
Choosing a Wipe - Supreme Quilted Wipes
Finding a wet wipe that ... is strong ... won't tear easily ... isn't too dry ... is premoistened ... is good for those with sensitive skin ... can be difficult. There may be many brands available but few offer all of these features and more, except NorthShore's Supreme Quilted Wipes.

Customers told us they had trouble finding premoistened wipes that were large enough, strong enough and soft enough for themselves and their babies. So NorthShore Care Supply, which had Quilted Wipes for babies, sold in retail stores and online, added a larger size for adults and heavier cleanups.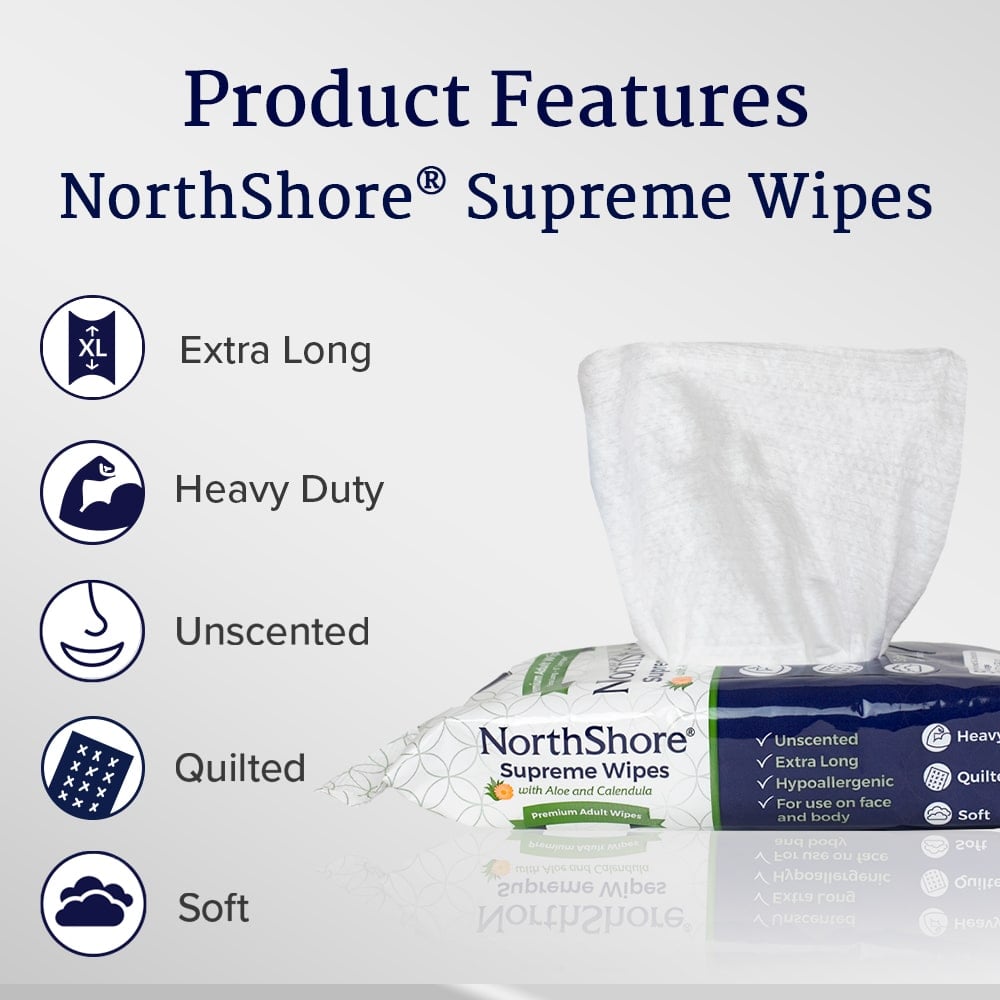 Key Features
Premium Supreme Wipes are soft, unscented and irritant-free with Aloe Vera and Calendula. Additional benefits include:
Extra Long (9" X 13") - 5 inches longer than our popular baby wipes

Heavy Duty - Resists tearing

Quilted - Quicker clean-up

Skin Friendly - Soft & gentle on skin

Pre-Moistened

Latex-Free, Alcohol-Free, Paraben-Free

Hypoallergenic

Customer Reviews
Strong - "Nice thick wipes! My nails don't go through these wipes like most others." Carolyn M., NorthShore Customer

Extra Coverage - "My husband is in assisted living and wears pull-ons. The staff was very glad when I purchased these large quilted wipes for them to use cleaning him. They said the store-bought ones were too small and tore all the time." Mavis O., NorthShore Customer

Moisture - "The wipes glide and have just enough wetness." Tom S., NorthShore Customer

Cost-Effective - "Far Superior! The texture, size and amount of moisture are just right for me. That combination makes these wipes much better than anything else I have tried and are more cost effective because I don't need to use 2 or more at a time like I used to." Louis W., NorthShore Customer

Size - "The wipes are just the right size for my grandson, who is disabled and cannot move around a lot for us to clean him. Because of the larger size, we can clean him more quickly and not keep him on his side for too long." Simon P., NorthShore Customer

Travel Size or Full Pack?
Supreme Quilted Wipes are available in a convenient travel pack of 10 or a full pack of 50 wipes. Easy dispensing makes for quick cleaning. Consider cleansing wipes to help keep skin cleansed, moisturized and offers more coverage than the average store-bought wipes. NorthShore adult wipes save you money and time during cleanings. Their extra-large size offers more coverage on any area of the body, compared to toilet paper and is soft on skin.
Shop NorthShore's Quilted Adult & Baby Wipes or call (800) 563-0161 for more information and personalized customer care and service.
Please login to access your saved items list. If you don't have an account, create one today to start your list.