4 MUST-HAVE Daily Accessories for Caregivers
Are you a new caregiver for a friend or family member that is managing incontinence? Are you looking for accessories you can use every day? With so many types of wipes, creams and other accessories, it can be hard to find what works.
Whether your loved one is experiencing incontinence or not, there are products you'll want to keep on hand along with their preferred adult diaper or protective underwear. Let us make your life a little easier with the list of our recommended products that you can use daily.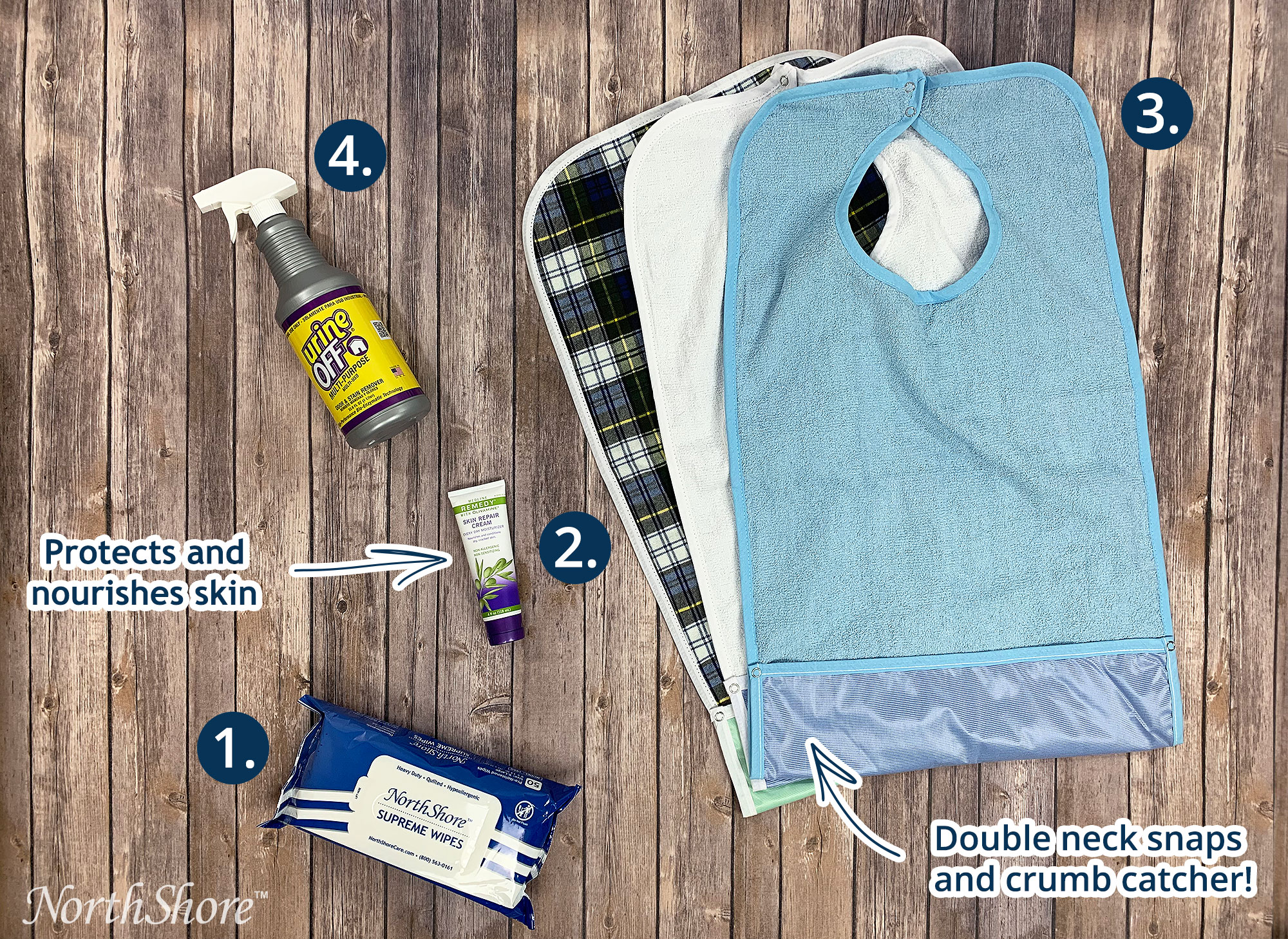 1. NorthShore Supreme Quilted Wipes-These cleansing wipes are large enough for an adult to use in any area of the body and don't have any scents or alcohol. They are durable enough to wipe away fecal and urine, but gentle on skin. Use these at home or on-the-go while running errands.
Benefit: Do not tear easily and are made for heavier cleanings.
2. Medline Remedy Skin Repair Cream Moisturizer-Skin health is important, especially when wearing any kind of protective undergarment. This dual-purpose cream also acts as a facial moisturizer and help heal sunburns.
Benefit: This cream will help keep skin hydrated and moisturized all without leaving an oily residue on sheets and clothes. Happy loved one! Happy caregiver!
3. NorthShore ShirtSafe™ Premium Bibs-For the individuals that need some protection during meals we have the adult-sized terry cloth bibs. Bibs are waterproof and washable!
Benefit: With a built-in crumb catcher and easy to use snaps around the neck, these bibs will be sure to help you out during breakfast, lunch, and dinner with less mess to clean up.
4. Urine-Off Multi Purpose Odor and Stain Remover-The smell of urine can be overpowering so make sure you keep this product handy. It can be used in the bathroom, on the carpet and upholstery.
Benefit: This product can be used on any surface of the house, just spray away and you're done!
Adjusting to the role of a caregiver is overwhelming and takes time to fully grasp. Make your life easier by using these accessories that others have used, you'll be more prepared and ready to handle whatever comes your way.