Managing Incontinence? Do You Know the Types of Products Available to You? Find A Better Product Today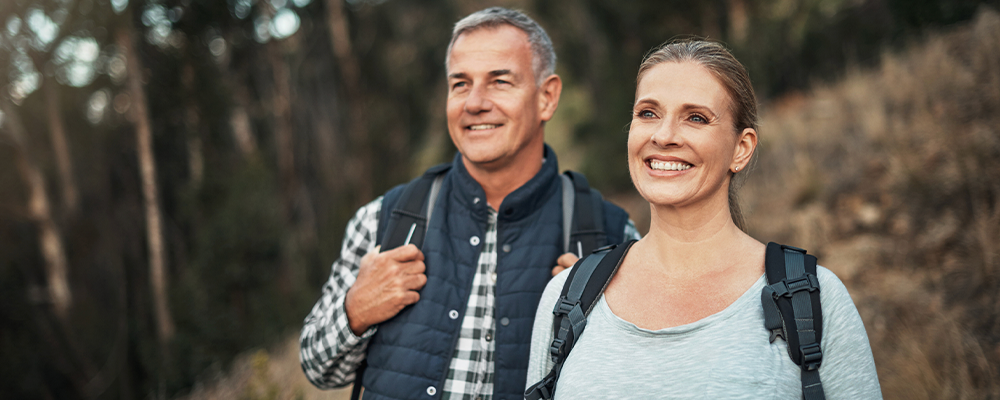 Since 2002, NorthShore Care Supply has helped over 2.5 million individuals manage incontinence. NorthShore is on a mission to improve the lives of adults with premium adult diapers and incontinence products with up to 3x the protection of store brands.
For men and women managing incontinence, the desire is mostly the same: to control leaks and to live without worry. Incontinence causes anxiety, panic, and worry. Urinary and bowel leakage may cause people to fear leaving the house. Premium, absorbent incontinence products are changing the lives of millions managing incontinence. The right product can help men and women have the confidence to leave the house and enjoy time with friends.
If you are new to incontinence and want to save time and money, educate yourself on the types of products available. You may find that you are not using products that could keep you drier. Discover the categories you should be aware of that offer the protection and security you deserve.
Adult Diapers with Tabs
Tabbed adult diapers are a popular option in the incontinence products category. Diapers with tabs are ideal for men and women who manage heavy bladder or bowel leakage. One benefit to tab diapers is that the fit around the waist is adjustable. Another benefit to adult diapers with tabs is the option to change without having to take pants off.
Adult diapers with tabs come in two varieties: plastic-backed and cloth-like styles. Plastic-backed adult diapers are best for people who have bowel incontinence. Cloth-like adult diapers have a breathable material that helps maintain healthy skin and increases airflow.
When looking for adult diapers, consider your level of incontinence and what feels most comfortable for you.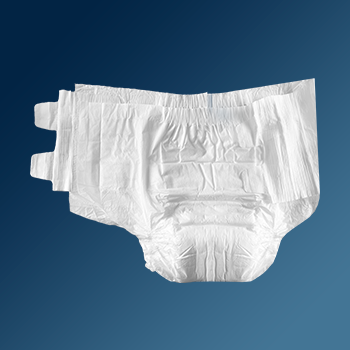 A heavy-duty adult diaper to consider is the MEGAMAX Brief. MEGAMAX is currently the only 12-hour diaper on the market. MEGAMAX is the most absorbent and heavy-duty diaper for complete bladder and bowel incontinence. MEGAMAX is a waterproof, unisex, plastic-backed adult diaper that offers an extra-wide and extra-long core to contain the heaviest leaks.
Adult Pull Ups
Adult pull ups are another product to consider when managing incontinence. Absorbent pull ups can help men and women manage leaks from IBS, urge incontinence, and an overactive bladder.
Most adult pull ups have an absorbent core, built-in leak guards, and a stretchable waistband, in addition to being waterproof. When selecting pull ups, consider your needs, size, and fit. Pull ups can contain bowel leakage, but we suggest using adult diapers with tabs for heavier bowel voids. The fit should be comfortable around the waist, not too loose or tight.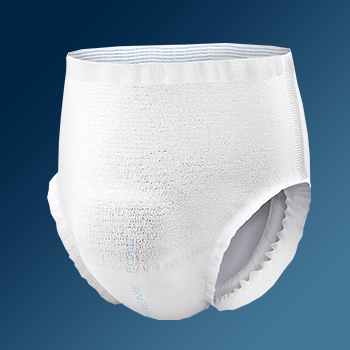 Some pull ups may be too large around the waist and have large leg openings. Incontinence underwear with large leg openings can cause leaks during sleep and movement.
A reliable and absorbent adult pull up is GoSupreme Underwear. GoSupreme Underwear is unisex and provides up to 8 hours of protection for moderate to heavy bladder and bowel leakage. It also offers a smaller fit around the legs and waist to prevent leaks for side sleepers. If you are looking for more durable, form-fitting underwear without bulk, consider GoSupreme.
Incontinence Liners & Pads
Incontinence pads are for individuals with light to moderate urinary incontinence. Pads, known as "liners," come in various sizes and shapes. Some incontinence liners are rectangular, and others have a figure 8 shape. Most liners have a waterproof backing, so use them only in regular underwear. Many pads have an adhesive backing to adhere to regular underwear.
Men managing leakage from prostate issues may need to use male guards from time to time. Whether managing dribbles or lighter leaks, male guards can help.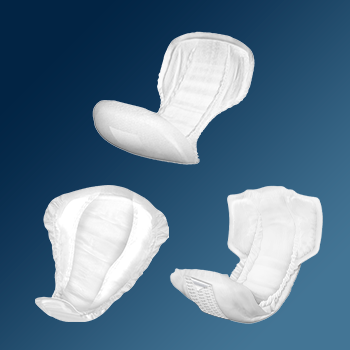 DoubleStop is a reliable male guard men should consider for their incontinence needs. DoubleStop Guards are lightweight and discreet. The guard's triangular shape offers more absorbency and coverage in the front, where most leaks occur. DoubleStop Guards offer more protection than store-brand male guards.
What about incontinence pads for women?
There are many brands of pads for women. Depending on the type of urinary incontinence and style, it can be hard to find the right pad. Women should consider absorbency, length, and width when selecting a pad. Pads that are too large will bunch up in the front and the rear. Pads that are too short will not provide enough coverage and may increase the chance of leaks.
A highly-rated women's incontinence pad is DynaDry Pads (Ultimate). DynaDry Pads (Ultimate) are figure-8 shaped and can fit comfortably to a woman's body. DynaDry Pads wick away wetness from the body, keeping skin dry. The elastic prevents leaks on each side and helps to conform the pad to underwear.
Booster Pads
Booster pads, known as "diaper doublers," work only inside disposable products. Booster pads do not have a waterproof backing, so liquid flows through them. Select a booster pad that correctly fits inside your preferred diaper or incontinence underwear. It's recommended to select a booster pad that is the same size as your diaper or underwear. Why should you use booster pads? Booster pads extend the life of your product and help you save on diaper changes and product costs.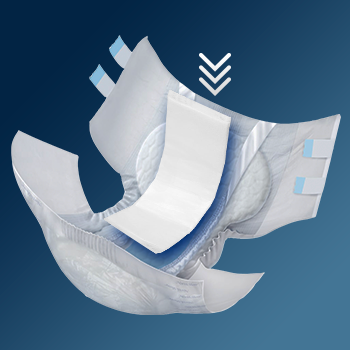 What are recommended booster pads for heavy incontinence? EternaDry Booster Pads. EternaDry Booster Pads are super absorbent pads that are slim yet powerful in their wicking abilities! Place the booster inside the core of any diaper or underwear. When liquid touches the booster pad, the polymers instantly wick away wetness and odors. The skin stays dry and free from moisture.
Bed Pads/Underpads for Incontinence
When managing bladder leaks, underpads can be a lifesaver in protecting floors, furniture, and linens. Most people don't like to smell leaks from urine in their homes. Incontinence underpads can help, and they come in two styles: disposable and washable.
Use both styles at home for yourself or a loved one. Disposable and washable underpads offer an absorbent core that absorbs and wicks liquid away from the body. Underpads also have a durable waterproof backing.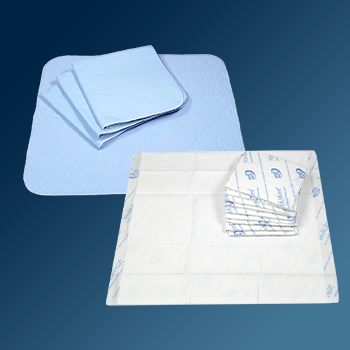 MagicSorb Disposable Underpads are the most absorbent on the market. MagicSorb Underpads' massive absorbency, fast-wicking abilities, and extra-large sizes are rare for this category. The surface area and absorbency save families on product costs, and linen changes! Adults may only need to use one underpad versus 4 or 5. It's important to find an underpad that offers enough coverage. More coverage can mean less laundry!
Washable underpads, like disposable underpads, can be used for just about any area. Bed pads can go over bed sheets, on the couch, or on the seats of your car.
Washable underpads absorb large amounts of liquid and can be used for repositioning loved ones.
Champion XD Washable Underpads. offer a quick-drying top sheet that wicks away wetness from the body. They are durable and made to last. The pad stays intact and does not blow out in the dryer. Large sizes are available to accommodate beds and furniture of all sizes.
When selecting a bed pad, make sure you find a pad that is large and absorbent enough. The larger the bed pad, the better.
Incontinence Accessories
People who manage incontinence worry about smells and leaking in public. Wipes, disposal bags, and diaper covers can help. These products keep you feeling fresh and prevent leaks and odors.
Wipes
Wipes are a necessary product when managing incontinence. Pre-moistened adult wipes can effectively clean any area of the body. Cleansing wipes are durable and can handle heavier cleanings.
When selecting a wipe, consider the size and the ingredients. Use a wipe that offers more coverage during cleanings. Some brands have fragrances that can cause skin irritation, so pay attention to the list of ingredients on the packaging.
What's a great wipe for adults? Supreme Quilted Wipes. Supreme Quilted Wipes are essential for managing incontinence. Supreme Quilted Wipes are larger than most wipes (9 x 13 inches), hypoallergenic, and alcohol-free. The wipes are strong and don't tear easily, a plus for cleaning up large messes. They also have aloe and calendula, so skin stays protected and hydrated.
Disposal Bags
When using incontinence products, discretion is of the utmost importance. Disposal bags can help. Adults can enjoy stress-free traveling when using discreet bags for soiled products.
DiscreetShield Disposal Bags are large and can hold more items. The handles are sturdy and can seal tight to contain soiled items. The bags have a fresh powder scent, which helps mask strong-smelling odors.
Diaper Covers
Diaper covers, also known as "plastic pants," have been around for a while. Diaper covers today are more modern and comfortable than they were years ago. Diaper covers contain any leaks that may escape from disposable products. Diaper covers are washable and breathable. Many diaper covers have a waterproof polyurethane laminated (PUL) polyester lining.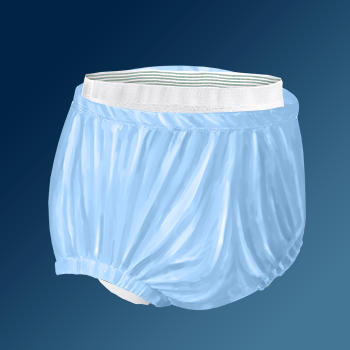 The key to getting the right diaper cover is to make sure the fit is snug around the leg and hip areas. Leaks are prevalent in these areas. If you want added peace of mind when using incontinence products, consider using diaper covers.
TRIFECTA Waterproof Covers have an improved fit around the waist, hips, and thighs. TRIFECTA covers are discreet, lightweight, and breathable. They are helpful when wearing layers of incontinence products. Who says diaper covers can't be stylish? TRIFECTA covers are available in pink, blue, black, and white. Pick your color to match your outfit.
Find the Best Product for Your Needs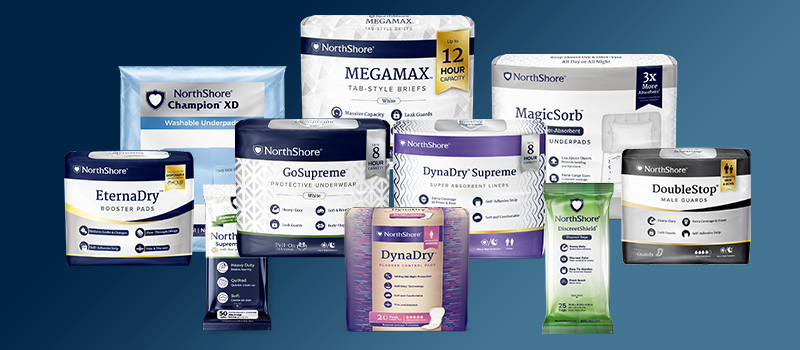 There is no shame in using incontinence products. Incontinence products give people peace of mind and help them stay active. Incontinence, no matter the type, is manageable. With medical care, treatments, and quality absorbent products, men and women can feel more fulfilled and confident managing incontinence.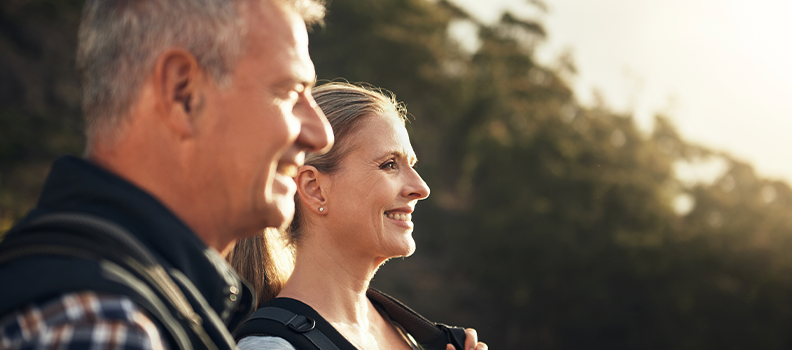 Today, there are many products you can use to stay leak-free and continue doing the things you love. The more you know about the different types of products, the faster you can find a product that works for your needs.
Learn more about NorthShore Care Supply and its mission to help individuals manage incontinence with life-changing products and initiatives. Start your leak-free journey today!
About NorthShore Care Supply
Life-Changing Incontinence Products
Adults, families, and caregivers can choose from adult diapers and incontinence products in various sizes and styles not found in stores. A better-fitting product is just a click away.
Customized Product Recommendations & Free Samples
NorthShore is passionate about helping adults, families, and caregivers find a product that works for their situation. Take advantage of the Product Finder Tool and Free Sample Program to find the best product for your needs.
Subscription Program & Promotions
NorthShore's auto-ship subscription program ensures you stay fully stocked with products. You get 5% off on future orders, and it is free to sign up. Learn about current product promotions online to get additional savings.
NorthShore strives to reduce the stigma associated with incontinence through education, discussions surrounding incontinence, and #EndHealthStigma initiatives.


Thank you so much for reading our blogs!

Did you know NorthShore has helped millions of people manage incontinence with life-changing absorbent products? It's so amazing to hear their stories.

We also want you to know we have trained product advocates that provide a personal experience by working with each customer to find the best product for their situation.

Find out for yourself today!
To get in touch, simply provide your contact details below and your personal product advocate will reach out.


---
Please login to access your saved items list. If you don't have an account, create one today to start your list.