Incontinence Product Shopping: Tips for Getting the Best Products for Your Needs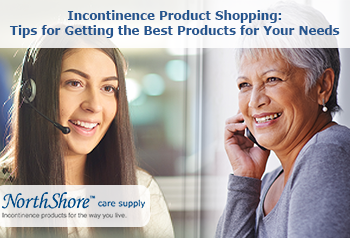 Spring is officially upon us! While incontinence supplies may not be the first thing on most people's minds during this time of year they are everyday products that individuals managing incontinence purchase during all seasons. If you're new to incontinence and need help purchasing incontinence products, then you'll want to know all the helpful tips to prevent any sizing or performance issues in the future. Let us help you get started on finding the right products and what to ask so you don't have to worry about leaks, disappointment or in the future.
Helpful Information to Have on Hand
Your current waist & hip measurement- This information keeps you ahead of the game and takes you 5 steps ahead of most people that call in. If we don't have your measurement at the time of the call we have to wait until we do to provide the best information. It also helps the care expert recommend sizes and styles of incontinence products more suitable for your body type.

Approximate amount of products that you use per day-This includes briefs, pads or any other incontinence supplies that you use. This information will help the care expert gauge your level of output and can recommend the most appropriate products for your needs.

The current name of product and size that you use- Brands are all different and have different size charts. Our knowledgeable care experts can help recommend better products for you based on what's not working at the moment. For example, if we know your current is not working for your needs but you like that style, then we can offer a more absorbent product with the same feel.
Questions to Ask the Care Expert About Incontinence Products
What style is this product?-Is this product a pull-on style, resembling regular underwear or does it have tabs that open and close? This is a big one to ask. Some people confuse the term, "briefs" with pull-on underwear. In the incontinence world, the term "brief" is going to have tabs on each side that is reminiscent of a conventional "diaper". Anytime you see "brief" in the title of the product name, know that it is going to be similar to a conventional diaper; tabs are on each side for adjusting.

Is this product breathable?-Some tab-style briefs have a plastic exterior. Cloth-like material is going to be the best option for individuals with skin sensitivity. If there are skin sensitivity issues then you want to stick to breathable options of product.
Incontinence Bed Pads (Bedding Incontinence Products)
How well does the pad wick away wetness from the body?

How do I know what side of the bed pad faces up?

What are the laundering instructions for the bed pad?

What material is the pad made of?
Incontinence Pads (Pads to Be Worn in Underwear)
How long are these incontinence pads compared to the ones I usually use? If you're happy with the length of your current pad then try to find one that is similar.

How absorbent are these pads compared to the ones I usually use? If you're using a lighter pad then you'll want to know if the new pad in the discussion is worth investigating.

Is there adhesive on the back of the pad? Some incontinence pads offer adhesive, others do not. If the adhesive strip is important to you it's best to ask the care expert before purchasing.
Bowel Incontinence Product Tips
What do you recommend for heavy bowel incontinence for my body type? Some body types are better for tab-style diapers over pull-ons. Some individuals prefer a pad over both. Provide as much information about your body type, lifestyle, mobility restrictions for the best possible product recommendation.

Are there other products that can help with bowel containment that I can use? Yes, there are diaper covers for daily use and also certain adult swim diapers that can help in the water.

Are there elements to this particular pad that help with bowel incontinence? Some bowel incontinence pads have extra wide coverage in the back that helps contain any bowel movements, find out which ones there are here.
Best Ways to Find Incontinence/Medical Supply Stores Near You
Type "Incontinence Supplies near me" in the Google search bar. Most of the time you'll see the closest stores in your geographical area if they are listed correctly with Google. Luckily NorthShore Care Supply ship anywhere in the country so we can ship to you today!

Ask your healthcare professional or local community center/senior center if they know any stores locally or can refer any to you.
If you're new to the incontinence world there's no doubt that you'll have questions along the way. We are here to help you throughout your journey. If you ask the right questions up front and have certain information on hand, the process of finding the best incontinence product will be a smooth one for you. Care experts are available over the phone at (800) 563-0161, through email and chat.
We're always happy to help!