Top Products to Help Prevent Adult Diaper Rash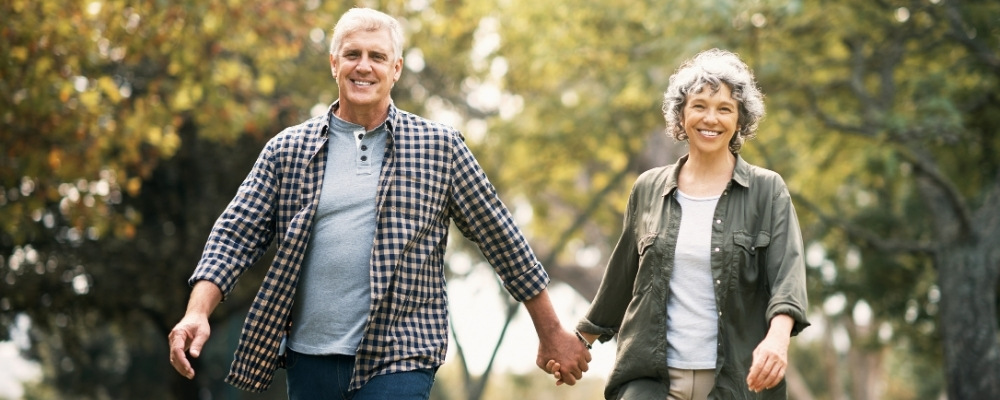 Are you or a loved one managing adult diaper rash? Anyone who wears incontinence products may have irritation from time to time. That's why caregivers and wearers need to know the best products to reduce the risk of rashes. Adult diapers are the first type of product to consider. In this article, we will discuss adult diaper rash and the products to consider if you are managing it.
What Causes Adult Diaper Rash?
Many factors can cause adult diaper rash or other skin irritation. Healthline.com states the following as possible causes of adult diaper rash.
Infrequent diaper changes

Certain dyes and fragrances

Fungal infections

Allergic reactions
One common skin irritant is latex. If you use incontinence products, such as adult diapers, check if there are ingredients that may be causing irritation. There is a chance your current product may have materials that are causing skin issues. Always consult with your doctor or dermatologist to get the best treatment possible.
Luckily, NorthShore adult diapers are latex-free. NorthShore also offers breathable options for those with skin sensitivities. Breathable diapers can help airflow to the skin. Learn about our top products and wipes that can help maintain healthy skin.
Adult Diaper Rash Symptoms
Adult diaper rash may look different to each person, but here are some symptoms to look out for. According to MedicalNewsToday.com, adult diaper Rash symptoms include:
Pink patches or spots of skin

Patches or spots of dry skin

Itchiness

Small, red-raised bumps
Consult your doctor if you have pain or notice any of the symptoms above. Many times over-the-counter ointments or creams can help reduce irritation. How can you prevent diaper rash? Use the right adult diapers and supplies.
It's essential to use adult diapers that wick away wetness from the body. The lining inside each product should be soft, absorbent, and quick-wicking. The lining should not feel scratchy against the skin. If you are experiencing adult diaper rash, consider a different product. NorthShore offers quality products that wick away wetness while keeping wearers dry.

Adult Diapers to Prevent Diaper Rash
When using adult diapers with tabs, consider ones that wick moisture away from the skin. Northshore briefs offer soft, absorbent lining that keeps away wetness from the body. Some adult diapers have a breathable exterior which helps with airflow. Discover the best adult diapers that can help with preventing adult diaper rash.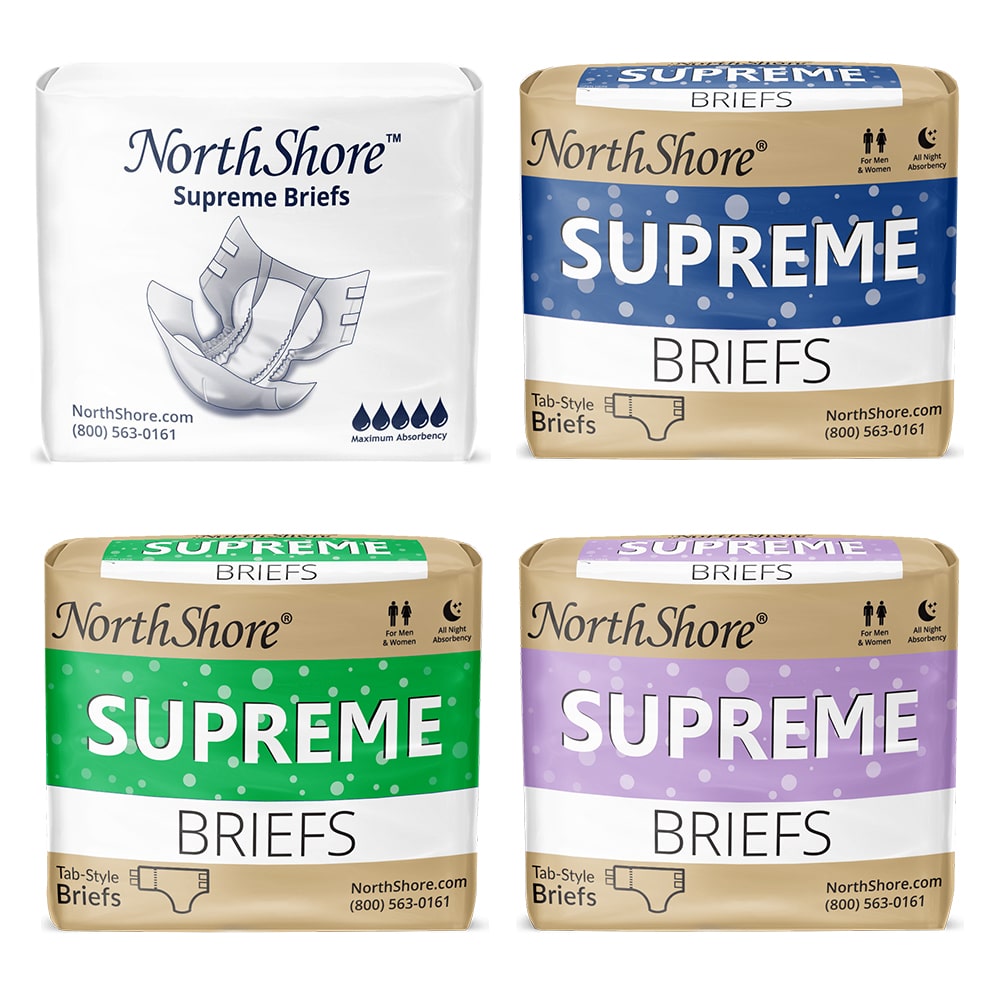 These plastic-backed briefs are best for overnight protection. NorthShore's Microsorb lining wicks moisture away from the body and keeps skin dry! Supreme Briefs offer up to 8 hours of protection!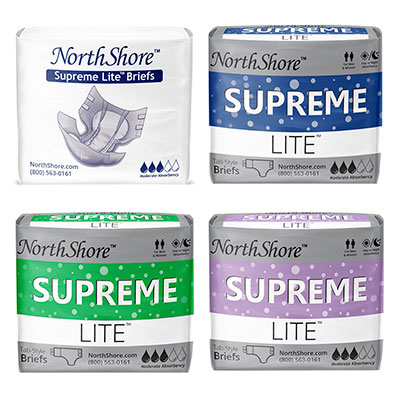 Supreme Lites offer up to 6 hours of protection. The briefs have stand-up leak guards and elastic in the rear waistband. Supreme Lites are great for moderate absorbency for bladder and bowel containment.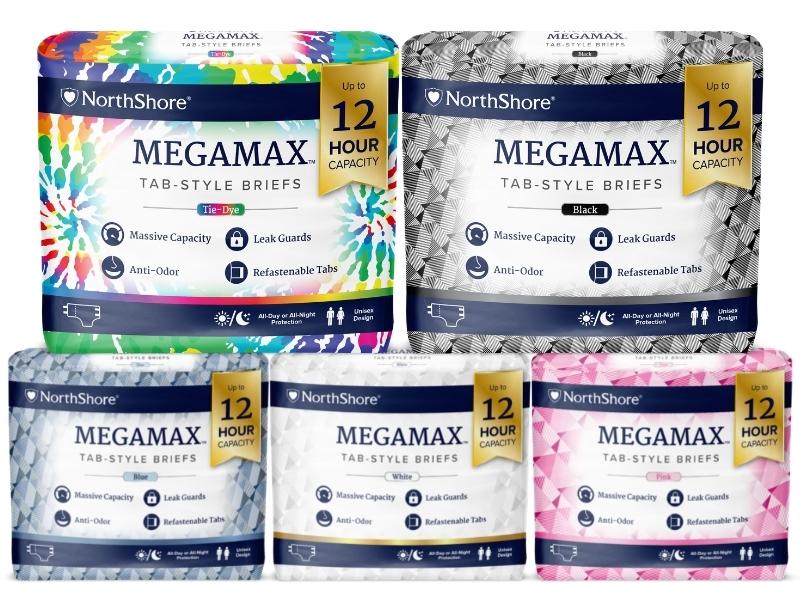 MEGAMAX is the total package in leakage protection. The plastic, tab-style briefs are for individuals managing heavy to total incontinence. The quick-wicking core and massive absorbency keep wearers dry and comfortable.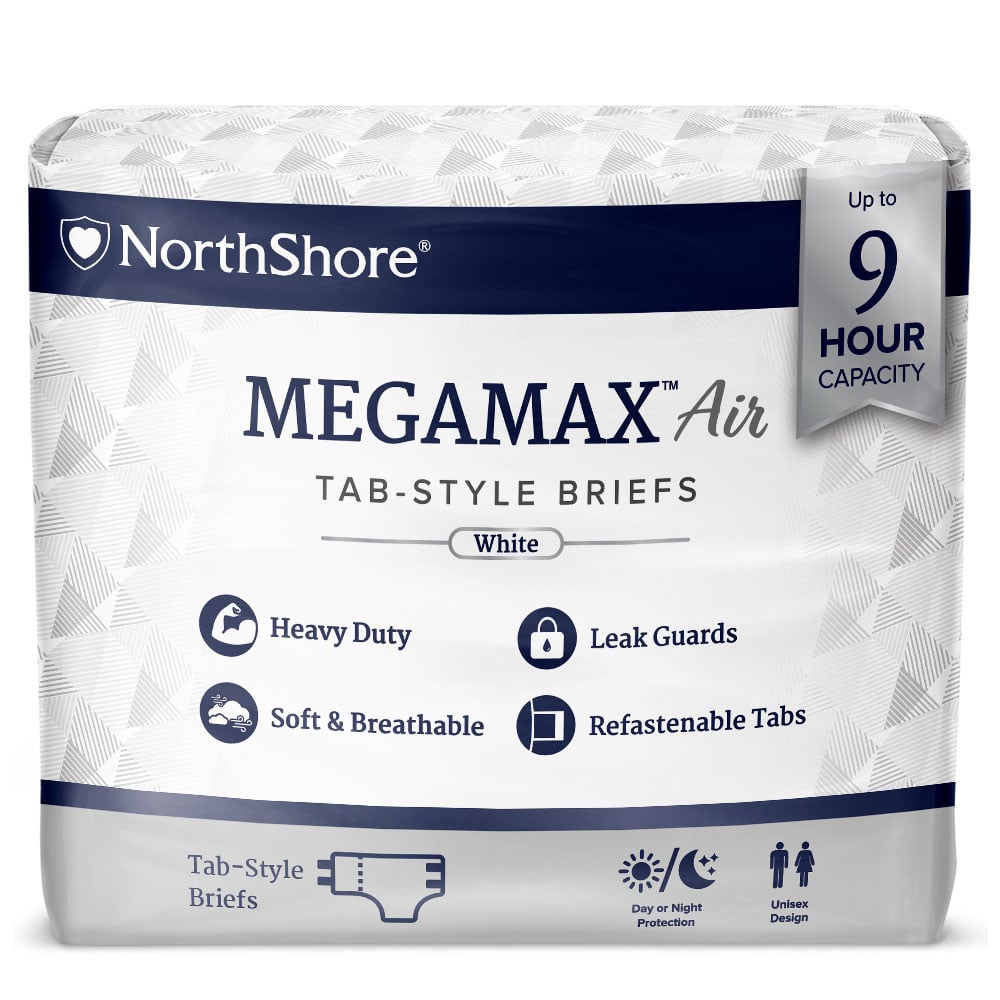 The breathable brief offers protection for up to 9 hours. Refastenable hook and loop tabs allow wearers to adjust the fit as needed. MEGAMAX Air is the perfect brief for individuals with sensitive skin.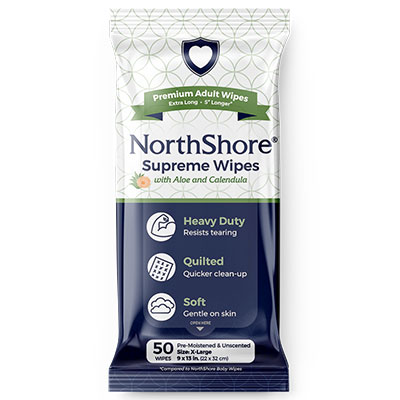 The most reliable adult wipe on the market! Supreme Quilted Wipes are hypoallergenic, alcohol-free, and unscented. The wipes freshen the skin without harsh fragrances that may trigger diaper rashes. The formula also includes aloe and calendula to soothe the skin. NorthShore adult wipes soft heavy-duty.
If you or someone you care for is managing adult diaper rash, first consult with your doctor. Also, consider the types of incontinence products you are using. There may be some ingredients that irritate your skin. NorthShore is proud to offer products that are latex-free. Also, consider the types of product you use. Supreme and MEGAMAX offer lining that absorbs and wicks away moisture from the body.
Lastly, use quality adult wipes help to maintain healthy skin. NorthShore Supreme Quilted Wipes moisturize and soothe the skin. Adult diaper rash can be uncomfortable, but products can help. Use the right adult diapers and supplies to prevent irritation. NorthShore offers products to help you stay comfortable and protected!
Learn more about these products on the Personal Care Page or call (800) 563-0161.
Shop Products Featured in This Article
Please login to access your saved items list. If you don't have an account, create one today to start your list.