Recent Government Shutdown Is Considered a Natural Disaster for Many Needing Incontinence Products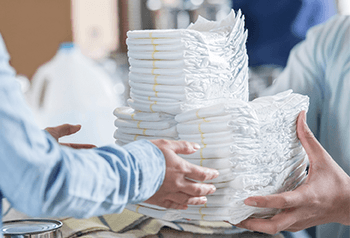 Troubles caused by the recent government shutdown have been far-reaching and sometimes surprising. Incontinence products are probably not the first thing you would think of, but luckily for government employees affected by the shutdown, the folks at diaper banks across the country soon realized that their help would be needed. Most of the diaper banks treated the shut down like a natural disaster making sure that needs were met immediately, knowing that extra fundraising would be needed later. These organizations supplied diapers along with much-needed incontinence supplies, feminine products, and formula to families of federal employees who reached out to request assistance. With the shut-down, many diaper banks gave out several months' worth of supplies in just a couple of weeks. Normally these organizations help low-income families get non-food items such as diapers and wipes which are not covered by the food stamp program or the Supplemental Nutrition Program for Women, Infants, and Children (WIC). But with the shut-down, many diaper banks were suddenly overwhelmed with requests from families who, like families in natural disasters, found themselves in sudden situational poverty.
Diaper Banks Offering Help for Those in Need
Several airports throughout the country became distribution hubs, bustling with carts full of diapers and other supplies for Transportation Security Administration workers and other Federal employees who missed paychecks this past January. Volunteers were on hand to distribute supplies at National, Dulles and BWI airports in the D.C. area.
Some diaper banks, such as the Texas Diaper Bank in San Antonio, recognized the special need for government employees and set up an offer where furloughed employees and government contractors alike could sign up for a six-month supply of diapers, wipes, and feminine hygiene products plus parenting classes all for free with proof of government employment and proof of guardianship.
Diapers and incontinence products can be a burden on the budget at any time but after missing a few paychecks it became an unexpected hardship for many families. Disposable diapers and incontinence products can be a significant part of a family's monthly budget. According to the National Diaper Bank Network, the average baby will go through an average of 7 diapers a day costing anywhere from $70-$80 per month. And according to Today's Caregiver adult diapers can run around $100 per month. For seniors who need incontinence products, Medicare will only pay for them if a senior is a patient in a hospital or skilled nursing home. If they are living in an assisted living facility, at home, or with their families, the cost falls on them and/or their families.
How You Can Help Those Needing Diapers
With the influx of assistance requested during the shut-down, many diaper banks have run low on the supplies they would normally have to meet the needs of low-income families or families struck by natural disasters. There are many ways to help but If you are considering a donation keep in mind that most diaper banks typically prefer monetary donations over product donations since they buy products in bulk and get discounted pricing. According to the St. Louis Area Diaper Bank "If you (or your friends or family) donate $1 to the Diaper Bank we can get 8 diapers out to children in need - if you take that $1 to the store you can usually get about 4 diapers."
Although if you prefer giving time you can host a Diaper Drive which is a drive where you set up a collection box at local schools, churches, etc. The National Diaper Bank Network has a special page that includes info such as Diaper Drive Ideas, Checklists, a Diaper Collection form, Diaper Drive flyers and handouts, Social Media tips and samples. There are also online opportunities to set up a fundraising site or even start a diaper bank of your own if there is not one in your area.
NorthShore is a current partner of the National Diaper Bank Network. Our partnership represents awareness for adults needing adult diapers in the United States. If you or someone you know needs help getting diapers please reach out to the National Diaper Bank Network for assistance. If you are looking for incontinence products but don't know which ones to try, we always offer free samples.
To request samples please fill out our free adult diaper sample request form or call (800) 563-0161.
We're always happy to help!