Customizing Leak Protection - Layer Up or Layer Down?

So #473 on the list of things no one ever tells you about incontinence (reason #342 for why we really need to talk about it more openly) is that incontinence products can take up a lot of room. Smaller pads, not so much, but pull-on underwear, liners and adult diapers that are known for their absorbency and leak protection? Oh yeah.
This can be a problem if you like to stock up or order less frequently, and it's DEFINITELY a problem if you have a wide variety of products you use depending on different situations. I'm absolutely guilty of that.
Something that has helped me is having some medium-capacity diapers such as NorthShore's Supreme Lites, which fill the bill nicely, and some booster pads for added coverage. There are times when I don't need the maximum protection offered by a tab-style brief, like when it's only a couple hours before I change for bed, or when I'm working outside and sweating for a couple of hours. In spite of my best efforts to stay hydrated, that always reduces my urine output pretty drastically.
Recently, I had to pack a suitcase and realized that by packing Supreme Lites and some boosters, I could save space and customize the level of absorbency needed by adding a booster when I needed longer-lasting protection or wanted reduced bulk when discretion is at a premium (I'm always more self-conscious in shorts).
Packing for Absorbency & Protection
The following demonstrates how a maximum absorbency brief with tabs such as NorthShore's Supreme, which offers up to 32 oz. of capacity, provides less protection than combining a Supreme Lite brief with a booster pad like EternaDry, which together gives wearers up to 40 oz. of coverage.


The Supreme Lite + booster combo actually holds more than the Supreme diaper alone — your mileage may vary. A booster pad, also known as a diaper doubler, is designed to be used in combination with other absorbent products such as a tab-style brief or pull-up style disposable underwear. A helpful way to remember what a booster pad does is to remember it actually boosts the absorbency of any disposable undergarment. When urine touches the booster pad, it "flows through" to the brief or pull-on underneath, holding more liquid than it usually would be able to hold.
Advantages of Booster Pads
So what is the advantage of adding an incontinence pad to a disposable product? Additional capacity! There are two ways to get more capacity when needed, either move up to a more absorbent diaper/underwear or add a booster. We find many customers use a variety of products for various needs. At home, sometimes a lower absorbency product is used on weekends when the bathroom may be close and convenient.
At night or when away from home, either a higher-absorbency product or a booster is the preferred solution. Adding the extra protection allows the wearer to sleep through the night and wake up dry. When out in public, a booster can provide added security against embarrassing leaks.
Tip: You can add multiple boosters if necessary, just stack them as needed. The adhesive backing on NorthShore Booster Pads will help them stack and stay in place. Wet boosters can easily be peeled up to remove and the absorbent product below will still have plenty of capacity and use left.
You may have noticed that I chose the small booster pad, and there's a reason for that:
They're 4" wide, so they won't interfere with leak guards in briefs.

These boosters hold a good amount of urine, but they don't wick it throughout the booster well, so I've never gotten much use out of anything longer than this.

Boosters swell as they absorb, which changes the fit of your diaper and can create gaps. Choosing a booster that's longer and wider than this only increases the potential for issues.
For this reason, I personally do not recommend using boosters with pull-ons. The useful absorbency of pull-on underwear is often limited not by its capacity but by how much it can hold before it no longer stays up against your body, thanks to weight and swelling.
The combination of a booster pad and adult diaper is my Swiss Army knife of protection. It allows two products to be used that offer the perflect level of protection, at least for me, for most situations. Effective incontinence management is all about planning, protection and having the right supplies.
Shop

Incontinence Products

and

Booster Pads

now or call (800) 563-0161 for more information, including personalization product recommendations.
Some years ago (I decline to say how many), life threw me a curveball and I found myself facing some new and frightening challenges, and having to navigate the confusing world of incontinence products alone. This was pre-internet and, frankly, pre-decent options. Through constant experimentation, I've found products that work for me—yes, many of which are sold by NorthShore Care—but the more important part of my journey has been internal. I've fought insecurity, isolation, paranoia that EVERYONE was staring at my butt, and fear that I'd never be able to return to the rich, full life I once had. I'm happy to say all of that was unfounded.

Part of the work I did to understand and accept myself included reading. A LOT of reading. I found articles that explained the different kinds of incontinence, blog posts about the various products that were available, and even pamphlets for drugs that offered to solve my problem. What I couldn't find was practical guidance on and honest thoughts about living with this embarrassing, confusing, and occasionally hilarious new "feature" my body had to offer.

NorthShore gets it, and that's why I'm here. NorthShore isn't just a business that sells incontinence supplies, it's a business built on a foundation of understanding of what you and I are dealing with every day.

I don't work for NorthShore (would it be too cheesy to say I work for you?) but this feels like the right place for a blog that addresses real-world issues around incontinence. Here I'll talk candidly, openly, and occasionally uncomfortably about the challenges we face, the products that can help us manage those challenges, and how to go about confidently getting on with our lives.

Let's get real.

—Bill Edwards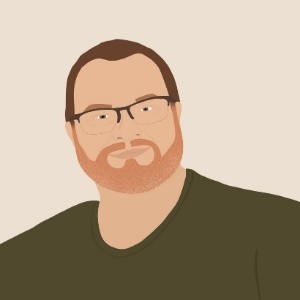 Please login to access your saved items list. If you don't have an account, create one today to start your list.