What is the Best Clothing to Wear With Incontinence Products Like Adult Diapers & Protective Underwear?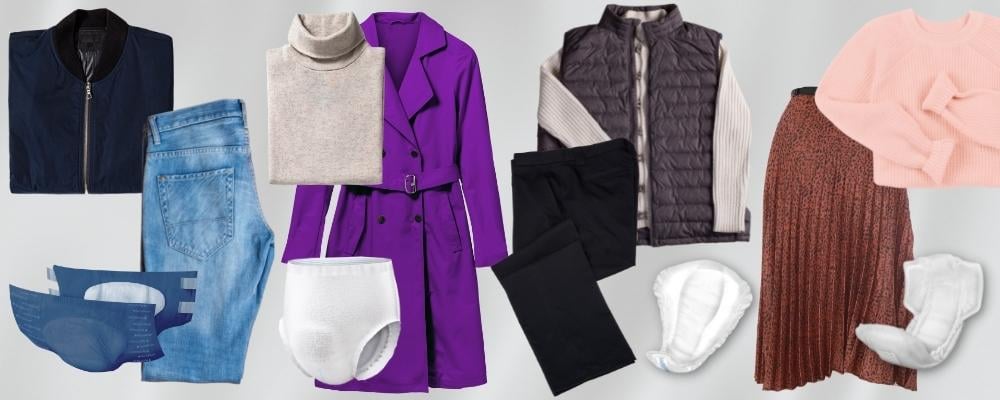 You may have to live with incontinence, but that doesn't mean you need to limit your wardrobe. Do you want to wear nice pants and not have to worry about leaks or accidents? NorthShore can help. Have you thought about wearing a sundress, but shied away because of worry over embarrassment from incontinence? From dresses and suits to everything in between, individuals managing incontinence don't have to only wear large, baggy clothes to hide or conceal absorbent products such as tab-style briefs, pull-up style underwear, booster pads, liners and more.
Read through this guide for tips on looking good while managing incontinence and then check out our online store to find the incontinence products best for style and protection.
How Can I Conceal Incontinence Supplies?
Many people are uncomfortable going out in public for fear of leakage and accidents. See below for a few recommendations to make going out and about easier, including:
Stay away from sheer, very tight-fitting or very lightweight fabrics that tend to be more see-through and revealing.

Avoid clothing that draws attention to your bottom or front. For example, jeans with excessive stitching.

Choose items that draw attention away from your lower half. For example, an heirloom brooch or unique hat or glasses will keep people looking at your upper half.

Consider wearing diaper covers over your adult diaper or other incontinence product for extra leak protection. This is a really good idea if you're at a gym or other area where you may have to change clothes.
Which Types of Clothing are Best for Tab-Style Briefs?
Do you think that you have to give up your jeans because you wear briefs with tabs? Absolutely not.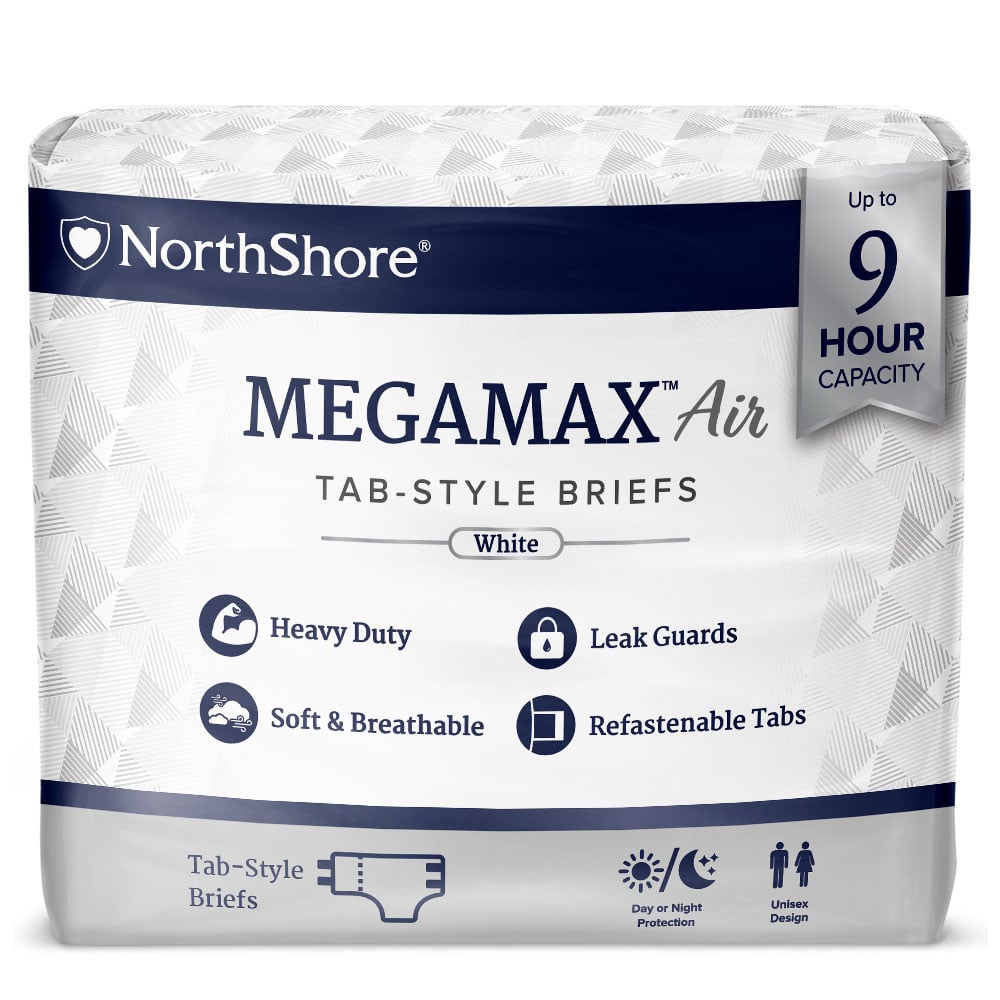 Shop MEGAMAX Air
Just because you need the support provided by adult diapers doesn't mean you can only wear sweat pants or large flowy garments. Finding an adult diaper that minimizes crinkles or noise is the ideal option when wearing pants or dresses. NorthShore MEGAMAX Air tab-style briefs feature a soft, cloth-like exterior that provides maximum breathable protection, which is ideal for situations where you want to be more discreet.
Which Clothes are Best for Adult Pull-Ons?
Do you need to dress business casual for work or going out with friends and family? Pull-ons are a great option for anyone who needs an incontinence product at work or on the go.
There are additional ways to stay discreet while wearing the type of incontinence products you need to stay dry. Tips and ideas to consider include:
Tights or leggings can actually mitigate any crinkling or fabric noise and are easy to pair with a dress or skirt.

If you want to wear tights or leggings and are worried about a co-worker seeing the outline of a pull-on or other incontinence product, consider wearing a larger shirt or sweater that is a little longer to give additional coverage. Flannel shirts or cardigans are also options and can be tied around the waist.

Jackets are a great addition to any wardrobe because they provide additional cover and convey a professional look.

When it comes to pants for men, consider wearing a little larger size to accommodate absorbent underwear.
Which Clothing is Best for Booster Pads, Liners and/or Guards?
Any clothing choice that isn't super tight usually goes well with guards, booster pads and liners because they tend to be easier to conceal than other types of incontinence supplies. Plus, they can be worn inside underwear to provide additional support.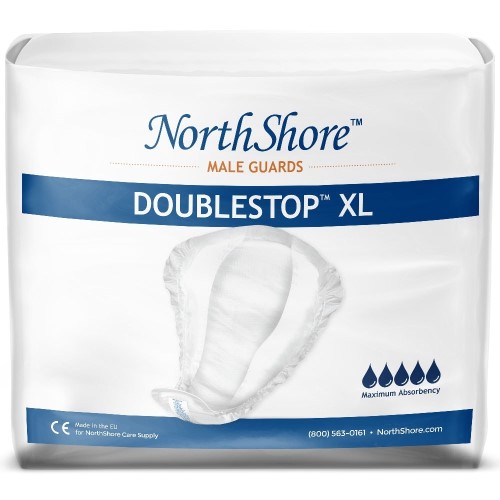 Shop DoubleStop XL
Guards are ideal for men with urinary incontinence, while pads usually provide support for urinary and/or bowel and fecal incontinence. Both can be worn inside underwear and are the ideal choice for men and boys who want to stay protected and active. Heading to the gym or for a walk? A guard can be the ideal option to stay discreet and active.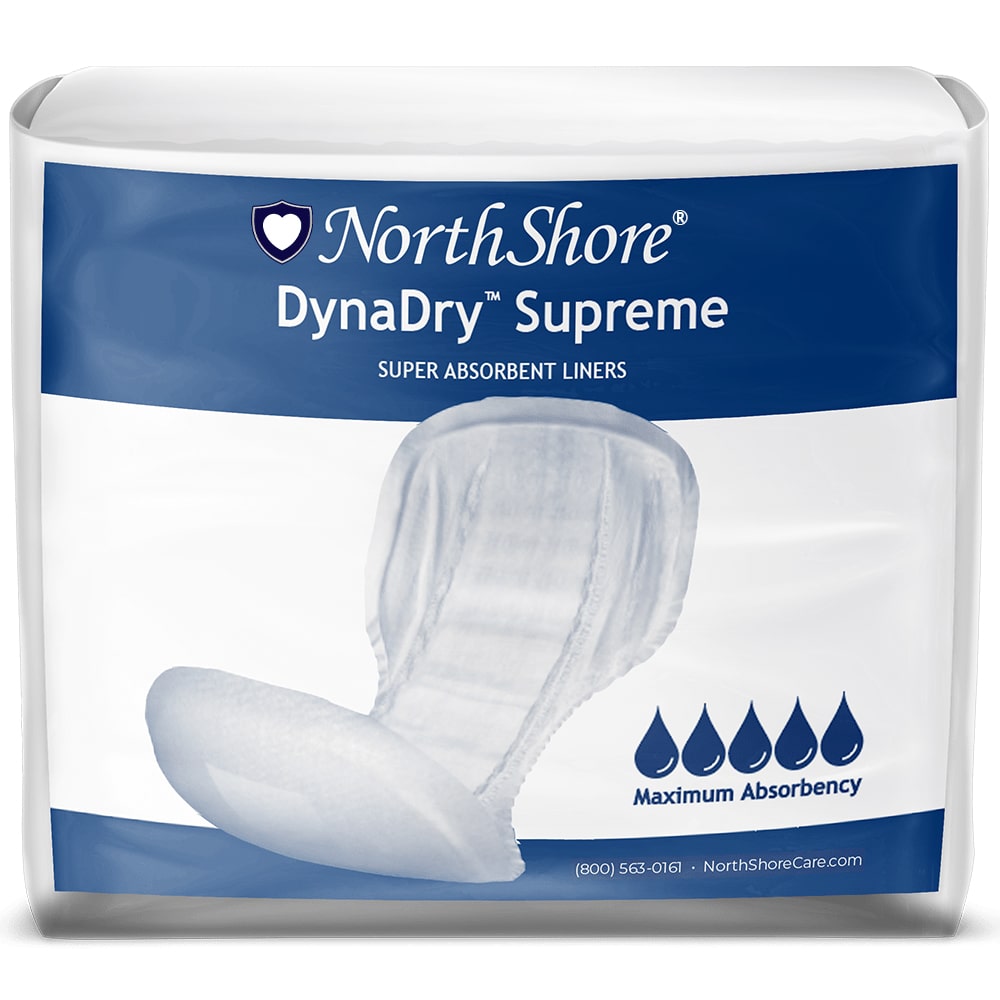 Shop DynaDry Supreme
If you have concerns about urinary incontinence and/or bowel incontinence, NorthShore DynaDry Supreme Liners provide superior protection and offer a rustle-free solution.

When it comes to women, NorthShore Care offers several pads and liners that can be worn inside of regular underwear for on-the-go leakage protection. Wearing leggings or tights? Going for a walk or workout? Pads can offer the support and peace of mind needed.
Where Can I Find Incontinence Supplies?
NorthShore Care Supply has an impressive selection of incontinence supplies, with same-day shipping if ordered before 7 pm Central Time. Look into our convenient Auto-Ship Select & Save subscription option to ensure necessary supplies are received when needed.
Enjoy peace of mind knowing

quality incontinence products

from NorthShore Care are only a click or a call away. Reach out to us today by calling 1-800-563-0161 or use the

Contact Us Form

to get additional information on products, delivery options or subscription services.
Browse Popular Incontinence Products
Please login to access your saved items list. If you don't have an account, create one today to start your list.