Best Adult Pull-Ups for Women with Larger Hips & Thighs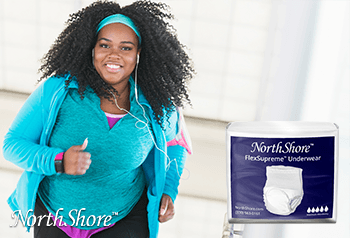 Women come in all shapes and sizes. If you follow fashion magazines, then you already know how important it is to dress for your body type. If you have an apple shaped body and carry most of your weight in your stomach and top half, then it's recommended that you wear pieces of clothing that define your waist. A-line cuts, boyfriend jeans, and deep v-necks are just a few recommended styles to wear.
If you are someone that has wide hips, thick thighs, and a small waist then high waisted pants, long jackets, and flare dresses are great options for you. What fashion magazines won't tell you is the type of adult pull up style diapers to wear if you are in larger sizes, so today we are!
Finding the right disposable underwear can difficult, especially if you don't know where to look. Depend, Tena and other incontinence brands have absorbent underwear designed for women, but not all of them have the special features needed to accommodate women with curves. If you're a beautiful, curvy lady managing heavy bladder leakage and you prefer to wear pull-on style underwear, then you'll want to pay attention to the two new special pull-ups we have listed below.
Great nighttime option - 38 ounces of absorbency – ideal for heavy urinary leakage

Larger leg openings than most brands – ideal for women with thicker thighs

Stronger and taller waistband for women that carry more weight in their stomach

Full elastic waist panel with soft stitching that won't pinch the skin

Sizes offered: M-2XL
If you're not looking for the most absorbent pull up but still want moderate protection then the NorthShore™ FlexSupreme™ Lite Underwear is another option for you. The FlexSupeme™ Lite has all of the features as the FlexSupreme™ but is not as absorbent.
Great daytime absorbency (28-ounce) - ideal for moderate urinary leakage

30% less absorbent than the NorthShore™ FlexSupreme™ Underwear

Sizes offered: M-2XL
If disposable underwear is something you're still not sure will work for your needs, try the NorthShore™ DynaDry™ Supreme Liners. You can wear these liners, (also known as large-shaped pads) in your regular underwear and they come in 4 different sizes.
Ideal for moderate urinary and bowel leakage

Superabsorbent capacity – ranging from 17 to 32 ounces of absorbency based on size

Sizes offered: M-2XL

Tall leak guards for added security

Comfortable contoured design

Adhesive backing stays secure in underwear

Full coverage liner – provides protection in the front and back to help with bowel containment
Supermodel, Iman once said, "Beauty is being comfortable and confident in your own skin." Ladies, feel confident whenever you can. Bladder leakage shouldn't prohibit you from feeling your best every day. Pull-on underwear like the NorthShore™ FlexSupreme­™ and the FlexSupreme™ Lite™ are definitely options for you. To request samples of any of the products mentioned please use our request form here or call us at (800) 563-0161.