Best Incontinence Products for 2021 for Leaks, Discretion and Overnight Protection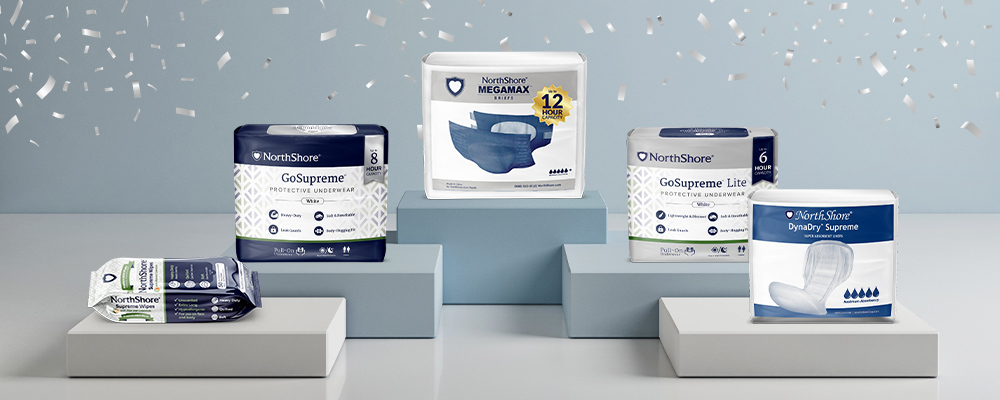 NorthShore Care Supply's Annual 'Best of the Best' list is now available and many customer favorites are included! From the top overnight protection recommendation and urine cleanup supplies to the most fashionable and discreet adult diapers and pull-ons, there is something for everyone managing incontinence.
We are glad to bring this list to help make finding the right incontinence products and supplies easier.
How Did a Product Make the 'Best' List?
We spent a lot of time looking at customer reviews from 2020, talking with NorthShore's Customer Care & Service team about what customers say to them about the products at NorthShore.com and conducting tests on our products in our new Testing Lab before coming up with this 2021 list. Additional considerations included:
· Absorbency - We want customers to enjoy life without worrying about leaks
· Style - We know our customers enjoy choices and many wear a variety of products
· Size - Customers are as unique as our product selection so we are happy to offer XS to 2XL sizes
· Features - Odor control, comfort, breathability and other criteria are important to customers
· Top Rated - Only products that get high marks from customers are on this annual list
Many products on the 'Best List' help with managing urinary leaks as well as bowel incontinence. According to heathline, "Finding the right adult diaper or absorbent undergarment that fits your needs may take a bit of trial and error. Once you find your match, staying dry during the day and night becomes a lot easier."
If you're not sure which diaper, pull-on, pad, liner, underpad or cleaning supply to choose or you have questions, NorthShore has friendly and caring Customer Care & Service representatives available seven days a week online or by phone to help with product recommendations. We also offer our 'Try Before You Buy' Free Sample Program so you can try products out before making a commitment. Also, if you have questions about managing incontinence or helping someone who is, please seek the advice of a physician.

2021 Best Incontinence Products List
Best for Daytime
Rated as one of the "Best Adult Diapers" by healthline in June 2020, NorthShore's GoSupreme protective underwear is a great all around pull-on.
Pros: Comfortable with a close fit, wetness indicator to show when it's time to change, latex-free, absorbent enough for both day and nighttime use.
Designed for both urinary and fecal incontinence, GoSupreme is an excellent choice for more active adults who need protection.
Appropriate for both men and women, GoSupreme comes in a wide range of sizes from small to 3XL. The unique design allows for a snug fit around the legs, which helps prevent leaking. Maximum absorbency offers up to 8 hours of protection if needed.
Best for Overnight
There really is no debating that MEGAMAX tab-style briefs by NorthShore win in the overnight protection category. This MEGA adult diaper offers everything and more someone managing incontinence and their caregivers could ask for in a protective undergarment. Rated 4.7 out of 5, MEGAMAX checks off all important boxes - protection, absorbency, odor control and more!
Pros: Massive absorbency and wicking ability, large, heavy-duty refastenable tape tabs with a full landing zone to keep the brief snug and comfortable, smooth plastic exterior resists sagging and odors.
Designed for heavy to total incontinence, MEGAMAX comes in sizes XS to XL. The extra-wide, extra-long absorbent core provides added protection for restless sleepers.
Best for Cleanup
NorthShore's Supreme Quilted Wipes made the list two years in a row and for good reason. These extra-long (5" longer than the brand's baby wipes) heavy-duty premium wipes can be used all over the body and face.
Pros: Ideal for those with sensitive skin, soft, hypoallergenic, unscented, alcohol-free, latex-free, premoistened with aloe and calendula to soothe the skin.
Designed for use on the entire body and available in Premium XL 9 x 13 inches. NorthShore's Baby Wipes are 7 x 8 inches and offer the same cleanup protection.
Best for Fecal / Bowel Incontinence
The DynaDry Supreme Liners made the list two years in a row thanks to how absorbent they are in providing extra protection from leakage, including from the sides, when used in regular underwear.
Pros: Soft, comfortable lining quickly pulls liquids away, adhesive strip holds liners securely in place, contoured to fit closer to the body, leak guards for better protection and containment, discreet cloth-like exterior that is waterproof.
Offering maximum absorbency, DynaDry Supreme Liners are available in sizes XL and 2XL and are ideal for bladder and bowel incontinence.
Best for Overactive Bladder (OAB)
GoSupreme Lite Pull-On Underwear are a favorite with customers who want lighter absorbency than what most NorthShore products offer. In a recent survey, the Canadian Continence Association found 63% of people with OAB experience only symptoms of urgency and frequency while the remaining 37% have wetting accidents (urge incontinence) in addition to urgency and frequency. The study was made possible by a grant from Pfizer Canada. For those with OAB, feeling the urgency to 'go' frequently combined with leaks can many times be helped by wearing protective underwear.
Pros: Protection without bulk, extra-long contoured lining for extra protection in the front and rear, improved leg elastics, dual leak guards contain leaks, body-gripping waist elastics offer a low-profile yet secure fit.
Super soft to the touch, GoSupreme Lite are breathable, discreet and easy to put on and remove.


Many people are uncomfortable discussing and buying needed products and supplies to manage incontinence. Internet shopping on sites such as NorthShore.com offers discreet and convenient ordering of items. Not sure which product to buy? Check out our 'Try Before You Buy' Free Sample Program or contact Customer Care & Service for personalized product recommendations and assistance.
Shop the Best 2021 Products now and live life to the fullest!


Read More Blogs on Incontinence
Please login to access your saved items list. If you don't have an account, create one today to start your list.