Concerned About Bladder Leakage? Here Are 6 Specialists You Need to Know About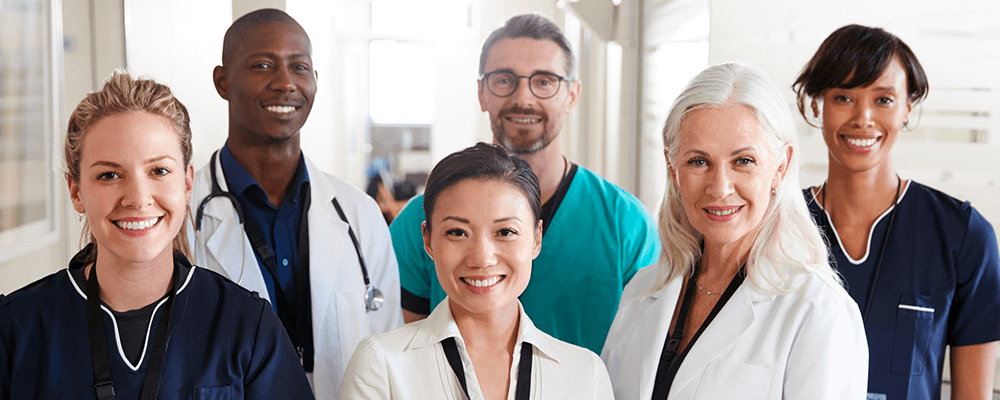 "Yes doctor, those are all the questions I have ." As your doctor heads for the door he reaches for the doorknob, you abruptly say, "Actually doctor… I've been leaking at night…what do I do?" If this scene sounds familiar with you, you've experienced the "doorknob moment."
The "doorknob moment" is when patients ask one last-minute question they didn't feel comfortable asking earlier in the appointment, right as their doctor is about to leave the exam room. This is very common, especially for people managing some type of bladder or bowel leakage. It can be even more difficult for these patients managing incontinence to talk to their doctor.

NorthShore's mission is to improve the quality of life for those managing incontinence so we want to provide you with six specialists that you should be aware of if you're managing bladder leakage. Remember to be honest with your doctor from the beginning, you can get the best treatment available.
Wound Ostomy Continence (WOC) Nurses
Wound, Ostomy Continence Nurses are a unique group of nurse specialists that provide direct care to people with abdominal stomas, wounds, fistulas, drains and continence disorders.
WOC nurses can help with fitting pessaries or catheters to patients. The majority of them have experience in wound care and continence training. WOC nurses can also perform basic tests such as biofeedback.
WOC nurses can be found in all healthcare settings such as hospitals, long-term care facilities, and outpatient clinics.
General Nurse Practitioners
Nurse practitioners are classified as mid-level practitioners. These nurses are familiar with various types of chronic incontinence and may order special tests and insert pessaries to treat incontinence. Nurse practitioners ca prescribe medications and diagnose illnesses without the supervision of a doctor.
Urologists
These are the most common specialists that your primary care doctor may refer to you for a more specialized treatment plan. Urologists diagnose and treat conditions involving the urinary tract in both men and women. They also assist with issues relating to the reproductive tract in men.
Conditions Urologists Treat In Men:
Cancers of the bladder

Prostate gland enlargement

Urinary tract infections (UTIs)

Erectile dysfunction

Kidney diseases

Kidney stones
Conditions Urologists Treat in Women:
Bladder prolapse

Overactive bladder (OAB)

UTIs

Interstitial cystitis

Urinary incontinence (stress incontinence, urge incontinence, mixed incontinence)
If you're a woman and just beginning your journey with bladder leakage, know that there are two specialists just for you.
Gynecologists
These are doctors that specialize in women's health issues. Issues ranging from obstetrics, pregnancy, childbirth, menstruation, fertility issues and sexually transmitted diseases (STIs).
Conditions/Topics They Help With:
Family planning

STIs

Urinary and fecal incontinence

Endometrial hyperplasia

Cancers of the reproductive tract and breasts

Pregnancy-related tumors

Endometriosis

Sexual dysfunction
Urogynecologists
These are doctors who specialize in pelvic floor issues related to women. When women have tears or weak pelvic floor muscles should discuss this specialist with their primary care doctor.
Urogynecologists Treat:
Fecal and/or urinary incontinence

Problems with emptying bladder or rectum

Pelvic pain

Pelvic organ prolapse
If you're managing incontinence and also have pelvic pain, pelvic floor therapists are a group of people to write on your list.
Pelvic Floor Therapists
This group of professionals also known as "Pelvic Floor PT's" are first trained as general physical therapists and then receive additional training for pelvic floor disorders for men and women. Women can visit pelvic floor therapists for vaginismus or endometriosis. Men can visit pelvic floor therapists for painful ejaculation and premature ejaculation.
Pelvic Floor Therapists:
Provide treatments such as pelvic floor stimulation

Assist with pelvic floor exercises

Offer manual therapy which involves massage

Offer education on pelvic anatomy
Now you know the six specialists that can help you with the treatment of your urinary incontinence. Regardless of your age, or if you're a man or a woman, know that there are specialists available for you. Remember to be honest with your primary care doctor during your initial appointment.
There's no need to have that awkward "doorknob moment". If you feel your doctor is rushed, be sure to ask your questions. If you don't feel comfortable with your doctor then consider finding another doctor.
The more information you provide to your doctor, the better your long-term treatment will be. While you're meeting with these specialists, stay protected with the most absorbent products available. NorthShore carries tab-style diapers as well as absorbent pull-up style underwear and incontinence pads. NorthShore offers personalized product consultations based on your needs.
Request samples of our most absorbent products designed for urinary containment on our online form or call us at (800) 563-0161.

Thank you so much for reading our blogs!

Did you know NorthShore has helped millions of people manage incontinence with life-changing absorbent products? It's so amazing to hear their stories.

We also want you to know we have trained product advocates that provide a personal experience by working with each customer to find the best product for their situation.

Find out for yourself today!
To get in touch, simply provide your contact details below and your personal product advocate will reach out.


Please login to access your saved items list. If you don't have an account, create one today to start your list.