How Does Bladder Health Impact Incontinence?


Weakened or damaged bladder muscles can trigger leaks, whether caused by an enlarged prostate gland, pregnancy and childbirth, muscle spasms, nerve damage or something else. Bladder incontinence causes urinary leaks that can be light and infrequent or more often and severe.
While urinary leakage can occur at any age, maintaining good bladder health for older adults may require a more detailed treatment plan with a doctor or healthcare provider.
Bladder-healthy foods like cashews, eggs and bananas—as well as avoiding fatty and high-sodium foods to support heart and kidney health—can help provide some measure of relief from incontinence. Discover more tips and guidance to live confidently with incontinence on the NorthShore blog.
Explore Blogs

Bladder Health Tips, Resources, Products & More
---
Looking for a great new read or podcast? CLICK HERE
---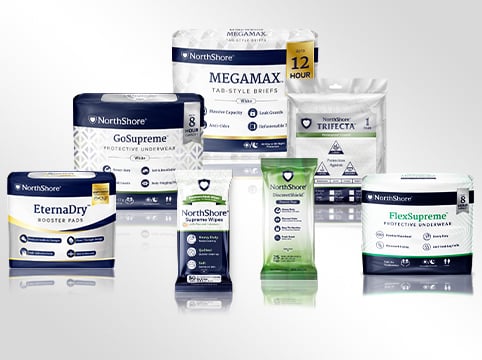 Which Products Are Ideal for Supporting Bladder Leakage?
NorthShore specializes in highly absorbent incontinence products for a range of needs and body types. Many of our bladder leakage pads for men and women provide convenient, discreet protection against both urinary and bowel incontinence. Those who prefer the wraparound support of bladder leakage underwear can choose from tab-style briefs or pull-up style protection. Booster pads, used with absorbent undergarments, offer added absorbency and protection. Accessories such as disposal bags, cleansing wipes and waterproof covers are popular add-on items.
Bladder leakage solutions don't have to feel overwhelming. NorthShore's premium products can help you live your life to the fullest.
SHOP PRODUCTS
Please login to access your saved items list. If you don't have an account, create one today to start your list.