What's the Most Absorbent Adult Diaper, Underwear, Underpad & More?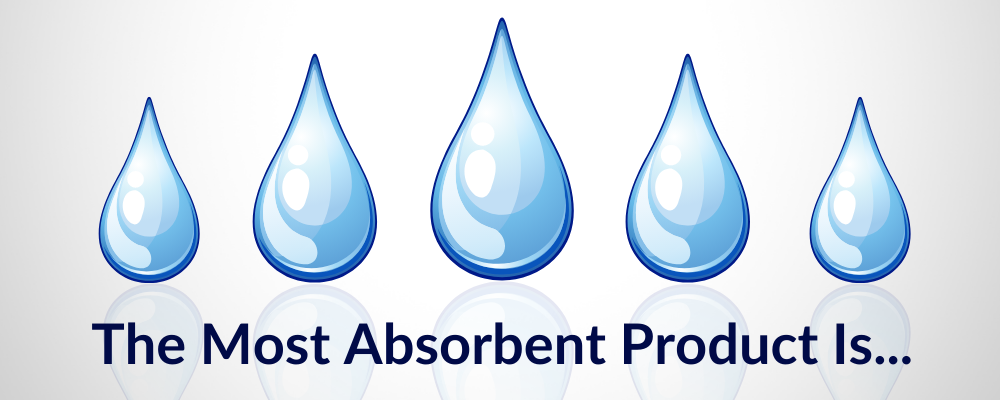 Whether managing urinary or bowel incontinence, adults should feel dry and confident while going about their daily lives. For those with heavy leaks, it's sometimes difficult to find the perfect product and fit. NorthShore offers a range of absorbent supplies to help people find the best choice for their needs.
The Simon Foundation for Continence offers helpful information about the different types of incontinence, but even within each type, the level of absorbency individuals need can vary. And, different activity levels should be considered when choosing a product.
In addition, some people prefer tab-style briefs on the side that are easy to open and re-fasten for changes or bathroom breaks, while others favor pull-up style underwear. Finding the right option can make a world of difference for those managing incontinence of any type.
For high-volume urinary or bowel incontinence, heavy-absorbency adult diapers, or briefs with tabs, are a great choice for peace of mind from worrying about leaks. Explore which of the high-absorbency NorthShore incontinence supplies—whether briefs with refastenable tape tabs, pull-ons, liners, pads or comfortable bed pads—are right for you or your loved one's needs.


MEGAMAX Provides Maximum Absorbency & Smooth Fit
Up to 12-Hour Capacity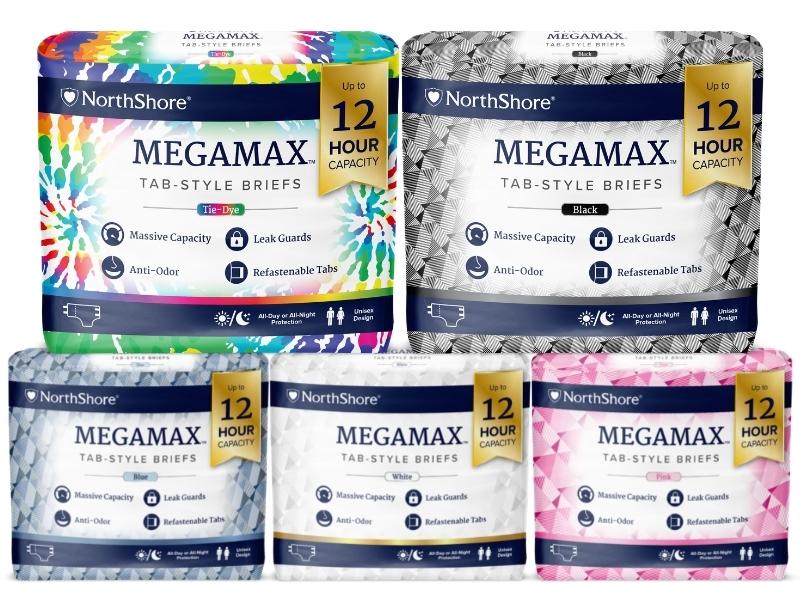 NorthShore MEGAMAX Tab-Style Briefs are one of the best adult diapers with tabs for heavy to total bowel or urinary incontinence. The heavy-duty refastenable tape tabs help wearers adjust the brief throughout the day or night, and MEGAMAX offers a full landing zone for a smooth, snug fit for men and women.
These can be worn for up to 12 hours of incontinence protection for both active and more sedentary adults, and the wicking capabilities help keep skin safe and dry even with heavy volume. MEGAMAX briefs are known for total lockdown protection against leaks, floods and odors.
The briefs are available in classic white and black for discreet use whether casual or business, as well as white, blue and pink. MEGAMAX also offers tie-dye, the only company in the U.S. with a tie-dye brief.
Latex-free with a plastic waterproof exterior that resists sagging and odors, MEGAMAX provides MEGA absorbency and is available in a range of sizes. As a reminder, measure across the largest area of the waist or hips, to find the right size:
X-Small is for a waist or hip measurement of 18-30 in. and offers absorbency up to 30 oz.

Small is 24-34 in. with absorbency up to 36 oz.

Medium provides support for 32-44 in. with 42 oz. of absorbency

Large is for 42-54 in. with 49 oz.

X-Large covers 50-60 in. and provides 49 oz. of absorbency

2X-Large, available in White only, fits waists 60-76 in. with an absorbency of 49 oz.
Crinklz Offers Heavy Absorbency & Fun Designs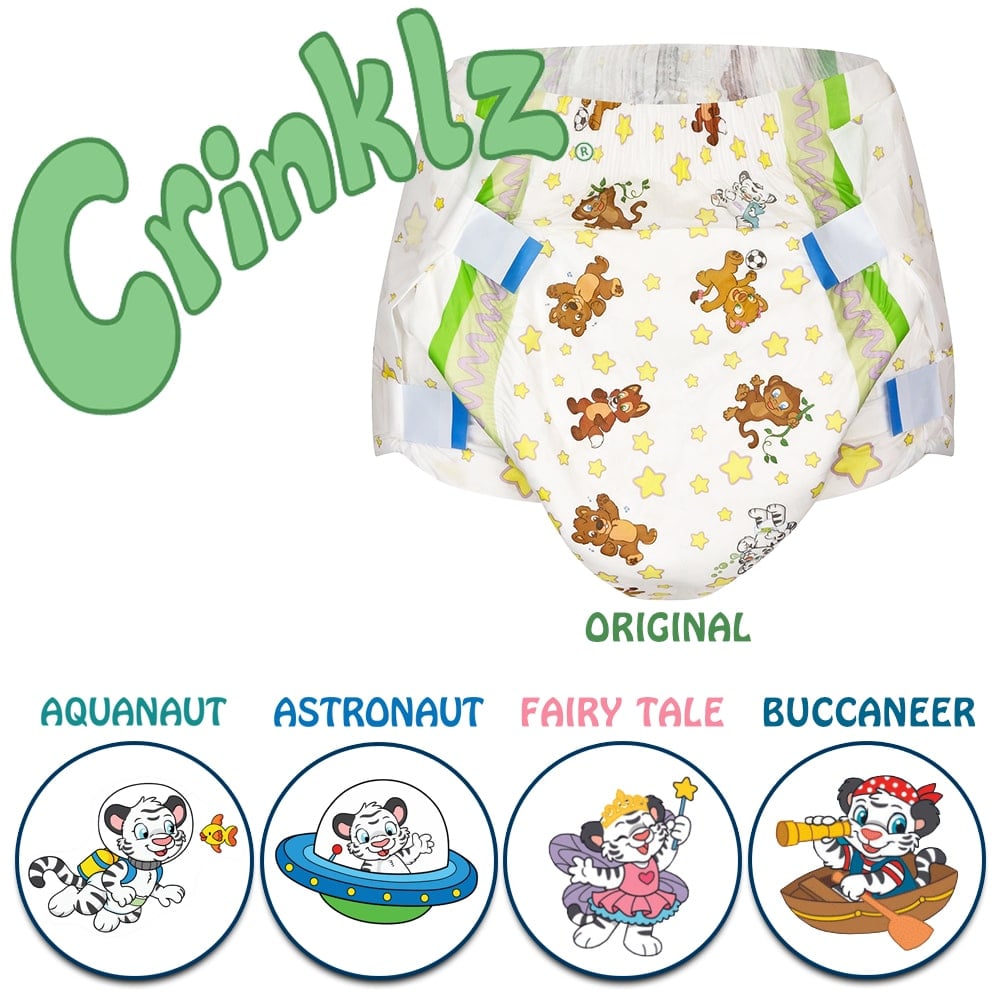 Crinklz Tab-Style Briefs provide all-day and all-night protection with absorbency protection up to 35 oz. These disposable diapers are ideal for men and women managing either urine and bowel incontinence, or both.
The oversized, 1.5-inch refastenable tape tabs are easy to grip and adjust for trips to the restroom, and extra-tall leak guards cover the full length of the brief for superior leakage protection. Latex-free Crinklz are extra thick and super absorbent, with an extra-wide core to keep the wearer comfortable for hours, and snug leg holes offer a secure fit.
With excellent odor control, the plastic exterior comes with multiple, fun designs such as Original, Aquanaut, Astronaut, Fairy Tale, and Buccaneer. Learn more about "fun-derwear" from NorthShore Customer Bill Edwards in this article.
Crinklz are available in sizes Medium (29-43 in.) and Large (43-59 in.). To find the appropriate size, measure across the widest part of the stomach or hips, whichever is largest:
Medium is for 29-43 in. with 30 oz. of absorbency

Large is for adults with measurements of 43-59 in. and offers 35 oz. of absorbency
For comfort as well as ease of use, Crinklz are a great choice for active adults who want a little cheer in an absorbent brief.
GoSupreme Offers Heavy Absorbency in a Pull-Up Style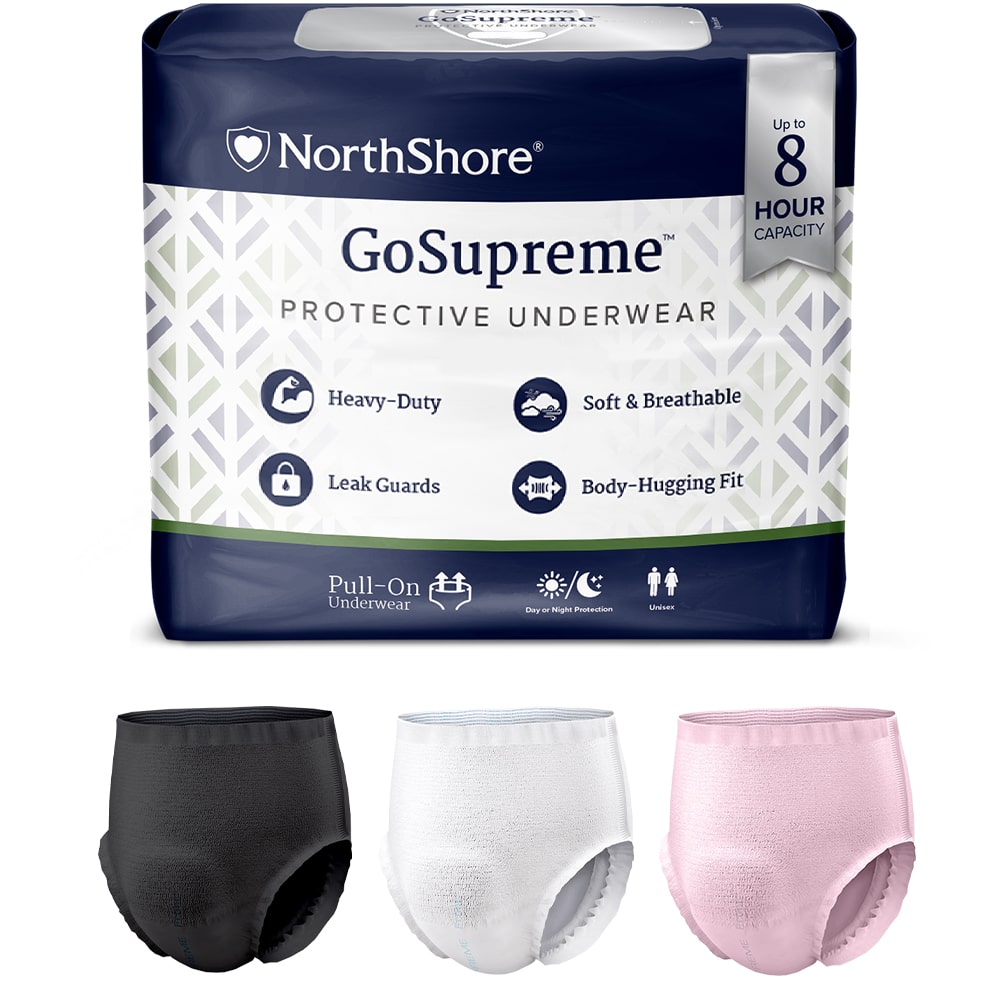 Men and women who don't want a brief have other great options for maximum absorbency. NorthShore's GoSupreme Pull-On Underwear provides up to 3x the absorbency of store brands.
It can sometimes be difficult for people with larger waists or hips to find a product that delivers a secure and accurate fit. With sizes Small up to 3X-Large, this protective underwear offers a variety of options for a wide range of body types.
With unique built-in elastics, GoSupreme offers a snug fit around the legs and reduces the appearance of bulkiness. The extra coverage in front and rear plus dual leak guards help prevent leaks for adults on the go or restless sleepers.
The feel against the skin is silky smooth, and the exterior is cloth-like and waterproof. The printed wetness indicators and rear-indicating waistband make GoSupreme an ideal choice for both wearers and caregivers, as everyone can easily see when a change is needed.
The excellent wicking capability helps keep the wearer feeling dry and comfortable throughout the day or night. To find the best fit, measure the widest part of the body, waist or hips. GoSupreme Pull-On Underwear is available in a range of sizes, and each size offers the same high absorbency of up to 38 oz. of protection:
Small is for measurements of 22-32 in.

Medium is for 30-40 in.

Large covers 36-48 in.

X-Large is for measurements of 44-56 in.

2X-Large is for 56-80 in.

3X-Large covers 74-90 in.
If you or your loved one doesn't want a tab-style brief, GoSupreme Pull-On Underwear are an excellent choice for comfort, high absorbency and a selection of sizes.
Want Extra Security?
Looking for leak-free, worry-free overnight protection? While all of the options above provide excellent overnight incontinence coverage, not everyone likes to wear adult diapers or pull-up style underwear for a good night's sleep. When the day is done, comfort and peace of mind go a long way toward getting a good night's sleep. For extra confidence, check out NorthShore's MagicSorb Air Disposable Underpads.

MagicSorb Air Disposable Underpads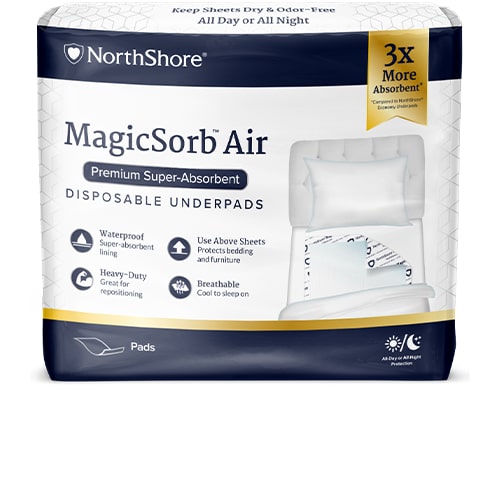 These extra-soft, waterproof pads can be used with or without wearing an absorbent product like a brief or pull-on. Designed for use over the sheets, the latex-free pads have a vector core for even fluid distribution.
And because they're air permeable, MagicSorb Air underpads are cool to sleep on and offer improved skin dryness. That makes them a comfortable choice for those trying to heal from diaper rash or anyone who wants a dry night's sleep.
The bed pads come in a number of different sizes, the largest of which provides absorbency up to 96 oz.:
Size Large offers dimensions of 23 x 36 in. with 50 oz. of absorbency

X-Large provides 30 x 36 in. of protection and 60 oz. of absorbency

2X-Large covers 36 x 48 in. with 96 oz. of absorbency
No matter the type of moderate to heavy incontinence protection you or your loved one needs, NorthShore offers a range of highly absorbent supplies to help lead a full, comfortable life.


Did this article help you locate the best incontinence products for maximum absorbency? To learn more about these products or other

incontinence supplies

, call (800) 563-0161.
Products Featured in This Blog
Please login to access your saved items list. If you don't have an account, create one today to start your list.