Tips for Traveling with Kids Managing Incontinence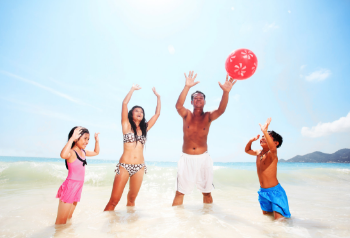 Spring break is approaching and you've decided that you're going to take the family somewhere special this year. Whether you have newborns, kids in the potty training phase, or kids with abilities that are managing some type of incontinence, you'll want to be prepared and ready for whatever comes your way. The truth is that traveling can be stressful and sometimes the unexpected occurs. We want to list the 8 tips to use when you travel with your family this spring break 2018. We rank number 1 as the most important to have at all times!
8. Ask the hotel/resort for additional help when needed- You can ask the hotel for additional garbage trash bags or any other cleaning that may be needed. If you're going to be using chux or disposable diapers frequently, you'll need trash bags that can hold the soiled products. Call and ask the hotel if they can deliver more trash bags to your room so you can quickly dispose of the soiled products. You can also ask room service if they pick up the trash for you to avoid any odors in the room once you're out.
7. Bring a good size backpack– The more room your bag can hold the better off you will be. A backpack that can hold your phone chargers, snacks for the kids, diapers and an extra change of clothes will make your life easier. Backpacks with compartments are great for storing lots of smaller items that you can keep track of. Use this backpack guide to help you select the best one for your needs when traveling.
6. Use diaper covers for long excursions- If you're going to be out and don't have access to a bathroom, a diaper cover will help to contain anything that may leak out of your child's diaper. This will prevent your child's clothing from being soiled and keep them clean in the mean time between the next diaper change.
5. Bring disposable chux– Use these on the hotel bed, campground or even in the car if you're going to be traveling for long periods of time. This is a great way to keep the areas free of urine and also keep your kids comfortable. These premium blue disposable pads are easy to dispose of and can hold up to 25 ounces in the large size. There are larger sizes available as well.
4. Bring disposal bags– While you're out and about you'll need a disposal bag to throw away soiled diapers. Use these bags, they smell fresh and keep odors within the bag. No more embarrassing smells!
3. Bring good quality wipes– Bring good quality wipes with you to keep while you're out and at your accommodation whether that be a hotel or resort. Kids have accidents that aren't always just from incontinence. You'll want to have wipes to quickly pick up any accidents or sticky fingers. These cleansing wipes are heavy duty so they can pick up the heavy messes.
2. Bring antibacterial wipes or sanitizer- Most parents already have this, but don't forget to keep a small pack or bottle with you. These are crucial while during diaper changes in public restrooms and any other time when your kids snack or drink in public places.
1. Bring the most absorbent diapers for your kids to use– NorthShore offers absorbent diapers for kids of all ages. Some highly rated ones include NorthShore™ AirSupreme™ Briefs and the NorthShore™ GoSupreme™ Pull Ups. These diapers are known for their capacity to hold a large amount of urine and are also very comfortable for your kids to wear.