5 Ways to Select the Best Assisted Living Facility for Your Aging Relative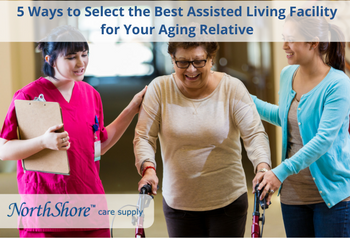 According to ASCSeniorCare.com, there are over one million Americans residing in some type of senior living community. It is estimated that by 2030 that number is expected to double. Where will your loved ones be in the next 5-10 years? At home? Or in an assisted living community?
It can be difficult to think about our loved ones being anywhere other than their own home, but the truth is people are living longer and sometimes, families may not be able to provide the care that is required for their relative. This is where assisted living facilities come in. Assisted living communities can be a godsend to many families and the lifeline for many aging seniors. While we cannot always predict what the future holds, preparing for it always helps.
We have arranged a list of the 5 best tips for selecting the best-assisted living for your loved one. We hope it helps provide a guideline for your family during this time of the decision, even if it may not be something in the near future.
Evaluate the care needed for your loved one-While this may seem the most obvious, it's the most overlooked aspect to deciding where your loved one should go. It is important to understand the level of care needed for your aging relative. Can they take care of themselves alone? Do they need assistance with bathing, cleaning or eating? Are they able to take their own medications correctly? The more care your loved one requires, the more monitoring they will need to have. This may result in 24-hour nursing assistance set up in a room that may be shared with another individual. More independent seniors who do not require 24-hour monitoring may have their own apartment or condo which gives them more privacy.

Check the safety of the facility-Natural disasters within the past year like Hurricane Harvey and Irma have us asking ourselves, "How safe are our seniors during natural disasters?" It's important to understand what the emergency plans of the residence are and what the facility does during power outages fire and floods. Many of these questions can be answered at the facility management center so ask them what their plans and protocols are when natural disasters occur.

Take a tour of the facility-It's important to get a feel for the residential community before even thinking about having your loved one live there. Pay attention to certain things like the staff's interaction with the residents and the well-being of the residents themselves. Is the staff respectful towards residents? Are they smiling? How are the residents when they are not near a staff member? Eat with your loved one at the dining hall. How is the quality of the food? Does the residence have optional menus for seniors with dietary restrictions? How are the common areas? If your loved one likes being outside, look at their outdoor areas.

Pay attention to odors-Odors are a big clue as to how the facility maintains its cleanliness. Housekeeping schedules and laundry rotation are important to the well-being of your loved one, especially if they are managing incontinence. One important question to ask is, "How often does housekeeping come to change linens or towels?" "How often is laundry done?" If you smell urine or any other strong odors, it's most likely that residence is not cleaning their resident's rooms often.

Bring another family member to view the residence-You may have a positive feeling about the residence, but bringing a close relative, such as a sibling can help catch things that you may not have noticed. As our parents age, we confide in our relatives for support. If you can bring a relative with you it can help the process to select the right assisted living for your relative. Family support helps during decisions like these, so get them involved. Discuss the things you like and dislike each other. Unified decisions can help prevent arguments in the future and provide peace of mind in your decision.
Our relatives were there for us, now it's our turn to be there for them. The process of selecting a place for our aging relatives can be stressful and difficult, but understanding what to look can help with our decision. Use all five senses when taking a tour of the facility, bring your loved one with you and trust your instincts. Can you realistically see your loved one living at the facility? The more information you have beforehand the better off your loved one will be in the future.