The Most Underrated Feature of Breathable Fitted Briefs: Side Panels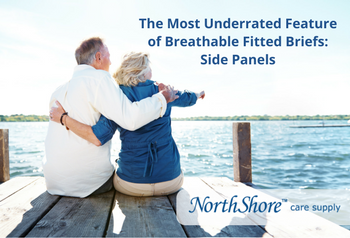 What's your preferred outfit to wear? Shorts and a t-shirt? Jeans and a sweater? New users to adult diapers may not know what to expect or what style they prefer from the start. Breathable side panels are one of the most underrated features in the fitted brief line and worth discussing for current users and to educate those just starting their journey with adult diapers. While these panels are not the most popular style in the fitted brief line, they offer great benefits to individuals with specific concerns.
Fitted briefs have 3 different types of closure options: adhesive (usually for plastic backed briefs), combination (adhesive with hook and loop systems) and breathable side panels. Side panels are a cloth-like material and are significantly longer and wider than common diaper tabs.
Benefits of Briefs with Breathable Side Panels
Considerate for Individuals with Unique Body Types - These tabs are ideal for individuals with pear and hourglass body types. They also help individuals who have skin folds or a tummy. The side panels stretch across the stomach area without feeling uncomfortable.

Ideal for Individuals Who Sweat Easily- The side panels provide excellent breathability to help keep skin cool and dry. The material of the side panels also helps prevent skin break down.

Ideal for Active Individuals- For individuals who travel, or require frequent changes, these breathable side panels are easy to readjust when needed. Each panel goes over the waist and is placed over the center of the landing zone (the front area of the briefs where tabs stay in place).

Discreet- The shape of the tabs wrap easily around the waist for a comfortable and discreet fit that moves comfortably with the user.

Worry-Free Fit- The length and width of the side panels provide a secure hold to the landing zone of the brief. The entire panel consists of the hook and loop closures providing a stronger hold.

We carry one product on the site that offers these breathable side panels. These include the Tranquility Bariatric Briefs. If you're looking for a new breathable option that offers larger sizes, or if any of the concerns above relate to you, then you'll want to review these briefs.
The breathable side panels offer many great benefits, some including a unique fit for larger body types, assistance with perspiration and security. At the end of the day select a diaper that works for your body type and lifestyle!