Chux Disposable Pads: Our Faves of 2018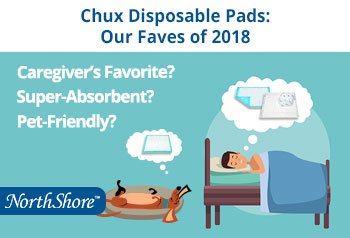 Looking for some guidance while shopping for chux pads? The year isn't over just yet but these ones have been doing wonders for people! Are you still looking for the best chux pads online? We'll explain the VIPs you should consider on your next purchase. Don't just purchase any chux pads, find the best ones for your needs. We'll explain the most notable chux by category and include their benefits! Let's lay down the facts…
Best Chux Pads for Caregivers
NorthShore MagicSorb™ Disposable Chux
The back sheet is strong enough to reposition loved ones

The most absorbent chux pad on the site, ideal for nighttime use and users with heavy urinary incontinence

The chux pad with the largest sizes on the site: 2XL (36" X 52") & 3XL (36" X 70")
"We (my pt and I) are quite pleased with these; not only are they absorbent, but the backing makes it easy (or easier) for me to reposition him. They don't tear and are very "slidey." I'm happy I bought them, and I will do so again when these run low."
Best Priced Chux Pads
NorthShore Economy Disposable Chux
Five sizes offered for all situations and lifestyles (Small to Ultra Large)

Great option for those with stress incontinence

They start about .17 cents per pad starting in the size small
"The pads are exactly as described. As a caregiver, I can not spend time shopping for supplies and this superior product and reasonable price can't be beat."
Best Top Selling/Most Popular Chux Pads
Premium level "every day" chux pad

2 ideal sizes offered (Small 17" X 24" & 23" X 36")

Moderate absorbency, ideal for users with light to moderate urinary incontinence
"I have been buying a similar product from Walgreens until they just recently stopped carrying it. Searching around, I finally found the similar product at NorthShore. It is just what I needed. It is similarly priced, and of the same quality, and available."
Best Chux Pads for Pets
NorthShore Premium Super Absorbent Green Chux
Great size for pets of all sizes

40-ounce absorbency

Convenient package sizes - packs of 10, cases of 60 and cases of 120
"I buy these pads for my two dogs who are at home while I am working. They are trained to use them. They are very absorbent and economical and a life saver for a working dog mom.."
Chux pads are essential to protecting furniture and bedding. Be sure to get the right one that fits your needs. We recommend measuring the area where you plan on using the chux pads to ensure proper coverage. If you have any question regarding these chux pads please call us at (800) 563-0161. We're always happy to help!