5 Features to Look for When Choosing High Absorbency Adult Diapers & Underpads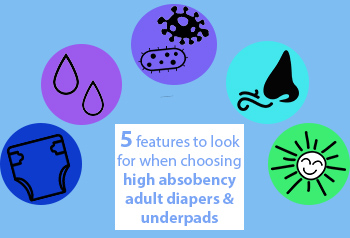 1. Liquid absorption and retention capacity
Skin safety should be a top priority in choosing an absorbent product such as adult diapers and underpads. Moist skin is prone to irritation, breakdown and the formation of pressure sores. High performance products retain larger volumes of urine and the fluid will not "squeeze out" even under pressure. The result is dryer, healthier skin.
In addition to choosing a high performance product it is very important to remember to reposition your loved one frequently, to avoid constant pressure which can also lead to skin breakdown.
2. Leak-proof protection
Leakage of urine can be prevented. The common belief that the larger the adult diaper or brief the more urine it will hold is really a myth. In actuality, high performance incontinence products are composed of super-absorbent polymers that absorb and neutralize a large volume of urine.
It is very important that an individual's incontinence needs are assessed and that they are measured for the correct style and size of product. The right product and size are essential to maintain superior performance levels and to prevent leakage.
3. Control of bacterial growth
Neutralization of bacteria is important for many reasons. Unabsorbed urine is an ideal breeding ground for bacteria and other organisms. These can easily lead to complications, including urinary tract infections.
High performance adult diapers and underpads neutralize the pH in urine and inhibit the growth of bacteria, creating a safer skin environment. Individuals remain dry and protected. Exceptional levels of skin integrity are achieved through the use of superabsorbent products.
4. Odor elimination
The smell of urine is very unpleasant and yet is very common when using a low performance product like the brands typically found in the retail stores. High performance adult diapers and underpads eliminate urine odor as their technology controls the bacteria responsible for creating the odor.
Odor elimination results in a more pleasant environment for everyone.
5. Improve the quality of life
A product with a lower absorption capacity needs to be changed more frequently, requiring more of a caregiver's limited time.
High performance incontinence products last longer and require fewer changes because they absorb and neutralize much more urine than lower performing products.
Superior performance prevents leakage and reduces laundry. A "Performance Product" means a good night's sleep!
Higher performance adult diaper products enhance the quality of life as there is more time to do the "little extras" and time for the caregiver.
by Jane Curry, BS Gerontology and Mindy Jenson, R.N.
©2002 Principle Business Enterprises, Inc.