These 5 Incontinence Products Can Help Truck Drivers Across the Country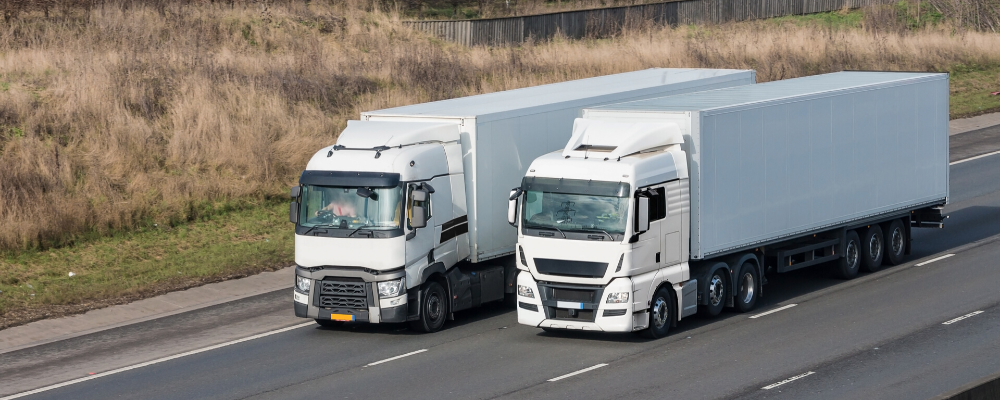 Beep Beep. Beep. Your alarm goes off. It's 0600 but you can see the bright lights of the highway from your window. It's time to face another day on the road. Your in-cab computer reads 12 hours of drive time until your next stop. If you're a truck driver your bathroom stops may be few and far between. Nonetheless, it's important to monitor your bathroom habits on and off the road.

Did you know that truck drivers are prone to overflow incontinence? Dr. Ken Aldridge, Tuscaloosa-based urologist mentioned on Overdriveonline.com, "Truck drivers are prone to overflow incontinence because they tend to wait too long between bathroom visits."
Resisting the urge to urinate on a regular basis can cause the bladder to stretch, leading to a decrease in tone and elasticity. This loss of elasticity may cause the bladder's inability to empty properly.
Whether you're a truck driver managing incontinence or not, it's important to be informed on the special incontinence products to have on the road in case you are needing them in the near future.
We'll explain the diapers and other helpful supplies that have been proven to work well for others. Before we get into the specific products, we'll explain some basic tips for purchasing adult diapers.
Adult Diapers 101
Today there are handfuls of incontinence brands for you to choose from. Some of the well-known brands are Depend, Assure and Tena. While NorthShore Care Supply® offers some of these brands, customers tell us they do not always offer complete leakage protection and products from drugstores don't meet meet their needs.
Protective underwear, also known as 'adult pull-ups,' resemble regular underwear. This style is typically ideal for people who are managing urinary incontinence. The similar look and feel are appealing to individuals beginning their journey with incontinence.
Tab-style briefs, or 'adult diapers with tabs,' are ideal for individuals who struggle with mobility and want a product that they can change without having to fully remove their clothing. Tab-style briefs have two waterproof backing options. The cloth-like, breathable material keeps skin cool, whereas the plastic (poly) backing helps to contain odors and prevents the diaper from sagging when full.
Tips for Purchasing Adult Diapers
Many people who are new to incontinence find they are leaking often because they are using the wrong product, wrong style, or wearing the wrong size. That's why it's so important to do research on the new products that are released, sample the products before you buy and measure yourself correctly for the best fit. You'll want to make sure you're measuring yourself correctly for adult diapers by following these measuring tips.

Often times people assume that they are the same size in a diaper as they are in regular underwear. This is not the case. Absorbent products are stitched differently, have different sizing and have different flexibility compared to regular cotton underwear. If you're looking for the right adult diaper here are important questions you can ask:
"Do I want a tab-style diaper or do I prefer something that resembles underwear?"

"Can I comfortably sit, stand and sleep with a product that has tabs?"

"How much absorbency do I need during the day and/or night?"
Many of these questions can be best answered when you sample the product. Free samples are available on NorthShore. Find out how to request your samples at the end of this article.
If you're looking for the most absorbent adult diaper, remember that while the product can hold up to a certain amount of liquid, it's always important to change as needed.
The MEGAMAX brief is the most absorbent adult diaper in the U.S. It is designed for use by people managing heavy to total urinary and/or bowel incontinence. Available in five colors, MEGAMAX offers style and protection.
Special features:
Provides protection for up to 12 hours

Large tabs keep brief securely fastened and allow for additional adjustments

Channeled core distributes liquid evenly

Elastic waistband allows users to move comfortably

Strong plastic exterior contains odors from bowel movements
MEGAMAX Review: "I give it a 100 because as a truck driver it is hard to find good products that work. A week ago I was stuck in a major traffic jam on didn't change for 15 hours and to great surprise, it did not leak through. " – Paul S., NorthShore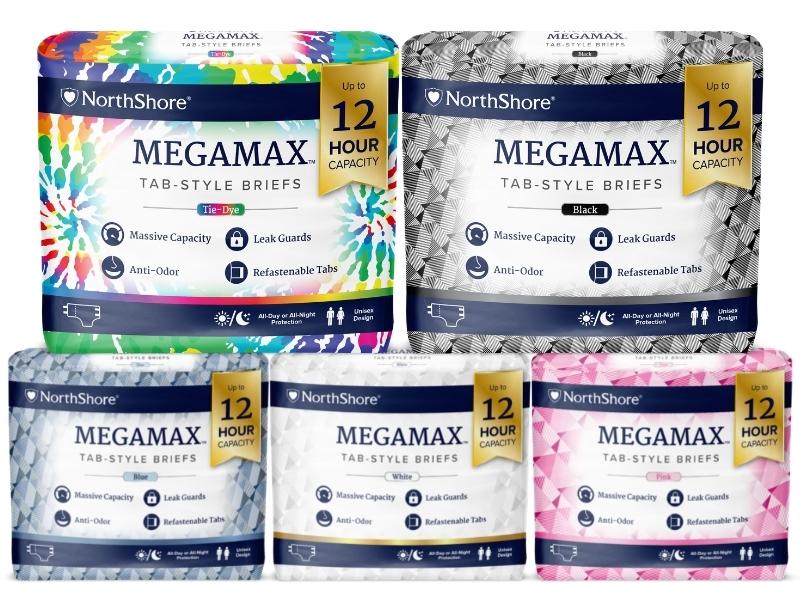 SHOP MEGAMAX
The GoSupreme Underwear is the most absorbent pull-on underwear available on the site. The unique leg openings, soft waistband, and leak guards and added absorbency in the core are all important features.
Special features:
Provides protection for up to 8 hours

Extra coverage in the back for bowel containment

Low profile design that's discreet yet fully protective

Snug leg openings prevent leaks for individuals with thinner legs
GoSupreme Review: "Working a 10 hour shift, I needed a product I could wear all day and remain dry, even with moderate leakage. The GoSupremes work perfectly." – John B., NorthShore Customer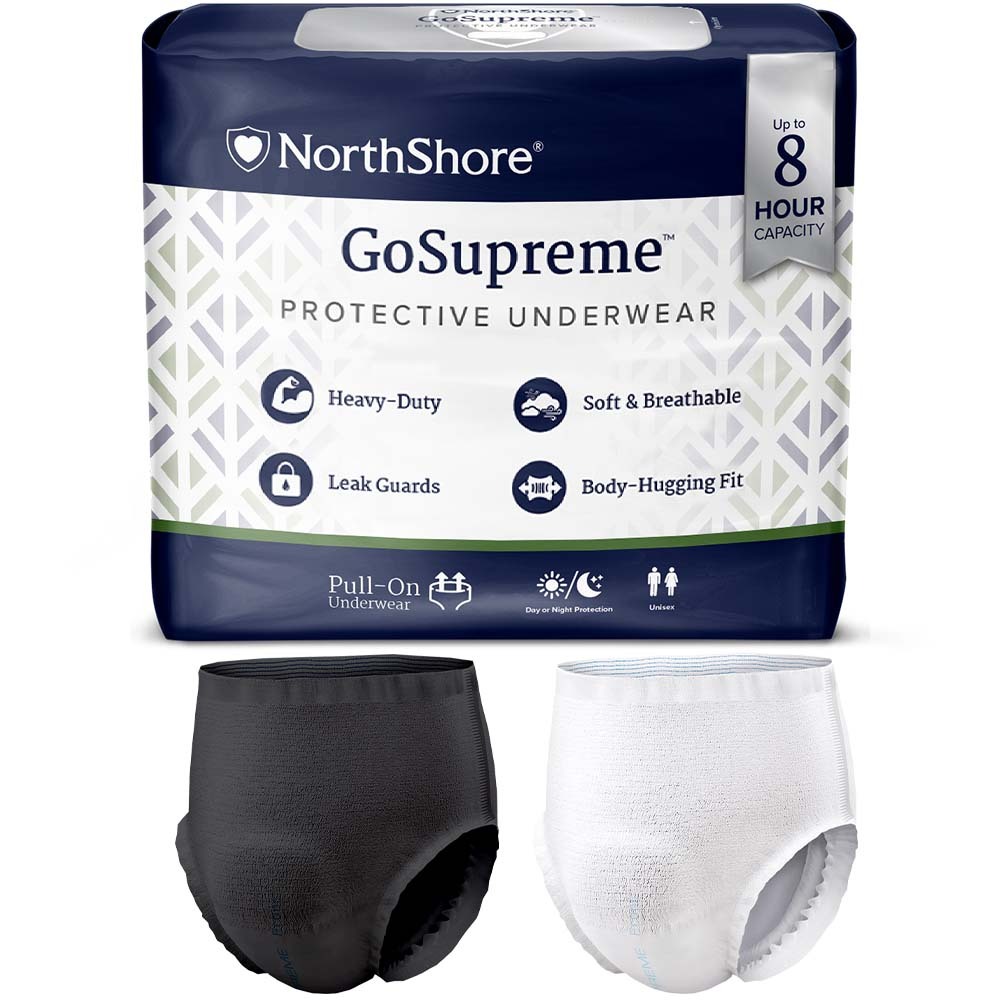 SHOP GOSUPREME
Whether you're a seasoned truck driver or a rookie, you know that preparation is essential when managing incontinence. As experts in the incontinence supply industry, we recommend having the following supplies for cleanup when rest stops are not available.
Incontinence Products to Use on the Road
NorthShore Supreme Quilted Wipes (9" X 13") are designed for anyone looking for a better wipe, but especially for truck drivers. Why? Because the wipes leave skin feeling clean, soft and moisturized. Use the wipes at rest stops and in your truck's cabin during freshen ups when showers are not available.
Special features:
Heavy Duty

Quilted

Soft

Extra Long

Unscented

Latex Free
Supreme Quilted Wipes Review: "These wipes work very well and come at a great price. They are essential for diaper changes, but also come in handy for "freshening up." When it comes to diaper changes, these wipes do such a good job that I normally only need to use one!" – Brendan P., NorthShore Customer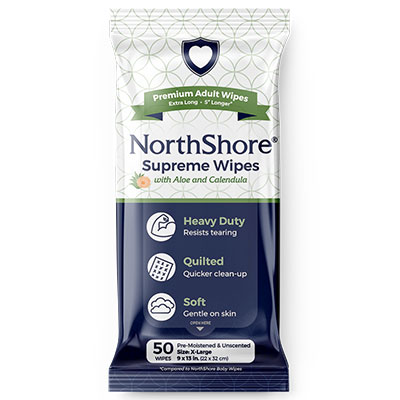 SHOP ADULT WIPES
Use the NorthShore Premium Disposable Underpads in your sleeper cab or in your driver seat to prevent leaks in your area. These disposable pads come in sizes small to large and can hold up to 25 ounces of liquid.
Special benefits:
Includes a highly absorbent core which wicks away wetness, fast

Available in 2 popular sizes (small & large) to accommodate any situation

Pet-friendly! Use them for protecting accidents and spills in your truck/car
SHOP PREMIUM UNDERPADSNorthShore also carries larger sized, more absorbent disposable chux if you need more coverage and absorbency.
DiscreetShield Disposal Bags are a lifesaver for those with heavy incontinence because they conceal strong odors and they are larger than average trash bags. These disposal bags can be used for soiled adult diapers, pads and other garbage that you may have in your truck. They include large seal ties to hold everything in.
DiscreetShield Review: "These bags work great after I've been driving for a while and get to a stop where I can throw out my wet stuff." – Jay T., NorthShore Customer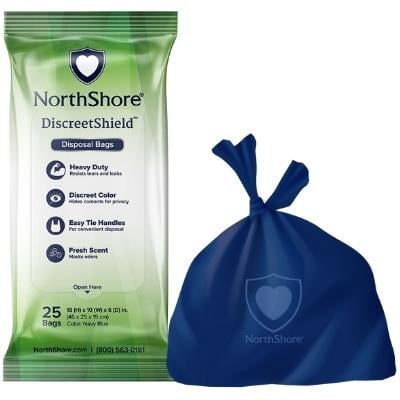 SHOP DISCREETSHIELD
Don't let incontinence get in the way of your job or living your life. It's not always an easy job driving for a living, especially if you're managing incontinence. If you use the right products and follow a healthy routine, there are ways to stay healthy, dry and happy on the road.

NorthShore Customer Bryan K., who is also a truck driver, explains how NorthShore products help him during long hauls: "Without NorthShore, I would be unable to perform my duties as a seasoned OTR truck driver. I have medical issues that cause my incontinence. With the lack of trucking facilities across the country, it can be several hours in between bathroom stops. I make sure to stock up on NorthShore products while I'm home to ensure I stay dry. My skin stays healthy and my truck stays clean and free of odors. Thank you NorthShore."
Consider using the most absorbent adult diapers available to keep you dry and comfortable, day and night. While it's always important to change as needed, usually the most absorbent products are going to save you the most money and time in the long run.
Shop

Absorbent Products

now or call (800) 563-0161 for personalized assistance and recommendations.
Please login to access your saved items list. If you don't have an account, create one today to start your list.