How to Support an Aging Parent When You Live Far Away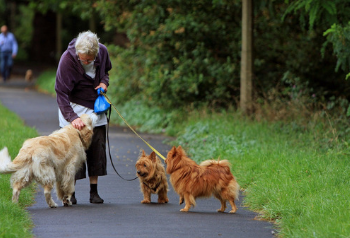 As our loved ones age in an increasingly hectic world, it can be hard to stay engaged in their lives. Even harder still if our seniors live far away. But, whatever the distance, it is possible to be actively involved in providing the support our loved ones deserve, especially those with Alzheimer's or limited mobility. Here are a few tips to consider.
Support Their Independence
Little things can go a long way to enabling a senior to retain some degree of independence. Technology can seem daunting, but devices like home security systems can allow you to remotely monitor your senior and assist them, with their permission, when needed. Making a safe environment creates the foundations for continued independence. If possible, discuss with your senior other small changes that can be made, such as installing bathroom safety rails, lowering shelves, and improving lighting.
Lessen the Burden
It's a fact of life that as we age we find ourselves less spry than we once were. It can be hard seeing that happen to our loved ones, especially if mobility issues or Alzheimer's are contributing factors. But there are ways to help ease your senior loved one's burden. For example, when gardening becomes too difficult, hiring a gardener to mow the lawn or trim the hedges can give a senior with limited mobility assurance that their yard is still maintained. A grocery delivery service or a meal supplier like Meals on Wheels can get your senior eating healthy meals to keep them well-fed and their immune system boosted.
Keep in Touch
Busy lives sometimes mean that staying in contact with our seniors is infrequent. If possible, try to schedule some type of weekly contact, whether over the phone or online through social media like Facebook or through a video chat like Skype or FaceTime. Some of these even allow you to share your location and see where your loved one is, which is not only great for conversation but can help put your mind at ease. When you do talk, don't avoid difficult topics. Ask how they're doing, and encourage openness. Try to see if all their needs are being met or how things could improve. Let your senior know you hear what they are saying or asking for, and do your best to address their concerns however you can.
An extra way to facilitate communication can be through tablets or smartphones. If your loved one is new to this sort of technology, be sure to walk them through the process of how to use it and explain what features are available. And a tablet can provide more than a way to communicate; a tablet can also provide mental stimulation through games and an extra layer of health monitoring with different apps.
Pet Care/Pet Help
There are many benefits for seniors who own a pet: increased activity, companionship and love, and mental stimulation to help keep minds young. However, there are some things to consider. What happens when your senior is too old to go for walks every day? What if they forget to feed their pet? Rather than separating your senior from their beloved pet, you can help, even if you live across the country. Consider an online service to hire a dog walker, who will not only walk the animal but who will ensure that your loved one's companion is fed and watered. (If finances are a concern, some states and cities offer pet food through Meals on Wheels.)
Out-of-State Emergency Services
One of the best, most overlooked things you can do is to have at the ready your loved one's local emergency services information. If you suddenly need to call 911 for a faraway loved one, your local dispatcher may not be able to help you. Get the local emergency number (including area code) for your loved one's area so you can call for help right away if it becomes necessary. Additionally, consider giving your loved one a medical alert bracelet or system to wear. This gives them the opportunity to call for help immediately if they happen to fall or hurt themselves.
The golden years can be one of the richest parts of life, and by taking these tips into consideration, you can help your loved one continue their independence and reduce the day-to-day stresses and strains of life. Plus, you'll have peace of mind knowing their needs are being met and that you can still offer care, no matter how far apart you are.