AirPremium Briefs: Breathable Adult Diapers With Tabs Offering Up to 6 Hours of Protection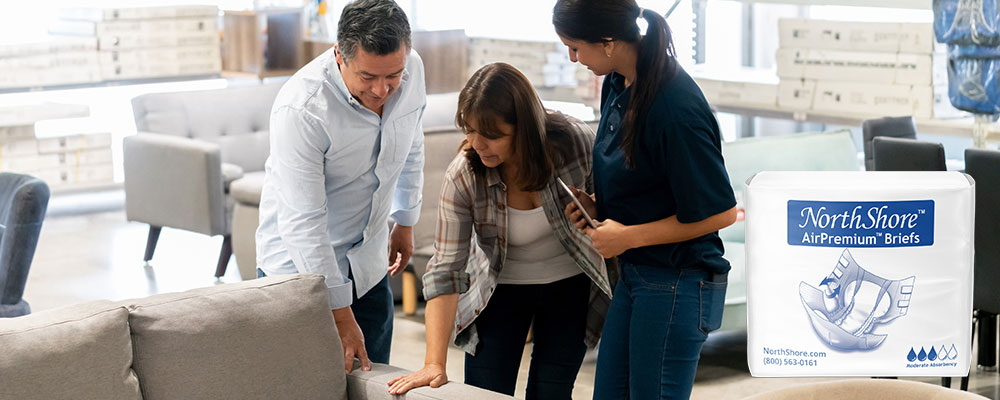 It's a sunny Saturday afternoon. A couple prepares for a shopping trip, grabbing their masks as they walk toward the entrance of a furniture store. Steve and his wife Jan need a new desk for their home office.

When COVID-19 impacted their lives, they turned the spare bedroom into a work space. Now papers and files are scattered all around and it is time to try and get organized.

However, Jan is experiencing urinary incontinence from a recent surgery and just started using adult diapers with tabs. Going to work a few days a week has been a challenge and outings such as this one to find a desk is particularly daunting.

Steve and Jan browse for a couple of hours. So many choices ... oak to match the woodwork, white to match the doors or black to reflect their style. Jan is wearing plastic-backed adult diapers with tabs to help with moderate urinary and occasional bowel incontinence. Walking around the store in a jacket for so long is causing her to perspire and feel lightheaded. After feeling her diaper swell, she looks at Steve with a look of fright. He is talking with a salesperson so she decides to text.

"We have to go! NOW!"

She feels warmth and a bit of heaviness and knows that it's time for a change. And then she forgot to bring a backup diaper and home is over 30 minutes away.

Steve feels the phone's vibration in his pocket, looks and abruptly ends the conversation about rolltop versus standard styles. He looks at Jan, nods and follows her out of the store ... without a dresser.

Do you or someone you love find yourself worry about having an accident in public and needing to leave quickly?

When using adult diapers with tabs, it's important individuals find a product that offers the right amount of protection and is comfortable – especially when individuals are out for long periods of time.


While plastic-backed adult diapers are a top choice for some, they may not the best option for others.

AirPremium Briefs are a top-rated breathable tab-style brief offered on NorthShore.com In this article, we'll explain why men, women and caregivers should consider this product to manage incontinence and how it can help someone like Jan leave the house and not worry about a saggy adult diaper or leaks.
Breathable Adult Diapers with Tabs
Breathable adult diapers with tabs come in various absorbencies. For individuals managing moderate to heavy urinary and bowel incontinence, finding a brief that offers protection and is comfortable is essential.


Breathable Adult Diaper Illustration with Airflow Technology

Benefits of breathable tab-style briefs:
Keep skin cool

Fewer skin breakdowns

Rustle-free; more discreet when worn


Who may benefit from using breathable adult diapers with tabs?
Individuals managing bed sores/pressure sores

People who tend to get warm faster/easier

Those who prefer cloth-like backsheets


When using breathable adult diapers, like AirPremium, it's important to find briefs that:
Offer adequate protection from bladder and bowel leaks

Fit comfortably around the waist and leg areas

Allow wearers to feel comfortable (day and/or night)


NorthShore incontinence products offer a variety of sizes, styles and absorbencies not found in most stores. AirPremium Briefs are a great option for those looking for a daytime brief with great leakage protection. With up to 6 hours of capacity, AirPremium can help in containing more moderate urinary incontinence and bowel leakage.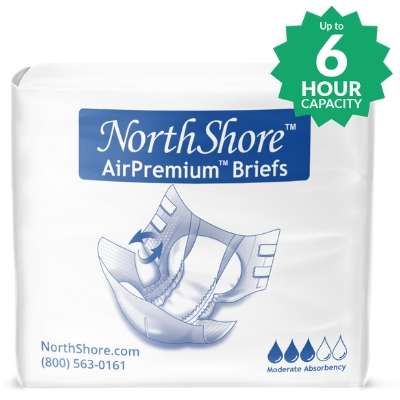 AirPremium Tab-Style Briefs


Most people managing incontinence don't want to be in the same situation as Jan or her sympathetic husband Steve. They want to go out in public and not have to worry about leaks. AirPremium Briefs probably would have been a great option for Jan because they would have offered enough protection throughout her shopping trip and prevented unneeded stress.


AirPremium features include:
Less Bulk - The cloth-like exterior is rustle-free so when you're out and about, you won't have to worry about any noises.



Customized Fit - The hook and loop tabs on the brief allow the wearer to adjust as many times as they need before changing the entire product.



Quick-Wicking Lining – NorthShore's MicroSorb lining is located within the brief's absorbent area. This lining wicks away wetness while keeping the skin dry.



Enhanced Leak Protection - Tall leak guards located near the leg openings prevent leaks during movement.


Choosing the right incontinence brief can make life easier and help make incontinence more manageable. Jan could have had more time with her husband and found the desk of her dreams that Saturday afternoon ... if only she had enough coverage or a backup incontinence product. There are many options available with adult diapers with tabs and other incontinence supplies at NorthShore.


AirPremium offers protection with comfort in mind. Don't let incontinence get in the way of outings with loved ones and seeing family and friends. Stay protected and worry-free during everyday situations as the ones mentioned in this article.


At NorthShore Care Supply, we offer a variety of products and supplies to help individuals manage incontinence effectively.


Shop AirPremium Briefs on our Product Page or call (800) 563-0161.


Please login to access your saved items list. If you don't have an account, create one today to start your list.