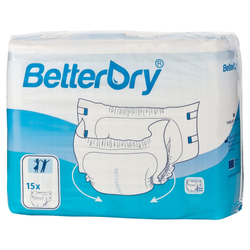 BetterDry Tab-Style Briefs
NorthShore Item:

2721
Model:

10500
A plastic exterior and extra thick padding provides maximum absorbency for day or night use. Leak guards extend up the length of the brief for both bladder and bowel incontinence protection. An elastic waistband in both the front and rear ensures a close, comfortable fit and even greater protection.
This product is no longer available. For extreme absorbency and protection, we recommend our
NorthShore MEGAMAX Tab-Style Briefs
with up to 12 hours of absorbency!
---
Customer Reviews / Questions & Answers
Please login to access your saved items list. If you don't have an account, create one today to start your list.