Nursing Home Vs. Assisted Living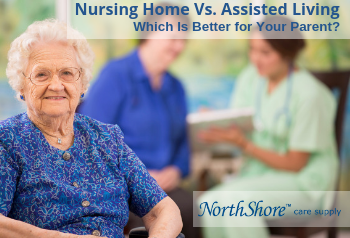 We all know that the notion of sending a loved one to a nursing home just doesn't feel good. In fact, we may have even promised a loved one that we will not "do that to them". Most people believe that a person does better in the familiar environment of their own home as they age. But when does a person need more than that and what are the options for getting them the care they really need?
There are three important factors that should be considered when deciding if staying home is the best choice for a loved one's health and well being.
Physical signs - Slow to heal after a hospital visit or illness, frequent falls, progressive chronic illness, mobility issues, and a decline in personal grooming.
Mental Signs - Showing signs of depression such as lack of interest, listlessness, change in sleeping patterns. Showing signs of mental decline such as forgetting doctor's appointments and important social engagements, and keeping track of medications.
Social Signs- Reluctance to leave the house, pulling back from favorite social activities.
As a person ages, there are many options available to get the proper amount of help and it is important to keep in mind that as time goes by needs may change. As warning signs emerge the first thing to consider is what level of care is appropriate. Some seniors have more family support than others but even with a great family, there may come a time when professional help is needed. Options include homecare with visiting nurses and caregivers, assisted living facilities, and nursing homes.
Various Care Needs
An assisted living facility may not be a good choice if a person needs nursing care but can be an excellent choice for an aging person who may need a change from living alone.
Nursing Home Checklist
For residents needing help with:
Managing medications

Diabetes injections

Walking, bathing, dressing, toileting
Assisted Living Checklist
For residents that do not need nursing care but benefit from:
Regular check-ins

Light medical support such as medicine reminders

Prepared meals

Help with housekeeping

Hair salon services

Opportunities for socializing - Group site-seeing trips, activities, live musical entertainment

Opportunities to leave the facility - Shuttle buses for shopping and appointments
The Benefits to Nursing Homes
Around the clock nursing care by staff, a structured schedule, individual medical and nutrition plans.
The Negatives to Nursing Homes
Expensive feels more like a hospital or institution, small rooms, lack of freedom, fear of neglect or poor care.
The Benefits to Assisted Living
Less expensive feels residential, the size of an apartment can bring your pet, each facility offers a unique community style (formal or down to earth, large or small plus culturally diverse options).
The Negatives to Assisted Living
Less privacy, group settings may cause anxiety for some.
Although it's not easy to make the decision where your parent should live there are options available. Be sure to evaluate the needs of your parent and their current health conditions. It's important to research as much information as possible, so you can be prepared for the future and know what to expect.