The #1 Senior-Friendly & Family-Friendly Travel Agency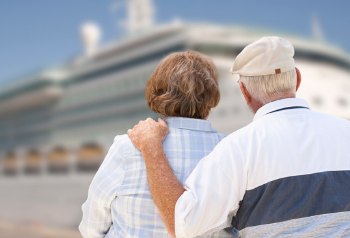 For many of us, medical issues, those unexpected bumps in the road, or the childhood "birth defect" diagnosis, allow us to limit our ideas of living life. Neurological issues such as Dementia, Parkinson's, Stroke, MS, spinal cord injuries and many others put a pause into our expectations for life. This common belief is not necessarily true… My professional mission is to provide opportunities and solutions that supersede that" medical diagnosis or issue". As a Registered Nurse, I've spent 25+ years orchestrating medical solutions to living space complications, mobility issues, and Home Health Care challenges. As the Director of Nursing, I have countless success stories, but unfortunately, many more stories where we accomplished only the tasks required to maintain life. The honest reality is: we do not have to be limited by mobility issues, respiratory requirements, transfer challenges or cognitive deficits. The world is still available for travel experiences even with a physical/neurological diagnosis placed behind your name.
Cruise Fun for Accessibility Challenged Seniors & Families
As the owner of a Cruise Planners/American Express Travel Franchise, I can put the RN and the Adaptive Technology Professional (ATP) that is behind my name into a format that allows everyone to travel, seek adventure, and fulfill Bucket-list adventures within a safe and rational format. For example… Holland American Cruise Lines will add accessibility devices to accommodate every cabin on the MS. Oosterdam with elevated toilet seats, grab bars, shower chairs, detachable shower heads etc. Mobility devices such as power scooters, transfer chairs, and PWC can be rented for the duration of the vacation along with hospital beds, Hoyer lifts, and O2 concentrators. I personally work with and travel with accessibility challenged groups. Careful planning and strategic efforts are taken to create and facilitate friends and families traveling together. Planning multi-generational experiences are focused on adventures that ALL ages can enjoy. Fun for all from the 5-year-old, to the 16-year-old, to the 88-year-old. The appropriate vacation product, destination, and preparation will produce a memorable and great time for all.
Cruise vacations are increasingly effortless ways to "See and Experience the World" for all ages. Decrease the stress with the opportunity to unpack once and relax. For instance, a 7-night Mediterranean Cruise will stop in 6 European ports in 7 days. The excursion options are graded with multiple fitness/activity levels with available ideas for everyone. See the Panama Canal, experience the engineering wonder first hand from the front bow of a cruise ship as it maneuvers the locks with 4" space on each side. Your dreams are within reach with planning, preparation, and open conversation. As an experienced Geriatric/Neurological nurse I see the safe solutions and opportunities.
2017 Cruise Conference: Living with Dementia
Mobility challenges can be met and adventures can be experienced without breaking the bank. Early- Mid stage Dementia does not prevent travel. Cruise Planners currently has a group cruise/conference event on 11-11-17. Keynote Speaker Lori LaBey of "Alzheimer's Speaks" along with individuals living with dementia will participate with us on panel discussions to show attending participants the realities of living with dementia from the positive side.
Kathy's goal is to:
1. Create solutions to unique situations
2. Provide opportunities to enjoy life
3. Enable challenges to be met
4. Overcome fear and anxiety, while answering pertinent questions
5. Provide a safe atmosphere to explore
6. Assist in the completion and realization of dreams
All questions answered honestly, ethically and compassionately. This company is founded with the "Sincere Passion to Assist People Enjoy their LIVES."