"Pie in the Face" with Managers Raises Awareness for Breast Cancer
NorthShore Care Supply employees came together in the month of October to raise funds for breast cancer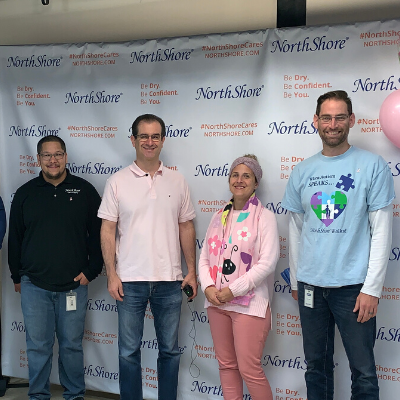 (Buffalo Grove, Illinois) October 18, 2019 - Seven managers recently participated in NorthShore Care Supply's first "Pie in the Face" event, which involved employees throwing pies in the face of breast cancer as well as their managers' faces. Employees who donated the most for breast cancer from all areas throughout the incontinence product and supply company – Customer Service, Warehouse, Marketing, Business Office, Human Resources – threw whipped cream pies at their respective managers.
Other activities at NorthShore during October include pink donut day, pink lemonade day, wear pink day and pink ribbon day where employees received pink ribbons to wear. All proceeds collected will be donated to Susan G. Komen Chicago.



About NorthShore Care Supply
NorthShore Care Supply was founded in 2002 by Adam Greenberg after family members struggled to manage their incontinence with retail adult diapers. NorthShore® is the leading direct-to-consumer brand of high absorbency adult diapers and incontinence supplies in the U.S. providing peace of mind to those with moderate to severe incontinence. NorthShore is committed to #EndHealthStigma to help 80 million Americans living with some form of bladder or bowel dysfunction.

For more information, call (800) 563-0161, visit www.NorthShore.com, or follow us on LinkedIn and Facebook NorthShoreCareSupply, Twitter NorthShoreCare, and on Instagram NorthShoreCare.
Please login to access your saved items list. If you don't have an account, create one today to start your list.