5 Differences Between NorthShore's Two Most Absorbent Incontinence Briefs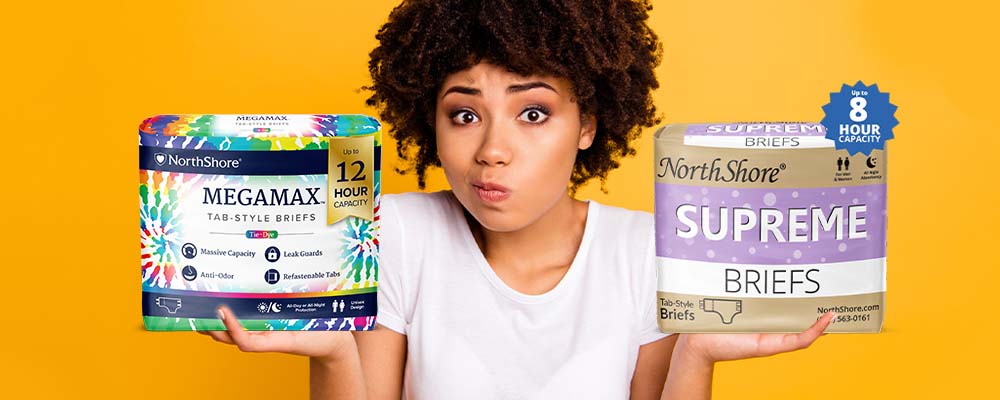 Briefs? Pull-Ons? Booster Pads? There are plenty of incontinence supplies to choose from but finding the right one can be tricky, according to Aging Care.
For heavy bladder or bowel incontinence, plastic-backed tab-style adult diapers can be very effective. Two of NorthShore's top-selling briefs include MEGAMAX™ and Supreme. We compared both and developed a list of five key differences in choosing one of these briefs.
1. Wicking Capabilities
NorthShore's MEGAMAX Brief has the highest absorbency thanks, in part, to a special channeled top-sheet that quickly wicks away wetness. This special channeling helps distribute the liquid evenly keeping the skin dry.
Supreme Briefs from NorthShore do not offer a channeled top-sheet, but they also wick away liquid, from the front to the back that resists swelling when the diaper is full.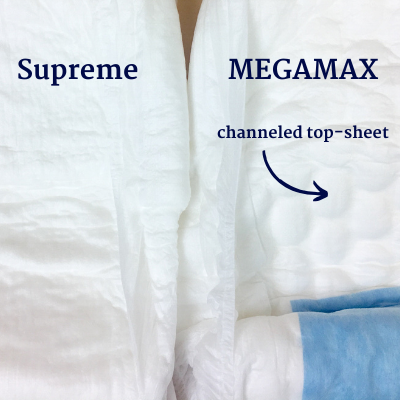 2. Tab Size
The tabs on Supreme Briefs are not as wide as those found on MEGAMAX. However, Supreme tabs come with "second chance tapes." Second chance blue tapes help wearers experience a more customized fit. The tapes act as a "dock point" where the primary white tapes can be placed over. These "second chance tabs" prevent rips to the front of the brief during adjustments.

MEGAMAX Briefs have larger tabs (approximately 1.5 inches wide) and are longer (approximately 2 inches long) than Supreme Briefs. The tape tabs on MEGAMAX are fastened onto a large plastic landing zone located on the front of the brief. These super-strong tabs provide users with a more secure fit even when full and help prevent frontal rips to the brief.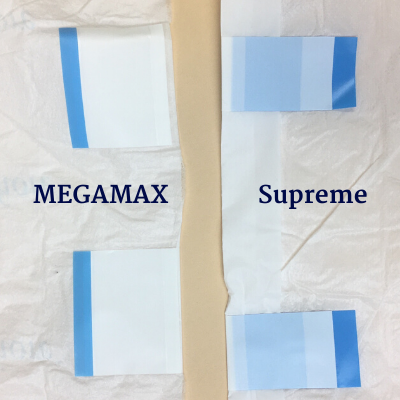 3. A Variety of Colors & Sizes
MEGAMAX is offered in two color choices - blue and white - and is available in small, medium, large and x-large.

The Supreme Color Collection was introduced earlier this year and offers a variety of colors - blue, purple, green and classic white. Sizes offered are the same as MEGAMAX and include small, medium, large and x-large.
4. Leak Protection
Supreme Briefs feature extra-wide protection in front and rear, along with high absorbency and a dual wetness indicator that alerts wearers and caregivers when a change is needed. Once activated, tall leak guards stand up to provide a secure barrier at leg openings to prevent side leaks and contain bowel incontinence if needed. The smooth plastic waterproof exterior provides maximum protection from leaks, odors and sagging. The strong elastic keeps body-close fit and prevents leaks in the rear.

With large, heavy-duty refastenable tape tabs and a full landing zone, MEGAMAX stays firmly in place and resists leaks. Strong elastic in the front and rear waistbands provides maximum coverage day and night, even for restless sleepers. The smooth plastic waterproof exterior resists sagging and odors even at full capacity.
5. Absorbency
MEGMAX offers up to 12 hours of capacity. It is designed for individuals with heavy to total incontinence.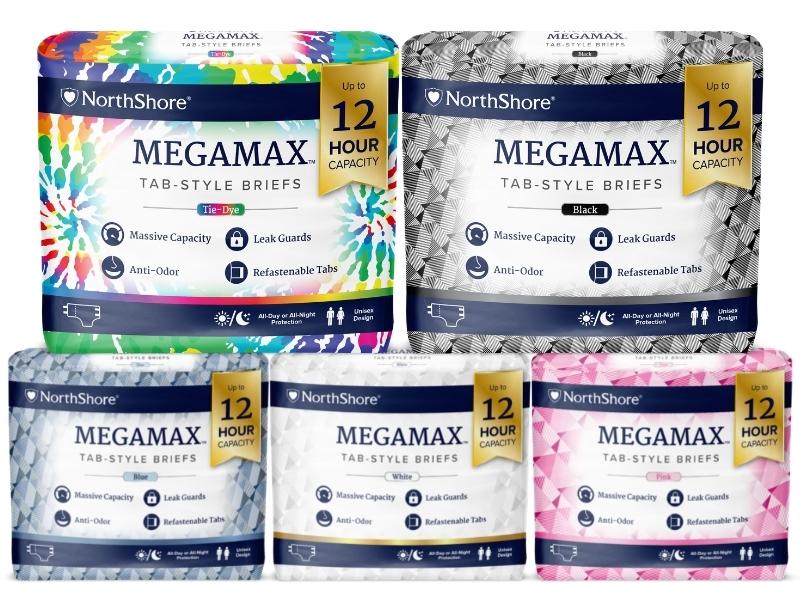 The Supreme Briefs are also ideal for heavy bladder and bowel incontinence but offer up to 8 hours of protection.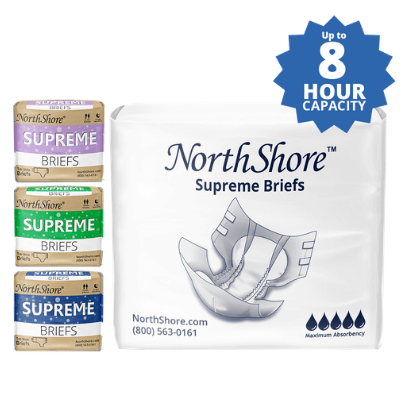 All Briefs offered by NorthShore are top sellers because they offer 3x the leak protection of retail brands. Choose between wicking capabilities, tab sizes, fit and absorbency to find the right product to live a full life.

According to National Association for Continence (NAFC): "Rest assured, there is a product out there that's right for you, and it doesn't have to take a dozen tries to find it."
View the full NorthShore Adult Brief Collection or call (800) 563-0161 for information about a particular style or feature.


Shop NorthShore Tab-Style Briefs
Please login to access your saved items list. If you don't have an account, create one today to start your list.