6 Essential Tips for Selecting the Best Adult Diaper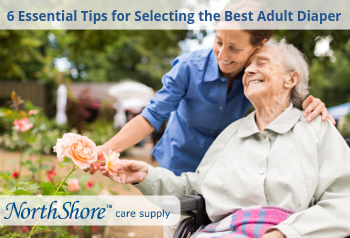 It takes just one embarrassing accident, doctor's visit or other memorable incidents to know when it's time to purchase adult diapers. Whether you are looking for yourself or for a family member, it's understandable to instantly panic and feel overwhelmed. Fortunately, NorthShore™ has a large selection of adult diapers to choose from. We are here to help you and reassure you that it may not be as hard to select an adult diaper as you may think it is.
How to Find the Best Adult Diaper: Evaluate Your Needs
1. Leakage output - This may be hard to gauge at first but with a diary, you can get a feel for what causes certain voids to happen. Are there medications affecting the voids? Foods? Is the individual using multiple adult diapers and still finding leakage? If the answer is yes, there are usually two reasons for this: the current product is most likely the wrong size or not absorbent enough.
Tip: There are water droplets next to each product on the site. Products that have 5 water droplets are ideal for heavier voids.
2. Type of void - Does the diaper need to contain bowel movements, urine, or both? Both types can cause odors and irritation if not handled quick enough, so be mindful of this. The type of void will help better decide what style of adult diaper to select.
Tip: Voids containing bowel movements or diarrhea are best contained in fitted or tab-style briefs with the plastic exterior. Tab-style briefs provide a more secure fit around the leg openings.
3. Accurate measurement - Adult diapers come in different brands and have their own unique size charts. It's important to first measure the waist and hip of the individual to find the best size in a particular brand.
Tip: Make sure to check our sizing infographic to help with measuring correctly.
4. Mobility - Regular underwear requires some work to put on and off. This also applies to individuals using adult diapers. If the individual wearing these needs assistance doing daily activities; they require the help of a professional or family caregiver, then a fitted tab-style brief will be the recommended style for them. Individuals without any mobility issues can use disposable pull-on underwear.
Tip: There are two types of exterior material on fitted, tab-style briefs. The plastic exterior will always have the tape tabs which are really only meant to be refastened once or twice. Breathable tab-style briefs have a cloth-like exterior and will be able to refasten numerous times.
5. Current skin health - Bed sores, Dermatitis, and other conditions that cause skin sensitivity are important to keep in mind when selecting an adult diaper.
Tip: Breathable cloth-like diapers like the NorthShore™ AirPremum™ Brief can help circulate air flow to prevent skin break down.
6. Continuous trial and error - The best way to find out what works is to try out the products. Images of products and specs are helpful, but can only go so far. Adult diapers need to be comfortable and fit correctly. How each product feels in certain areas of importance such as the leg openings, elastic waistband, or on the placement of the tabs on the hips can make the biggest difference to individuals wearing them.
Tip: NorthShore™ offers free samples of our more popular brands of adult diapers such as NorthShore™, Wellness, and BetterDry.
What are the "best" diapers to purchase? While it may be confusing to select the best adult diaper, there are essential tips to have when selecting the best one for your needs or the needs of a family member. Output, size, and skin health are just some of the indicators that can help you select the right diaper. The best adult diaper does not correspond to one specific brand, it depends on each individual's unique needs and lifestyle. Certain brands and styles will work for certain individuals and not for others.
For a specific consultation with a care expert, please contact us at (800) 563-0161, remember we're always happy to help.