Incontinence Briefs For Maximum Bladder & Bowel Coverage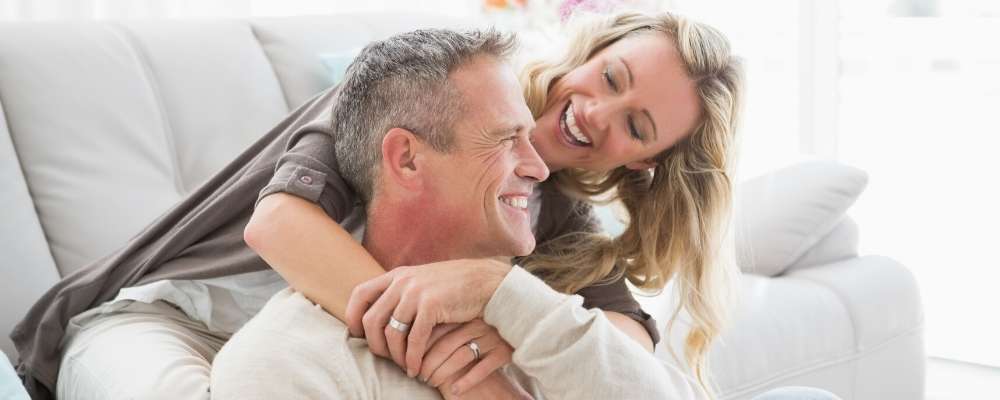 Are you looking for a tab-style brief that offers the following features?
Extra-Wide Coverage in Front and Rear

Stand-Up Leak Guards to Secure Leg Openings and Leaks

Smooth Plastic Exterior that Resists Sagging and Odors

Fast-Absorbing Microsorb Lining that Locks in Wetness

A Variety of Colors – Blue, Green, Purple and Classic White
If so, then consider the Supreme Tab-Style Brief Color Collection by NorthShore. Feel protected and look good.
Looking Good While Managing Incontinence
Incontinence can be difficult, but it is manageable with the right treatment, products … and colors. Usually people choose colors because they have a special relationship with them.
There is some truth that the colors we select show off our personalities, how we feel and how we act with others, according to VeryWellMind.
People managing incontinence experience an array of emotions. According to The Simon Foundation for Continence, depression, irritability, anxiety, worry, frustration and anger are common feelings among those worried about leaks.
Wearing certain colors has been shown to improve mood and usually reflects how someone feels, according to Everyday Health. That's why trying a colored brief may be helpful. For example, someone who chooses the Supreme Brief in blue may have or crave tranquility and calmness. Picking a green Supreme diaper may help instill feelings of happiness and positivity. Purple is a combination of red and blue, which are two powerful colors, and may be worn by someone who wants to make a statement and be a bit bold. A Classic White diaper may signal the start of something new and a fresh start. Learn more below.
Helpful Strategies for Addressing Leak Issues
An important step in selecting the right incontinence product is to determine the level of protection and coverage needed. Is it needed for bladder or bowel incontinence? NorthShore's Supreme Tab-Style Brief is effective at managing both.
Another strategy is to be prepared – especially mentally and emotionally. According to The Simon Foundation, it is easier to handle the emotions associated with incontinence when a person is assertive about their needs, prioritizes their condition, asks for help and gets emotional support when needed. The Foundation recommends an online support community for individuals who are looking to connect with others.
In addition to getting needed support from friends, family and health care professionals, it is usually helpful for individuals to identify the right products for their needs. NorthShore Care Supply recommends products be functional, innovative in meeting absorbency needs and comfortable to wear.
Supreme Tab-Style Briefs offer all this and more.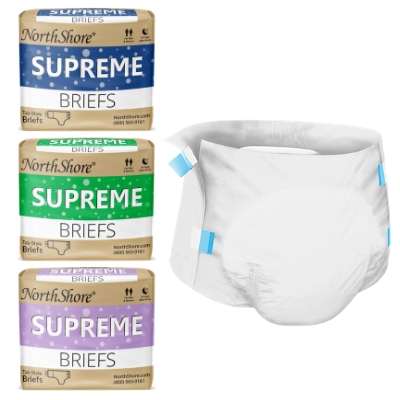 Top-Selling Supreme Briefs
NorthShore's very popular, top-selling Supreme Brief is a tab-style adult brief offering up to 8 hours of leak protection.
Features:
Maximum Absorbency

Resists sagging

Stays dry day and night

Contains heavy urinary and bowel leaks

Latex-free material

Leak protection with tall leak guards

Smooth plastic backing for peace of mind

Wider coverage in the front and rear for added protection

A Microsorb lining that pulls liquid away from the body, keeping skin dry
Benefits:
Provides peace of mind

Worry-free protection

The ability to live a full life

NorthShore Customer Matthew W. from Florida says:
"The key to a great incontinence product is trusting that it will do its job. I have tried and tested many diapers and Supreme Briefs are by far the best. I trust this diaper to get me through every day and night without the embarrassment of leaks."
Supreme Briefs Color Collection
Supreme Briefs are now available in blue, purple, green and classic white.

NorthShore President Adam Greenberg's mission is to provide individuals managing incontinence more options with the premium protection they need.
"We want people to feel good in a product that is uplifting and provides the protection they need." NorthShore President Adam Greenberg
Looking good isn't only about fit and protection, but also how an individual feels when wearing a product. Colors can enhance the experience of managing incontinence.
What Do Colors Symbolize?

Classic White
Symbolizes completeness, perfection, innocence, wholeness and new beginnings. The color white may make you feel more inclined to start a new job or go on a new adventure.
Symbolizes wealth, mystery and wisdom. You may feel more empowered to take that art class you've been looking at online or start writing a book.
Green
Symbolizes nature, tranquility, good luck and health. You may be an avid gardener or enjoy taking walks outside regularly. This color might inspire you to take a trip to a local state park soon.
Blue
Symbolizes stability, reliability, calmness and productivity. This color may inspire you to finish big projects on the 'to do' list, relax or plan a dream vacation for next year.


Using the right incontinence products in the right size and color offer more benefits than you think. What will your color be this year? Blue? Green? Purple? White?
Visit the NorthShore Supreme Briefs Page to learn more about this highly-absorbent brief for day or overnight coverage, or call (800) 563-0161 for more information about this and other incontinence supplies.


Please login to access your saved items list. If you don't have an account, create one today to start your list.