Best Adult Diapers and Incontinence Products for 2022: Tab-Style Briefs, Pull-Up Style Underwear, Bed Pads & More

Are you ready for the new year? With these recommendations for the best of the best incontinence supplies for 2022, enjoy reassuringly strong protection, premium high-absorbency products, discreet delivery and peace of mind.
Below is our curated list – from our Customer Care & Service team - of recommended absorbent products based on reviews and feedback from our customers. If you are a NorthShore customer, you know how well our products keep you leak-free and worry-free. If you have never tried NorthShore, this is a great place to start for premium, super-absorbent protection to keep you dry.
SHOP NOW
Odor and leak control is one of the top concerns in keeping a house clean when managing urinary and/or bowel incontinence. To keep surfaces clean and reduce smells, consider an underpad or bed pad such as our highly rated MagicSorb Air. Offering all-day or all-night waterproof super-absorbent protection with a superior wicking and odor-absorbing lining. Use on bedding and furniture as well as for babies and pets for superior leak protection.
Best Adult Pull-On -
GoSupreme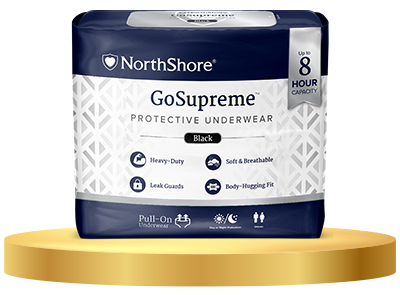 SHOP NOW
Our most popular protective underwear is now available in discreet black! Offering maximum absorbency, advanced leak protection, a comfortable waistband, tear-away side seams for easy removal and full coverage in front and rear, GoSupreme is the most absorbent pull-on offered at NorthShore.com. Highly rated by customers for being the most like regular underwear. Offering both daytime protection and overnight coverage.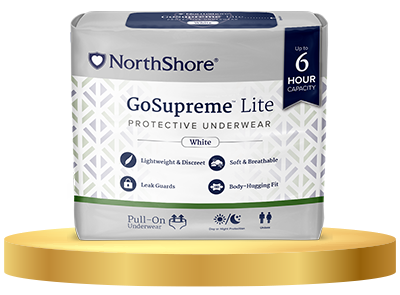 SHOP NOW
This discreet yet highly absorbent pull-up style underwear offers the same great heavy-duty protection as our popular GoSupreme Protective Underwear but with less bulk under clothing and just slightly less absorbency. Super-absorbent lining locks in wetness and odors. Lightweight, soft, breathable and heavy-duty featuring leak guards and a body-hugging fit, GoSupreme Lite is a pull-on that's different from the rest.

Best Leaks Guards for Men - DoubleStop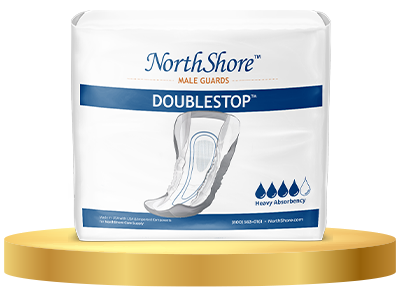 SHOP NOW
Stay active with lightweight, discreet male guards for light urinary incontinence. A soft, gray-colored backsheet is comfortable to wear and easily concealed under clothing. These waterproof heavy-absorbency guards for men and boys feature leak guards and come individually wrapped to carry in a pocket for quick changes. Designed for use in regular underwear, DoubleStop Male Guards help users stay dry and odor-free.

Best for Bowel and Fecal Incontinence - Supreme Lite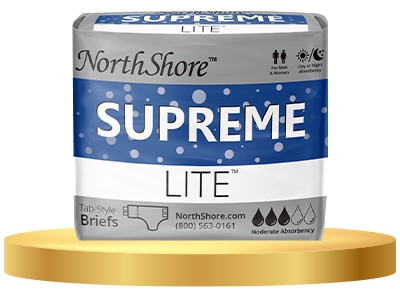 SHOP NOW
Supreme Lite Tab-Style Briefs offer extra-wide coverage in front and rear, waterproof exterior, stand-up leak guards to provide a secure barrier for leg openings, refastenable tape tabs and soft and Microsorb lining that locks away wetness quickly. Ideal for day and night use, urinary and/or bowel incontinence. Same features as Supreme in a lighter version. Choose from four colors. Not sure which color to choose? Take our quiz!

Best for Stress Incontinence - DynaDry Supreme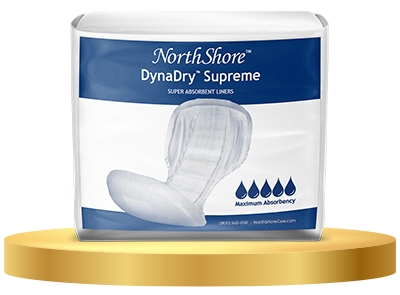 SHOP NOW
Stay active with a waterproof liner that is soft, comfortable and quickly pulls liquids away from the body. Leak guards provide extra protection from leakage out the sides and the self-adhesive strip holds the liner firmly in place. DynaDry Supreme Liners are designed to be worn in regular underwear. The cloth-like exterior is discreet, quiet and rustle-free. Choose from four available sizes, including medium, large, X-Large and 2X-Large.


Best Adult Diaper with Tabs - MEGAMAX

LEARN MORE
Breaking barriers in the category of absorbent products since it was introduced in 2019, MEGAMAX Tab-Style Briefs offer style and total lockdown protection against leaks. Why Choose MEGAMAX? This top-selling, top-rated adult diaper offers everything needed in an incontinence product – up to 3x the leak protection of leading store brands, up to 12 hours of massive capacity, leak guards, refastenable tabs, extra-wide coverage for all-day and all-night protection and more! See why it is our highest-rated absorbent brief year-after year. What's your color … Blue, Black, Pink, Classic White or Tie-Dye?

In 2022, you won't need to look far to find super-absorbent products. No matter what you choose, incontinence supplies are now available in a variety of absorbencies, sizes, and in many cases, colors. With the quality, style and features needed, NorthShore offers products to be confidently dry.

Shop online now

or call (800) 563-0161 seven days a week.

Thank you so much for reading our blogs!

Did you know NorthShore has helped millions of people manage incontinence with life-changing absorbent products? It's so amazing to hear their stories.

We also want you to know we have trained product advocates that provide a personal experience by working with each customer to find the best product for their situation.

Find out for yourself today!
To get in touch, simply provide your contact details below and your personal product advocate will reach out.


---
Shop The Best Products For 2022
Please login to access your saved items list. If you don't have an account, create one today to start your list.