The Adult Diaper That Will Change the Way You Think About Incontinence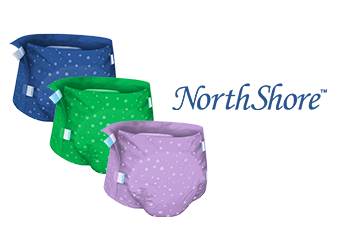 Over 80 million adults in the U.S. manage with some level of incontinence and many millions will face leaks at some point later in life. However, with proper medical care, these symptoms are often treatable and very manageable, often with incontinence pads available at the drugstore.
But what about people who need more protection than what incontinence pads can offer? Absorbent tab-style briefs are necessary for millions of individuals, day in and day out. While adult diapers are valued primarily on performance, how they look goes a long way to helping people feel better about themselves.
A Must-Needed Change Away from White Adult Briefs
Obviously, individuals with heavy leakage need more absorbent products. But absorbent brief options have been limited thus far. All that's offered are institutional-looking briefs. But that all changes today...
This month, NorthShore enhanced their popular Supreme Lite™ Briefs by adding blue, green and purple colors to the line.
"The launch of this product is a watershed moment for tens of millions of people with heavy bladder and/or bowel incontinence," NorthShore founder Adam Greenberg said. "There's no reason that only people with light incontinence should have products that are fashionable and uplifting."
Chipping Away at Stigma One Adult Brief at a Time
The NorthShore team learned that wearing white clinical-looking briefs often made people feel like they're in a hospital or nursing home. "We want people to feel good in a product that is uplifting, not depressing," says Adam Greenberg.
That's important because those with heavy incontinence often struggle with depression and anxiety. They may choose to isolate themselves because they're worried about leakage or being found out.
"If we can provide a product that seems more like regular underwear, we can help normalize the situation and chip away at the stigma," he said.
Cheryl B. Gartley, the founder of The Simon Foundation for Continence, which works to increase awareness around incontinence and lessen the stigma, states, "When people have less fear of their product leaking and they feel better about their product, both of these things could lessen the self-stigma they might be experiencing."
Greenberg knows the stigma firsthand. His father, who suffered from cancer, and his grandmother, who had a stroke, both struggled with incontinence. And he remembers his father refusing to go to the store to buy what he needed.
"It was hard to find products that managed their incontinence and allowed them to maintain their privacy and dignity," said Greenberg, who used that premise to launch his business.
Incontinence issues are one of the top reasons older adults enter nursing homes. But with NorthShore's premium incontinence products, which provide powerful protection (and now style!), older adults can stay in their own homes longer and younger adults can live without anxiety and embarrassment of leaks.
"Helping you and those you love to stay active and sleep through the night is not just our job," Greenberg said. "It's personal."
Those who call a care expert will speak to a real person who will listen, help, and advise without judgment. We offer free diaper samples to ensure you have the right product and fit.