How To Pick a Color For Your Adult Diaper/Tab-Style Brief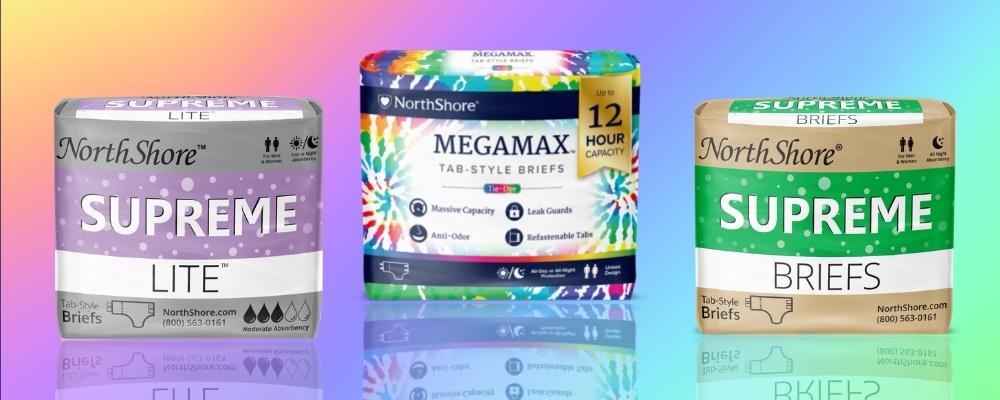 Over 80 million adults in the U.S. manage some type of incontinence and some may face leaks later in life. With proper medical care, symptoms are often manageable. According to Mayo Clinic, treatment for incontinence depends on the type of incontinence, its severity and the underlying condition(s).
There are absorbent products such as Incontinence pads, liners, and male guards that help contain light to moderate leaks.

But, individuals who are managing heavier leaks may need more absorbent products such as tab-style briefs, also known as adult diapers. They are very popular because, for many, they offer a more secure fit and longer protection.

"At NorthShore, we use the terms briefs and adult diapers interchangeably," says NorthShore President Adam Greenberg. "Our goal is to make sure customers have the right absorbency to stay dry."

Absorbent capacity, for many, is the primary consideration in choosing tab-style briefs/adult diapers. The brief's appearance is becoming part of a larger movement, dubbed incontinence chic, which is starting to gain momentum. It takes into account better fit, comfort and more colorful choices.
What Color is Your Adult Diaper?
NorthShore has recently launched an array of colors in its line of adult diapers, including Supreme, MEGAMAX and Supreme Lite Tab-Style Briefs.


Color Choices:
Supreme – Green, blue, purple, classic white

MEGAMAX – Blue, white, pink, black and tie-dye

Supreme Lite – Green, blue, purple, classic white



Still need helping deciding on a color for your brief? Take our color quiz to learn what color might be right for you.

Greenberg explains why he chose to add these colors to the NorthShore Briefs: "The launch of these products is a watershed moment for tens of millions of people with heavy bladder and/or bowel incontinence. There's no reason that only people with light incontinence should have products that are helpful as well as fashionable."


"When people have less fear of their product leaking and they feel better about their product, both of these things could lessen the self-stigma they might be experiencing," says Cheryl B. Gartley, founder of The Simon Foundation for Continence.
The Best Briefs on the Market
NorthShore Care Supply offers some of the best briefs available in the U.S. with up to 3x the leak protection of store brands.

Three of NorthShore's top-selling briefs are available in a choice of colors. They still offer the same great protection.
Up to 8 hours of protection

Smooth plastic backing for peace of mind

Resists Sagging

Available in green, blue, purple and classic white



Up to 6 hours of protection

Same coverage and exterior as Supreme with less absorbency and bulk

Light and soft with a smooth plastic backing
Up to 12 hours of protection

Sets the standard in total capacity while staying dry to the skin

Reduces changes, especially at night
Consider NorthShore's colored diapers/briefs to feel more protected and confident day and night. A quality incontinence product should meet your needs but also feel comfortable to wear. At NorthShore, we aim to provide premium adult diapers and incontinence supplies to help people live full lives.
Please login to access your saved items list. If you don't have an account, create one today to start your list.