Stylish and Protective Adult Diapers to Manage Heavy Incontinence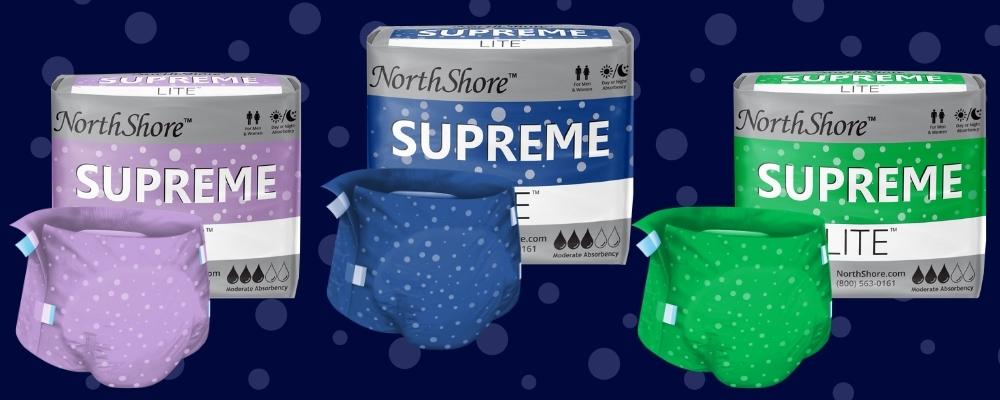 Adult diapers are not what they were ten years ago. Today, there are more styles and colors of adult diapers to choose from. Incontinence brands such as NorthShore go above and beyond in incontinence protection. Individuals can now enjoy selecting fun diapers as others do when selecting their underwear.
Adults can get the best incontinence protection and also feel good. NorthShore Supreme Lite Briefs are ideal for individuals with moderate incontinence and are available in bold colors. Learn how these absorbent, reliable briefs change the game for individuals managing incontinence.


Why Printed, Colored Adult Diapers?
Plain and simple, colored adult diapers diminish stigma. With more color options, adult diapers can resemble regular underwear. Individuals can feel better about wearing these products without shame or embarrassment. Incontinence is common and can affect adults at any age. Individuals who use adult diapers wear them to stay active and protected.
Whether you are managing temporary or chronic incontinence, NorthShore has options for you. Products are three times more absorbent than other brands. And some offer more stylish options than what you will find at other stores. If you're looking for fashionable and premium adult diapers, consider Supreme Lite Briefs.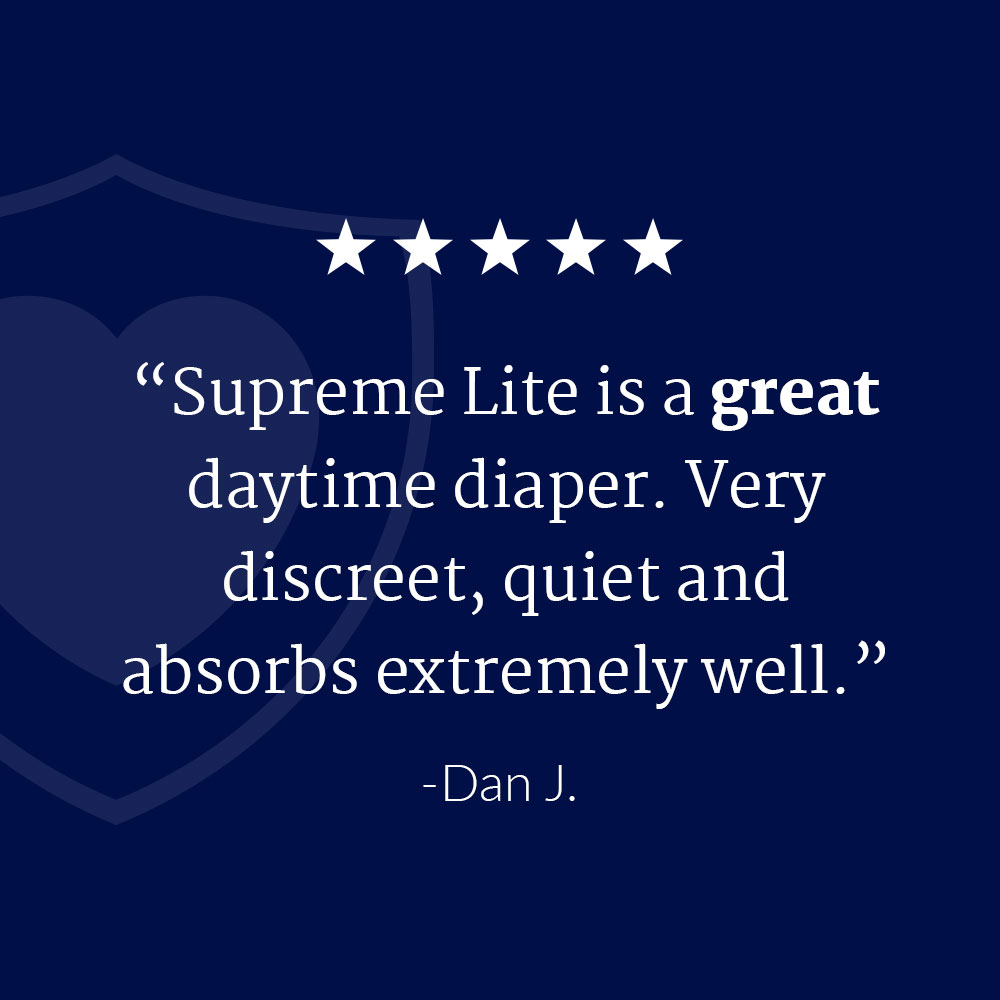 NorthShore Supreme Lite Briefs
Imagine a diaper that could offer reliable daytime security and look snazzy. Supreme Lite Briefs are some stylish and powerful briefs. They offer up to 6 hours of protection for bladder and bowel leakage. Supreme Lite Briefs are available in 4 bold colors to complement your personality. Supreme Lite Briefs will change how you think about wearing adult diapers. Supreme Lite Briefs have received over four-hundred reviews and rated 4.6 out of 5 stars. Customers love them and use them daily!
"These have become my [go-to] products. I love the green and blue colors. Their padding is comfortable and offers great protection for those with bowel issues and minor bladder leakage. I will be ordering more." Anthony
Supreme Lite Features Include:
Tall stand-up leak guards help to prevent added leaks near the leg areas.

Coverage is available in the front and rear of the brief.

Elastic in the rear waistband offers a comfortable fit in any position.

Smooth plastic backing prevents sagging when the diaper is full.

Available in purple, blue, green, and vintage white.
5 Ways Supreme Lites Help Adults Managing Heavy Incontinence
Plastic-backed adult diapers have been white. Today, adult diapers are available in more colors and prints. The addition of colors helps wearers feel better about their situation. Discover how Supreme Lites are making a difference for adults with heavier leaks.
Freedom of Expression - How we dress sheds light on our personality and values. Adult diapers are no different. Individuals can choose from green, purple, and blue to go with their outfits. Did you know purple symbolizes bravery, spirituality, and wisdom? You can select from more choices. If you wonder what color brief to try, take the color quiz.
Modern Design - Gone are the days of plain white adult diapers. Supreme Lites have a modern, galactic design that resembles regular underwear. Men and women can appreciate the unisex design of the brief.
Less Clinical - Managing incontinence can be difficult for adults. The new modern looks remind wearers that they are active and independent. Supreme Lite Briefs remind them they are not patients at a hospital.
Increased Confidence –Research shows what we wear affects how we interact with others. Select diapers that can make you feel more empowered. There are ways you can still enjoy doing all the things you love and feel great too.
More Absorbent Options – Few absorbent adult diapers are available in vibrant colors. Supreme Lite Briefs offer adults premium protection and style. Whether you are a young adult or young at heart, you have options to select at NorthShore.
Supreme Lites offer premium leak protection with fashionable options. NorthShore offers adults, families, and caregivers the best incontinence protection on the market. Stylish and reliable adult diapers can help individuals feel and manage their situation.
The colors and design of the Supreme Lites are revolutionary to the adult diaper market. Adults managing incontinence can take advantage of the protection and stylish benefits of the Supreme Lite Brief. Find the best color to stay confident and empowered day and night.
Shop All NorthShore Tab-Style Briefs
Please login to access your saved items list. If you don't have an account, create one today to start your list.