The Best Incontinence Products of 2023 You Should Try for Drier Nights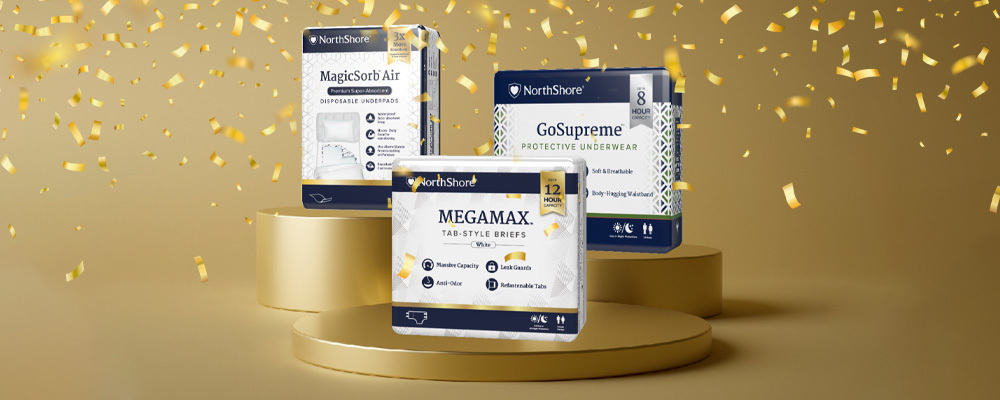 What does the best version of yourself look like in 2023? The new year brings new goals and visions. You may want to focus on more time for sleep. You want to exercise more during the week and eat healthier.
For men and women managing incontinence, finding a reliable adult diaper may be a goal for the new year.
You may have tried various incontinence products at Kroger or Walgreens. You open a pack and find later that the product doesn't work. You fear leaving the house because you worry the product won't contain leaks.
Luckily, there are absorbent products that can help. If your goal is to find better products to manage incontinence, then keep reading. We compiled our best-selling products, so you don't have to spend time researching.


Best Adult Diaper with Tabs - MEGAMAX Briefs
If you prefer adult diapers with tabs and manage urinary or bowel incontinence, consider MEGAMAX Briefs. MEGAMAX Briefs offer top-of-the-line absorbency and sizing of a disposable brief. The fast-wicking core helps to wick away wetness while keeping skin dry. Its tall leak guards contain leaks for side sleepers.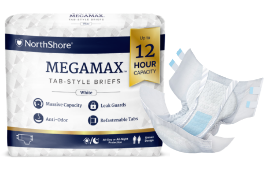 MEGAMAX offers:
Up to 12 hours of protection

An extra-long absorbent core

Refastenable tabs for a custom fit

Strong backsheet

Body-close elastics in front & rear waistband
"For the first time, as far as I can remember, I can confidently sleep all night and work all day without any leaking. This product is great!"
-LeeAnn, Verified NorthShore Buyer
If pull ups are your go-to style, you should know about GoSupreme Underwear. GoSupreme underwear is an 8-hour, unisex pull up. GoSupreme Underwear's form-fitting waistband and smaller leg holes to provide a closer fit. GoSupreme offers comfort, protection, and security all in one.
GoSupreme offers:
Up to 8 hours of leakage protection

A comfortable, body-hugging waistband

Built-in dual leak guards

Snug leg openings

A low-profile design
"GoSupreme is another wonderful product! Hands down the best pull on that I have worn. Great protection. The waist-hugging fit and the leg guards add security. GoSupreme is very comfortable to wear. I highly recommend GoSupreme."
-Patrick, Verified NorthShore Buyer
For men managing light bladder leaks, a male guard may be enough. Remember, male guards are not created equal. Some guards come in different shapes and absorbencies. The key to selecting the best male guard is to understand your needs. If you notice leaks often, you may need to upgrade to a more absorbent guard.
DoubleStop guards offer more absorbency and coverage than other guards. They have a triangular shape that gives more protection in the front, where most leaks occur. DoubleStop guards are available in two popular sizes - regular and XL.
DoubleStop Guards offer:
A Dry Fast Core to lock in liquid

A soft, discreet backsheet

A secure adhesive strip
"DoubleStop MaleGuards work extremely well. They give me confidence while being out and about when I'm not able to wear the pull-on style products. The absorbency is great too."
-Bradley, Verified NorthShore Buyer
Women's incontinence pads, like male guards, also come in many sizes. If you're looking for a pad that absorbs heavy bladder leaks, consider DynaDry Ultimate pads. DynaDry pads are longer and wider than most bladder leakage pads.
DynaDry Pads (Ultimate) offer:
A comfortable contour shape

An adhesive backing that fits securely in underwear
"I have purchased many different pads for my incontinence, and these are the best I have found. They feel good, are not bulky, and keep you dry. I recommend this product."
-Sharon, Verified NorthShore Buyer
Booster pads are flow-through pads that boost the absorbency of disposable products. If you use an adult diaper and want to add more absorbency, consider booster pads. EternaDry Booster Pads save on product usage and changes.
EternaDry Booster Pads are:
Super-absorbent

Available in various sizes (X-Small to 2XL)

Latex-free
"These booster pads are the best! I never had to worry about leakage when using them inside diapers."
-Susan, Verified NorthShore Buyer
Disposable chux are a Godsend to adults managing incontinence. These heavy-duty underpads protect linens and mattresses from urine and bowel leaks. Individuals who want more peace of mind at night, should consider MagicSorb Air Underpads.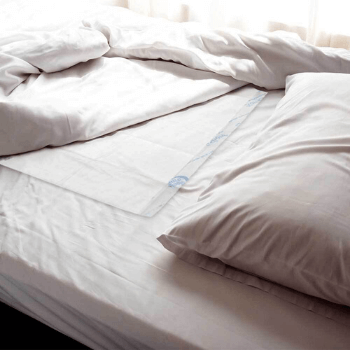 MagicSorb Air Underpads offer:
Exceptional dryness and comfort

Rapid wicking power

More coverage and are available in extra-large sizes
"I like the large size of the pad. It completely protects bedding from accidents of a patient who moves around a lot at night. We are so satisfied with all the NorthShore Products we have ordered."
-Robert, Verified NorthShore Buyer
Washable bed pads are affordable and great for the environment. Best of all, adults can use them anywhere. Champion XD Underpads are ones to consider if you are looking for a first-rate bed pad for incontinence. Unlike other bed pads, Champion XD underpads can be machine dried. The pad's strong layers stay intact even in the warmest temperatures. Champion XD Underpads are available in Large, X-Large, and 2X-large sizes.
Champion XD Underpads offer:
A quick-drying top sheet

A durable, waterproof backing

A discreet blue color for hiding leaks
"The size is good, very absorbent, and keeps the mattress dry. Washable and still effective in absorbency and keeping the bed dry."
-Michael, Verified NorthShore Buyer
If you are managing incontinence, there are products available. Adult diapers pull ups, and pads can help. Live life on your terms. No more canceling plans with friends and family. No more worrying of waking up at two in the morning to change sheets. Be the best version of yourself this year with dependable incontinence products. Products that can help you get more sleep and live a healthier life.

Thank you so much for reading our blogs!

Did you know NorthShore has helped millions of people manage incontinence with life-changing absorbent products? It's so amazing to hear their stories.

We also want you to know we have trained product advocates that provide a personal experience by working with each customer to find the best product for their situation.

Find out for yourself today!
To get in touch, simply provide your contact details below and your personal product advocate will reach out.


---
Please login to access your saved items list. If you don't have an account, create one today to start your list.