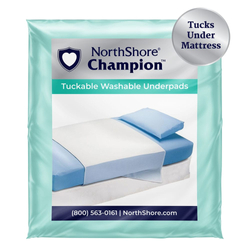 NorthShore Champion Tuckable Washable Underpads
NorthShore Item:

4709
Model:

4709
Designed with fabric side panels that tuck under mattress to keep underpad in place. Perfect for people that move around or need repositioning. Soft, highly absorbent and durable. Made to last up to 250 washings. Non-slip surface.
This product is no longer available. Our recommended substitution for this product is
NorthShore Champion XD Washable Underpads
.
---
NorthShore Washable Underpads Comparison Chart
Which One Will You Choose?
Customer Reviews / Questions & Answers
Please login to access your saved items list. If you don't have an account, create one today to start your list.