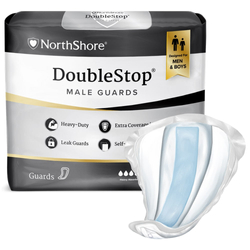 NorthShore DoubleStop Male Guards
NorthShore Item:

1452
Model:

1450
Stay Active with Lightweight, Discreet Protection
For use in regular underwear. Effective for managing light urinary incontinence, especially prostate related overflow. DoubleStop® Male Guards feature a triangular shape providing masculine coverage where it is needed most. Available in Large and XL sizes.
Size XL Guards now available with stronger full-length adhesive, wider coverage, and taller side leak guards.
---
Male Guards Comparison Chart
Which One Will You Choose?
Front 3.5 x Back 4.5. x Full 10.5 in.
Smooth Plastic, Waterproof
Front 3 x Back 8 x Full 8 in.
Customer Reviews / Questions & Answers
Please login to access your saved items list. If you don't have an account, create one today to start your list.