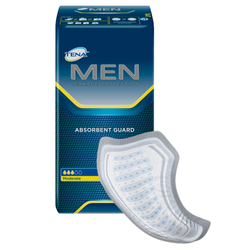 Tena Men Protective Guards
NorthShore Item:

Select Option
Model:

Select Option
For use in regular underwear. Effective for managing light urinary incontinence, especially for overflow from prostate problems. Easily concealed under clothing. Individually wrapped to carry in a pocket for quick changes away from home.
---
Male Guards Comparison Chart
Which One Will You Choose?
Customer Reviews / Questions & Answers
You must have an account to save your Favorites List.