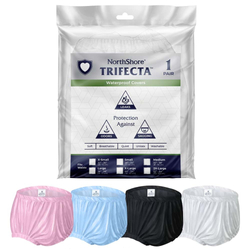 NorthShore TRIFECTA™ Waterproof Covers
NorthShore Item:

3912
Model:

3912
Protection Against Leaks, Odors & Sagging
TRIFECTA™ Waterproof Covers add an extra layer of protection. Designed to be worn over disposable tab-style diapers, pull-up style underwear or other incontinence products. Available in sizes X-Small to 2X-Large and four color choices. Washable, breathable and reversible.
What to Measure for the Best TRIFECTA Fit
Buy at least 4 TRIFECTA Waterproof Covers and Get the 4th FREE!
Add any 4 or more TRIFECTA Covers to cart and get one of them for free! No code needed, discount automatically applied.
---
Customer Reviews / Questions & Answers
Please login to access your saved items list. If you don't have an account, create one today to start your list.