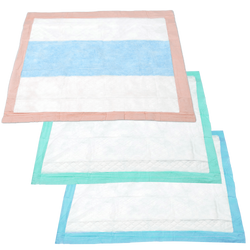 NorthShore Premium Super-Absorbent Underpads
NorthShore Item:

Select Option
Model:

Select Option
Top selling disposable chux underpads with thicker cotton fluff linings than economy underpads. The underpads are latex-free with a diamond embossed quilt pattern. Available in 3 sizes and absorbency levels, there is an ideal pad for any situation.
10% Off Premium Underpad Sale thru October 31st. No coupon needed. Order today!
---
NorthShore Disposable Underpads (Chux) Comparison Chart
Which One Will You Choose?
Quick-Wicking Heavy Duty Lining
Quick-Wicking Heavy Duty Lining
Quick-Wicking Heavy Duty Lining
Quick-Wicking Heavy Duty Lining
Quick-Wicking Heavy Duty Lining
Quick-Wicking Heavy Duty Lining
Customer Reviews / Questions & Answers