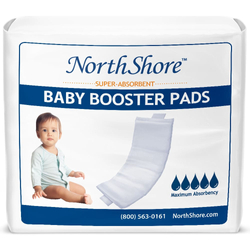 NorthShore Booster Pad Diaper Doublers
NorthShore Item:

Select Option
Model:

Select Option
Booster pad diaper doublers add absorbency to baby diapers and training pants. Booster pads first fill to capacity and then allow liquids to flow through into diapers. NorthShore® Booster Pads have higher absorbency, more sizes & lower cost than most other brands. Slim, soft & super-absorbent. Has adhesive backing that holds it in place and enables you to stack multiple boosters.
Read more
Save 15% with our Spring Cyber Sale!
Use code BLOOM at checkout (one-time use)

---
You must have an account to save your Favorites List.