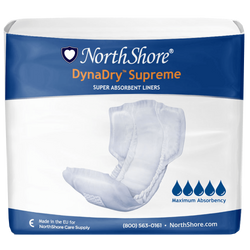 NorthShore DynaDry Supreme Liners
Product.Label.NorthShoreItem:

1424
Product.Label.Model:

1422
Ideal Next Size Up from Poise, Tena & Tranquility with Added Leak Guards
Stay active with a liner that works as hard as you do. The soft, comfortable lining quickly pulls liquids away from the body. Leak guards provide extra protection from leakage out the sides. The adhesive strip holds liners securely in place in regular underwear.
---
NorthShore Liners Comparison Chart
Which One Will You Choose?
ComparisonChartBlock.Features
Adhesive to Secure in Regular Underwear
Adhesive to Secure in Regular Underwear
Adhesive to Secure in Regular Underwear
Product.Label.CustomerReviews / Product.Label.QuestionsAndAnswers
WishList.NoAccountModal.Description