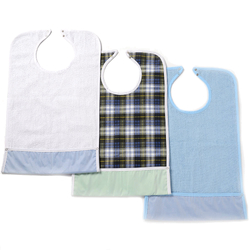 NorthShore ShirtSafe™ Premium Bib
NorthShore Item:

Select Option
Model:

Select Option
A large, adult-sized bib that offers everyday protection from stains and liquids with a waterproof vinyl backing. Provides easy adjustability via double neck snaps. Crumb catcher feature enhances protection by preventing unwanted mess from falling to the floor. Bib dimensions: 18 in. x 33 in.
20% Off ShirtSafe™ Bibs while supplies last! No coupon needed. Order today!

Mix & Match!
Add 3 or more ShirtSafe™ Bibs to cart in total for automatic 5% savings!
---