The Washable Underpad That All Caregivers Should Know About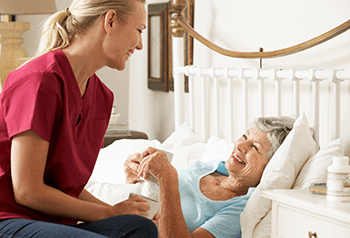 Are you tired of wet sheets and inadequately sized bed pads? Now there is a washable and reusable underpad that helps caregivers even more throughout the day and night. The NorthShore™ Champion Tuckable bed pad is now available in a new larger size. Learn about the other features of this underpad that can help you in your everyday caregiving tasks!


The Bed Pad Made for Caregivers



1. Longer Length/Wider Pad - The underpad is 35 inches by 69 inches (measurement of side panel included). The underpad can fit on mattresses wider than a standard twin size bed.
2. More Absorbent - The underpad can absorb approximately 58 ounces of liquid or 7.25 cups of water. Highly absorbent for a bed pad. This is a great underpad for users experiencing light to heavy incontinence.
3. Larger Side Panel - The underpad's side panel is long enough to "tuck" below the mattress so the pad can be secured tightly below the user. No more slipping pads on the bed!
4. Convenient for Busy Caregivers - Other than the single underpad you can purchase, there is a 4 pack option which gives you a more efficient way of using these in a rotation. Use 2 tuckable underpads on the bed and keep 2 cleaned pads ready to go. Rotate and wash as needed.
5. Multi-Purpose Bed Pads - This pad can be used for repositioning your loved one during the day and night. Use the pad for undergarment changes, feeding or any other daily activities.
6. Great Value - Purchasing incontinence supplies for your loved ones can get costly. Select the 4 pack option to save more per pad. The 4 pack option brings these bed pads to about $17.50 per pad. Very affordable for a great product.
Quality underpads are necessary when caring for a relative managing incontinence, not only for you but for your loved one. We understand that staying dry is a top priority.
For more questions on this product please call us at (800) 563-0161.