6 Ways to Stay Cool When Wearing an Adult Diaper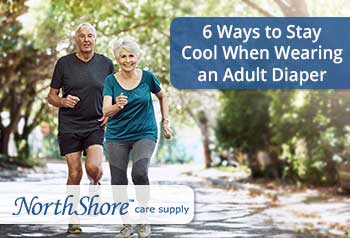 What's on your summer bucket list? Visit your local farmer's markets? Visit the family? Go to Europe? Whether you are walking, driving or flying you'll most likely be going somewhere this summer. If you're not going anywhere, that's okay too! If you're using an adult diaper, you want to stay cool during the summer.
Adult diapers come in two popular styles: Fitted brief and pull-on style. There are also two styles for the backsheet material in the fitted brief style: plastic and cloth-like.
The cloth-like backsheet helps skin breathe while plastic backsheet helps to contain odors. The NorthShore™ AirPremium™ Brief is a great tab-style breathable option for summer.
During warm temperatures, it is important to stay cool and comfortable wearing adult diapers regardless of what style you use.
How to Be Comfortable in an Adult Diaper During Summer
1. Wear Comfortable Clothing - Wear clothing made with cotton or linen. These materials are best suitable for warm temperatures. If possible, wear shorts or other loose clothing. Avoid tight-fitting clothes that can stick to the skin when perspiration begins.
2. Have Personal Care Items on Hand - Moisture barrier ointments and wipes keep you feeling fresh on-the-go or at home. Perspiration can be distressing, so always keep these personal care products handy to freshen up after a change or in between activities. Disposal bags are also helpful when discarding soiled materials.
3. Use Breathable Underpads - If you experience moderate to heavy incontinence then it's always smart to keep a pack of disposable underpads on hand. The breathable back sheet option helps air flow effectively so it will help prevent overheating in warmer temperatures.
4. Bring a Towel - You may not be heading to the beach, but it's good to have a small to medium sized towel available to instantly cool off areas of the body. You can use ice or water on the towel and apply for a quick cooling effect.
5. Use a Gym/Beach Bag - Use a decent sized bag to carry extra diapers, underwear, or liners while you're traveling outside the house. If you notice you don't need as much protection during the day switch from to a liner or lighter pad to keep you cooler. You can rotate supplies as needed.
6. Bring a Water Bottle - Keep a water bottle on hand at all times. Decide the appropriate amount of water to drink that suits your needs. Everyone is different and has different needs, so monitor your intake.
As we approach summer the temperatures will continue to rise. Be sure to stay comfortable while wearing adult diapers by having items on hand such as wipes, underpads and even a good bag to hold it all your incontinence supplies in!