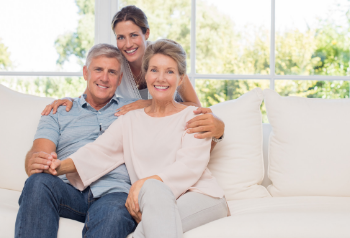 This story is a tribute to patients and caregivers.
My parents were part of the WWII generation. In our household, manners were held in high regard. Curlers were never allowed at the dinner table. My brother and I wrote "thank you" notes upon receipt of every birthday gift. And, because my mother had been a fashion model in her 20's, she was all about "dressing for the occasion." Ours was a home where everyone walked around fully clothed; in fact I don't believe I ever saw either parent naked.
So when, during her mid 80s, my mother started showing signs of Alzheimer's the subject was not addressed until her condition became quite advanced. And incontinence was part of that revelation. My parents had moved from New York to Florida where no family members were living, so deciding what to do couldn't be done over the phone. My brother and I flew from Atlanta and Chicago respectively to figure out what steps to take and in what order.
The Journey, Part one
The way we discovered my mother's incontinence was through a caretaker who we had hired to help us find an assisted care place for my parents. She said to me, "I think your mother needs an adult diaper." I was so stressed I didn't even smell it. But she was a seasoned pro and it turned out she was right. Mom's reaction to her condition was denial. But when I said, "Mom, the nice lady says you need to wear an adult diaper," she agreed (some things with mothers and daughters never change right?) Our first order of business was to go to the grocery store and find adult diapers. Before I could make a selection among the limited choices she had shoplifted a couple of items and was being escorted out of the store. It turns out that they were used to dementia-induced stealing in this elderly Florida town. No arrest made.
Finding the right fit and style was its own ordeal. She was a tall, slim woman. So I bought adult large. Why? I don't know; I thought the larger size would be more absorbent. Bad decision. I wasn't home two days before my dad called me in tears. The mess and escalating behavior—mom's thievery now included outdoor furniture that she would drag up from the pool, maneuver into the elevator and deposit in their apartment. What ensued was a return trip to Florida and an intense Internet search to get some tips on Alzheimer's related incontinence…
Contact a group like the Alzheimer's Association or talk with a knowledgeable expert on to get help with planning a toilet routine

Consider a wardrobe revise; pick clothing that is easy to remove quickly to prevent accidents

Remove any obstacles that could make getting to the bathroom difficult

Reduce the amount of fluids the person has before bedtime

Purchase mattress covers and chair protectors

Talk with customer care experts at NorthShore Care to identify the best products for your loved one
The Journey, Part two
My mom spent the last three years of her life in a nursing home. She had lost the ability to walk or talk, and my dad, having suffered a stroke and later a heart attack, wasn't able to care for her. Not too long after her death, dad started showing some early signs of dementia – at 85! It wasn't as steep a decline as my mother's, so we talked with the assisted living manager who said they'd keep him as long as they could. That turned out to be another 10 years. My sister in law was the one who discovered that we could order adult incontinence products online. And his apartment was soon fully protected with mattress covers, furniture protectors, stain, and odor control and disposal bags. Thanks to home delivery, he never ran out.
This was critical, because my dad was a man of fierce dignity. After the dementia started, one of the managers called him to her office to let him know that residents had complained about odor. He was angry and mortified. We found someone to help with strength training so that he was able to bath and change his diaper. With help, he was able to function and live among his friends. At the end, he was in a rehab hospital – the result of a fall. I flew down to be with him and knew he was fading. I brought over his Scrabble game; he was still able to put words together on the board. He put three tiles on the Scrabble board. The word was "alp." I said, "What do you mean, dad, The Alps mountain range?" "No," he said emphatically, "I mean one Alp." It made me smile to see that he still had his sense of humor.
We brought him back home to his apartment in the assisted living place which he loved and where he had built a close circle of friends. On the second day, he became unresponsive. I asked the Hospice worker what this meant. She said, "He's journeying." I loved that. Indeed, Alzheimer's is a shared journey. For my parents the experience was not the same. My mom's illness took a steep dive, and she needed constant care. My dad was able to function with the help of a caregiver and the daily stimulus of friends and activities.
So as we acknowledge Alzheimer's this month, let's remember all those who share the journey; the patients and their caregivers, the families, the product makers and the people on the other end of the phone who make the experience a little easier.