The Struggles of The Female Caregiver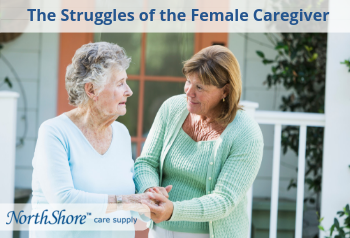 There are various emotions women experience through the act of caregiving, many positive but many others that can cause pain and suffering including guilt and anger. Women tend to have a full plate to start but when a declining elderly or disabled family member is added to the mix, emotions can run high. Often there is guilt for not being able to spend the time that she knows is required for all of her responsibilities and sometimes guilt can even creep up for feeling angry at her situation.
A Woman's Caregiving Journey
Most of the time when we think of taking care of a family member we think of all the work and concern that inevitably is required, but we may not think of the positives at first. Most women have full schedules which makes spending time with elderly parents or other family members fall by the wayside. When those same family members start needing help there may be a time of reconnection, especially if the caregiving starts off slowly. At first, they may just need a little help getting to the grocery store or to a doctor's appointment. These visits can be a wonderful time to reconnect, time that otherwise would be taken up by other daily responsibilities. Even when a loved one's needs are sudden and intense, times of closeness and reconnection can emerge that otherwise may never be experienced.
But as time away from family and work begins to add up, negative feelings can soon become overwhelming even for the most well-adjusted women. Besides feeling guilty over all the time away from her husband and children, she may also feel bad about resenting her new role and even feel guilty for being exhausted. Plus, caring for a parent who was abusive can add a complex web of feelings ranging from anger to love to guilt and many in between.
Although the number of male caregivers is on the rise, male caregiver guilt doesn't seem to be keeping pace. According to one study done by Home Care Assistance, "female dementia caregivers were twice as likely to feel extreme guilt for not tending to their own family and children's needs than male dementia caregivers." And along with Maria Shriver's Women's Alzheimer's Movement and Move for Minds, Home Care Assistance has acted upon this information by awarding respite care grants to 60 family caregivers across the country.
Managing Caregiver Guilt
Respite care is just one of the ways to combat caregiver guilt and burnout. Realizing you are not alone can be a great step in making meaningful changes. With more than 40 million adult children becoming caregivers in recent years many great resources have been developed that are waiting to be tapped such as the following books:
In "Chicken Soup for the Soul: Family Caregivers: 101 Stories of Love, Sacrifice, and Bonding" by Joan Lunden and Amy Newmark, you will find encouraging stories of other families in similar situations.

"The Caregiver's Survival Handbook" by Alexis Abramson gives advice to women in the sandwich generation on dealing with being a parent and daughter while still getting the help you need.

"Doing the Right Thing: Taking Care of Your Elderly Parents Even If They Didn't Take Care of You" by Robert Satow takes a look at those parent/child relationships that weren't ideal and suggests that through caregiving, old wounds might even be healed.
For other book suggestions, be sure to refer to this list.
While we may not understand the struggles of caregiving first hand, it's important to be aware of the challenges both men and women encounter so that we can better assist our family or friends during times of need. Fortunately, there are also many great organizations and resources available for both male and female caregivers.