Senior Edition: Winter Time Skincare Tips for Thin Skin
Have you or your elderly loved one experienced dry skin? Many of us would say yes. This is something that can affect seniors of all lifestyles and can become more present during certain times of the year versus other seasons. Dry skin can be a result of many different things but a few of the causes could be associated with dry air, cold weather, dehydration, or hot showers. As mentioned on Medicinenet.com, our skin losses the elastic tissue known as elastin and collagen as we age. As a result, this causes us to have thin skin that becomes more transparent, fragile and susceptible to dry skin.

We would like to discuss with our top skin care products that will help to prevent dry skin and will help keep your skin smooth and moisturized during the cold weather.
Remedy 4-in-1 Cleansing Lotion – This product is made from a mixture of olive oil and other organic ingredients. These ingredients moisturize, protect, nourish and clean the skin with its Vitamin A, D and E. This product provides relief to seniors with sensitive skin. The no-rinse lotion is convenient for those caring for an aging adult who may be bedridden.

Soothe & Cool Moisture Barrier Ointment – Recommended when the skin is at risk of irritation but hasn't been compromised or damaged. This miracle ointment helps to prevent urine and fecal matter from contacting the skin. It protects the skin for up to two hours in the presence of urine.

NorthShore Supreme Quilted Wipes – The wipe that really promotes skin health while cleansing the body. This X-Large 9x13 wipe features Aloe and Calendula to help soothe the skin and is ideal for those with sensitive skin. It's hypoallergenic, unscented and alcohol-free. It also comes in a travel size pack of 10 to provide protection when you're on the go.
Using the right skincare products can be a great tool in keeping your skin healthy and moisturized. Whether you are looking for a new cleansing lotion, or a barrier ointment, NorthShore has products to meet your needs.
Other ways to prevent dry skin could include keeping a humidifier in your room, using lip balm to moisturize lips regularly and using quality gloves when outdoors. Lastly, always remember to stay hydrated!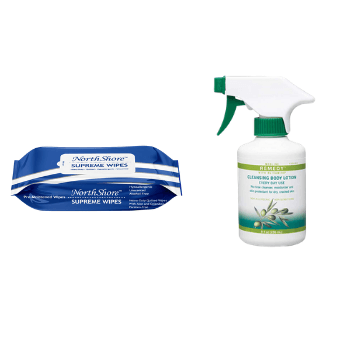 Top Skincare Products
SHOP NOW